Skip to content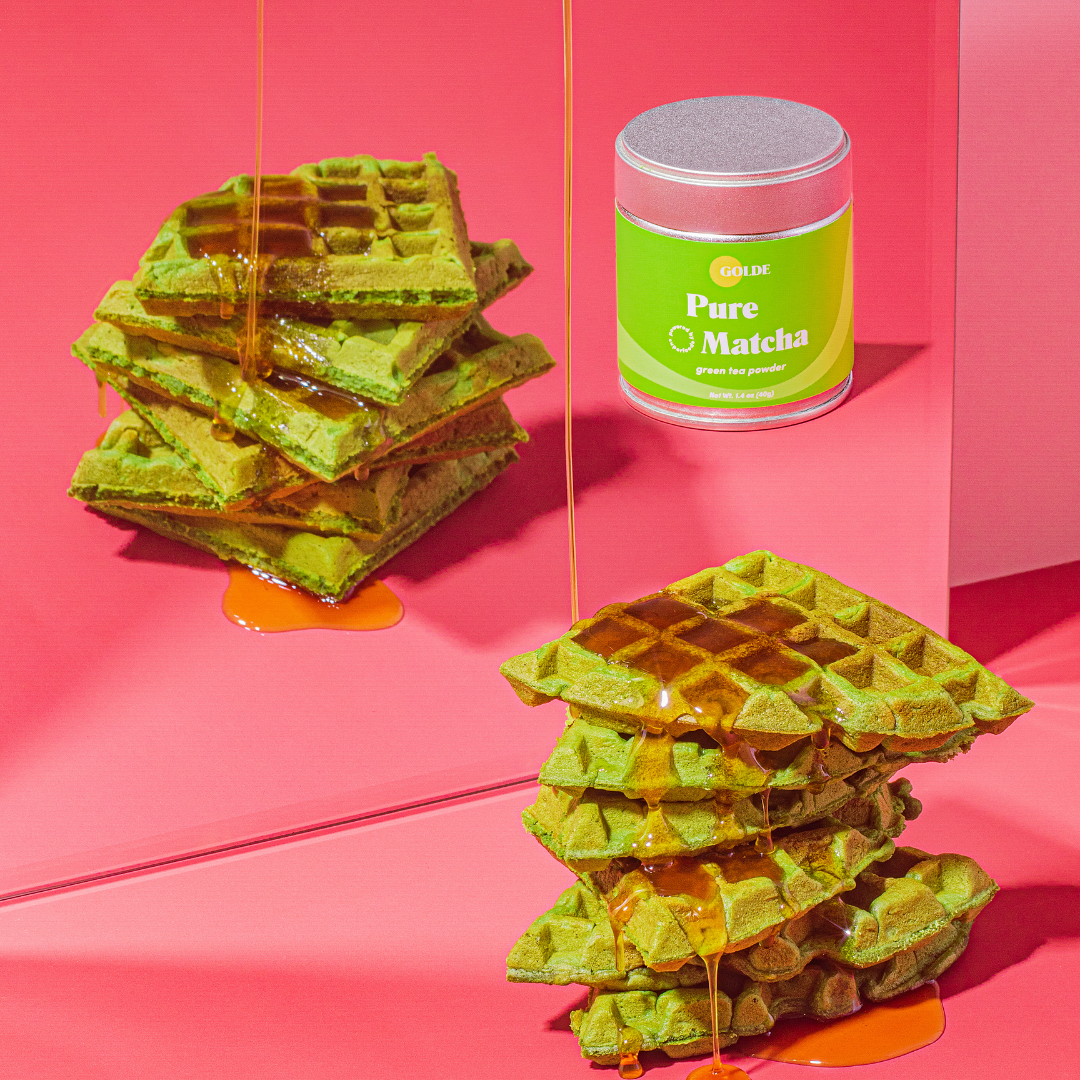 Partake Fam, we're dropping a sneak peek into 2022 with this post! Our 5-in-1 Baking Mix is now officially sold out (FR FR), but we've got a Matcha Waffle recipe that you'll want to bookmark and take with you into the new year.

Though commonly associated with Japan, Matcha was first popularized over 900 years ago by Chinese Zen Buddhist monks who shared it with the Japanese people in the 11th century. Japan is often credited with perfecting the art of growing and cultivating Matcha. It is historically made from green tea leaves and ground into a fine powder and has become popular in the U.S. for its health benefits, dose of caffeine without a crash, and ability to pair with a variety of flavor profiles. 

Golde's Pure Matcha Powder is a fav here on Team Partake. Not only is it easy to blend, but notably, it has a natural source of L-Theanine and is filled with chlorophyll, antioxidants, and amino acids—all better-for-you ingredients that can help keep you focused. It's the perfect addition to our 5-in-1 Baking Mix (if you have it in your pantry) or our NEW Classic Pancake & Waffle Mix dropping in January 2022 as it makes an ideal breakfast to jump-start your day. 
Matcha Waffles
Yields 4 waffles 
Ingredients: 
1 cup Partake 5-in-1 Baking Mix / Classic Pancake & Waffle Mix
1/2 cup water
2 tbsp oil 
1 tbsp of Golde's Pure Matcha powder, sifted 
Honey for topping
Non-stick cooking spray
Instructions: 
Preheat waffle iron.

Combine water and oil in a bowl. 

Proceed to add your sifted Matcha powder and Partake Mix to the bowl. 

Stir to combine all the ingredients thoroughly.

Spray preheated waffle iron with non-stick cooking spray.

Pour mixture into waffle iron and cook until done. (Approximately 6-8 minutes depending on your waffle iron.)

Once the waffles are finished, place them on a plate and drizzle honey on top for a bit of sweetness. 

Enjoy! 
Be on the lookout for the launch of two new Partake breakfast mixes in mid-January on partakefoods.com—coming to a major retailer in stores throughout the country later that month. We have so much in store for 2022, and we can't wait to share everything with you very soon.