Skip to content
Mini Tiramisu Cups Recipe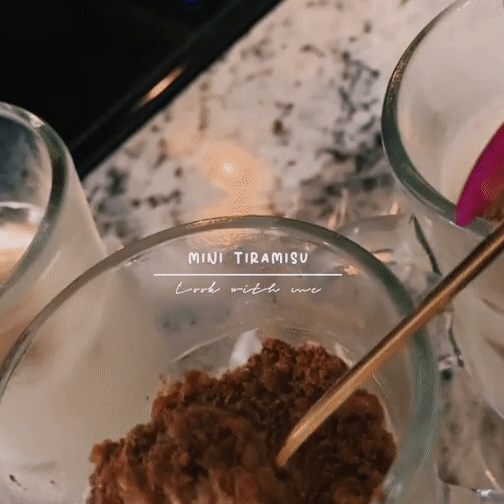 Did you know that tiramisu means "pick me up" or "cheer me up" in Italian? No wonder, as it is a favorite dessert that has become increasingly popular in countries around the globe. Sadly, many of the ingredients of the original tiramisu recipes aren't safe to enjoy for those suffering from food allergies (namely gluten, dairy, and egg). But not to worry! We're here to bring the tiramisu cheer in a way that you can enjoy—vegan, gluten-free, and allergy-friendly.
Our Mini Tiramisu Cups are made with Partake's Soft Baked Snickerdoodle cookies and have the gentle coffee flavor, hint of spice, and subtle chocolate that tiramisu fans know and love, with ingredients that are safe to eat. What's more: it's a faster, easier recipe than traditional tiramisu recipes.
The Partake fam knows: delicious + easy are two unwritten, essential ingredients in all of our recipes!
What is Tiramisu?
Tiramisu is a coffee-flavored Italian dessert that is now beloved all over the world. The origins of tiramisu are a bit of a mystery, but the dessert is believed to have originated in the Veneto region of Italy in the 1960s or 1970s. Some sources credit the dessert's creation to a restaurant in Treviso, Italy, while others claim it was first made in the city of Siena. Despite the uncertainty about its origins, it's clear that tiramisu has become an iconic Italian dessert that has gained worldwide popularity.
Classic tiramisu is made with ladyfingers (aka sweet sponge cake biscuits shaped like large fingers) dipped in coffee, and then layered in a whipped mixture that originally calls for eggs, sugar, and mascarpone cheese, then topped with cocoa.
Fun fact: traditional tiramisu recipes soak the ladyfingers in a coffee mixture that also contains marsala wine or liqueur.
While Tiramisu is a decadent dessert, it is much lighter compared to other desserts that are overly sweet without anything to balance out the sugar. Tiramisu achieves a balanced taste by adding a touch of bitterness with the coffee or espresso. You can also adjust the amount of sugar used to achieve the sweetness level of your liking.
There are several new varieties of this dessert, and we're bringing you one today that is easy to make and safe to enjoy for those with food allergies or adhering to a vegan diet. If you're gluten-free, egg-free, dairy-free, or free of any of the top 9 allergens – this is the recipe for you! Our Mini Tiramisu Cups with Soft Baked Snickerdoodle cookies are also conveniently sized and shaped for you to enjoy in small portions.
For those new to Snickerdoodle cookies, they are known for their distinct cinnamon sugar flavor, and Partake's Soft Baked Snickerdoodle cookies make a yummy substitute for ladyfingers in this recipe.
This recipe for Mini Tiramisu Cups is a delicious and easy-to-follow guide to making a fantastic and safe-to-share dish. Whether you're an experienced cook or just starting out, this recipe is sure to please your taste buds and impress your friends and family. From the fresh and flavorful ingredients to the simple step-by-step instructions, this recipe is perfect for anyone looking to create a tasty meal with minimal effort. So go ahead and give it a try – we guarantee you won't be disappointed!
How to Make Mini Tiramisu Cups
Ingredients:
A box of Partake Soft Baked Snickerdoodle cookies

1 cup dairy-free heavy whipping cream

1 cup vegan cream cheese

1 teaspoon vanilla extract

1/2 cup powdered sugar 

1 cup brewed espresso

Cocoa powder for dusting
Directions:
In a mixing bowl, whip vegan cream cheese, vegan heavy whipping cream, and powdered sugar with a hand mixer or spoon (be careful not to over whip!)

Gently soak the Soft Baked Snickerdoodle cookies into a bowl of espresso, shaking off any excess, and putting them to the side.

Start layering your glass with the coffee-soaked cookies then cream mixture, and repeat the layers until you've filled the glass.

Smooth the top with a spatula or spoon and refrigerate tiramisu cups for a minimum of 1 hour for the cookies to chill/soften.

After tiramisu sets in the fridge, dust with cocoa powder and decorate with more cookie crumbles.

Enjoy!
If you make these Mini Tiramisu Cups with Soft Baked Snickerdoodle cookies, we'd love to hear about it! Let us know on Instagram.
These tiny treats are mini versions of a decadent, rich dessert that is perfect for any occasion, whether it's a special occasion or just a weeknight treat. They are easy to make and perfect for sharing with friends and family.