Skip to content
No-Bake, Allergy-Friendly Pumpkin Spice Bites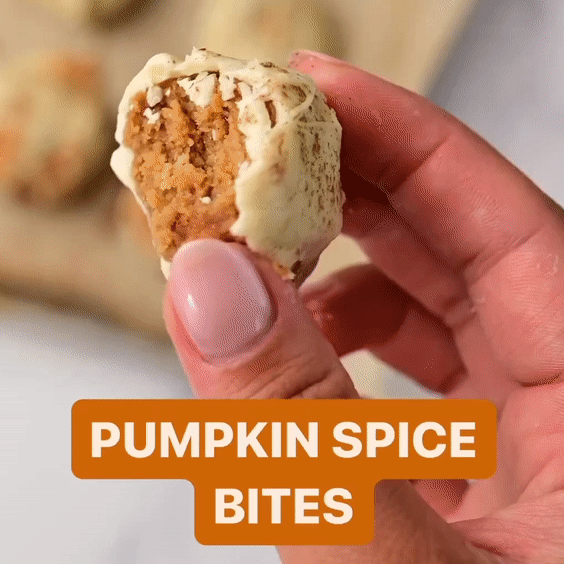 Some call pumpkin spice basic, but we call it a seasonal classic. These delicious No-Bake Pumpkin Spice Bites are a little bit pumpkin pie, a little bit cheesecake, and a whole lot of goodness rolled into perfectly-sized bites. 
You'll fall in love with the deliciously cozy flavors of these vegan, gluten-free, and allergy-friendly bites. A base of crumbled Partake Soft Baked Pumpkin Spice cookies and Classic Grahams is mixed with warm spices, pumpkin, and vegan cream cheese, then coated with melted white chocolate. Basically, it's everything you love about the festive and comforting seasonal flavor in a snackable, shareable bite—no oven needed.
Find what you need and the full recipe below.
No-Bake, Allergy-Friendly Pumpkin Spice Bites
Ingredients
Instructions
Add the pumpkin pie puree and cream cheese to a large bowl then whip together until well combined, about 1-2 minutes. Add in the powdered sugar and mix until fully blended. Add the pumpkin pie spice and cinnamon and mix again well.

Place the Classic Grahams and Soft Baked Pumpkin Spice crumbles into the cream cheese mixture and mix well with a spatula. Cover the bowl and place in the refrigerator to firm, at least 2 hours.

Line a baking sheet with parchment paper. Roll the dough into balls with your hands or use an ice cream scooper. Place each ball on the parchment paper-lined baking sheet so they are not touching. Freeze the cheesecake bites for at least 15 minutes.

Add the white chocolate to a microwaveable bowl and heat for a minute, then stir. Continue heating the white chocolate in thirty-second increments until it forms a smooth white chocolate sauce.

Remove cheesecake bites from the freezer. Place balls into white chocolate one at a time to coat, using a fork so excess chocolate can drip off. Place each white chocolate-coated ball on parchment paper so they are not touching each other.

Drizzle the top of each truffle with more white chocolate, then top with additional graham cracker crumbs or pumpkin pie spice to decorate if you'd like. Place the pan in the freezer for 15 minutes to help the chocolate to fully harden, then enjoy!
From coast to coast, you can find your favorite Partake goodies, including our Classic Grahams and Soft Baked Pumpkin Spice cookies, at Target, The Fresh Market, H-E-B, online at our Amazon Shop, plus more. Use our store locator to find us near you and indulge in deliciousness.