Skip to content
Partake at Home: with Friends featuring Cinnamon Swirl Coffee Cake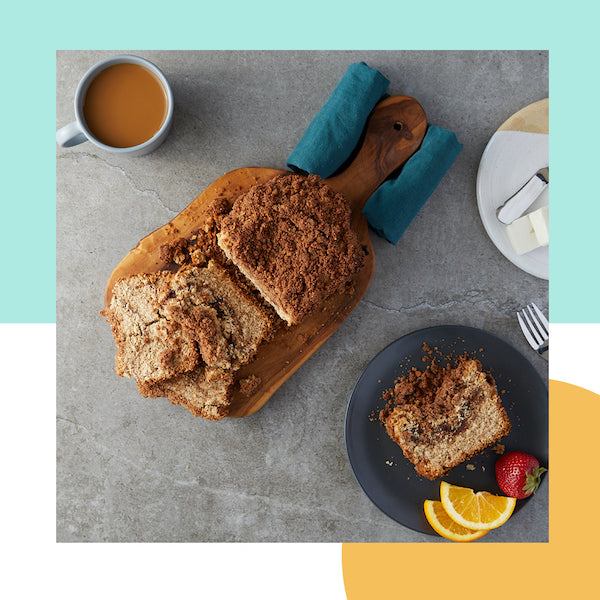 As we continue to honor Women's History Month when we're spending most of our time at home, we are looking to the ways women find joy while at home. We've spent the past year engaging with our friends and families through technology and other creative ways such as baking, crafts, and family time. 
As a tribute to these times, Partake at Home: with Friends was born. In it, our founder and CEO, Denise Woodard, asks fellow female founders who are shaping the future of cooking and entertaining to share their foods, drinks, products and stories with us.  
Download your Partake at Home: with Friends Spring 2021 Digital Magazine HERE. 
In honor of our Partake at Home: with Friends Digital Magazine, we are excited to share an exclusive recipe for Cinnamon Swirl Coffee Cake. It's a yummy recipe perfect for a slow weekend morning spent with family.  
Read on for an exclusive recipe from our recipe booklet, Cinnamon Swirl Coffee Cake. And don't forget to tag us on Instagram if you make it with your family!
Cinnamon Swirl Coffee Cake
 Ingredients:
Cake: 
Cinnamon Brown Sugar Filling:
1/4 cup dark brown or light brown sugar

1 tsp cinnamon
Streusel:
1/2 cup Partake Classic Pancake & Waffle Mix
1/4 cup cane sugar
1/4 cup light brown sugar 
2 tsp cinnamon
3 tbsp oil or buttery spread, melted
Instructions:
Preheat oven to 350 F. 

Line a pan, either 9x9 square or 9" springform pan, with parchment. Oil and flour sides of the pan or spray with non-stick spray. Set aside.

Make the cinnamon brown sugar filling by combining the cinnamon and brown sugar. Set aside.

To make the streusel, combine all dry ingredients. Add oil/melted buttery stick all at once, stirring together to make lumps. Set aside.

Lastly, make the cake. Combine buttery stick and sugar and mix until the batter lightens a bit. Add vanilla.

Scrape down the batter from the sides of the bowl. Mix in water. It will not blend together completely (That's okay!).

Add in Partake 5-in-1 Baking Mix and stir until batter forms. Scrape down the bowl again and make sure everything is mixed well.

Spread half of the batter into the pan. Spread it evenly.

Sprinkle filling to cover all of the pan—use it all.

Spread the second half of the batter over the filling so it covers the bottom layer. Wet your hands and spread gently if you are having a hard time spreading it.

Sprinkle streusel over the top to cover.

Bake for 45-60 minutes or until a toothpick inserted into the middle comes out clean.