Skip to content
Partake No-Bake Ice Cream Cookie Cake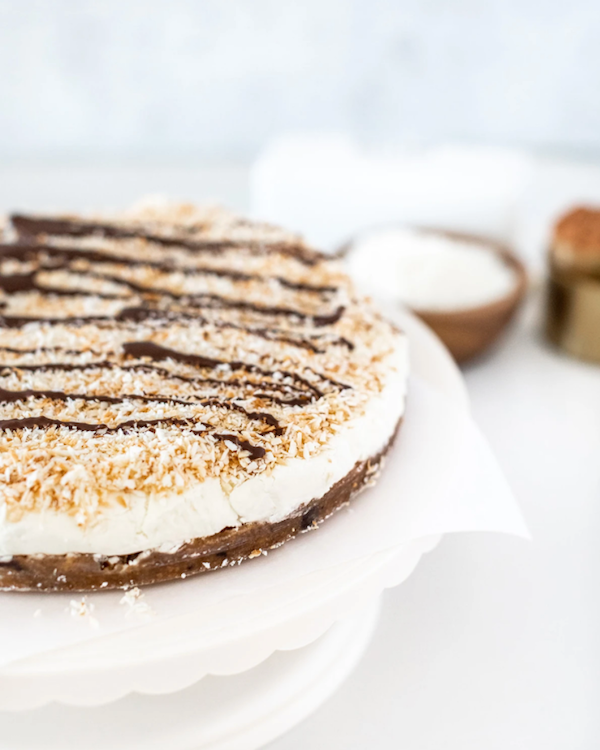 We're taking cookies and ice cream to a whole new level with our  Ice Cream Cookie Cake. What's not to love? Cake is already great but combined with delicious ice cream, it's a winning dessert combination for kids and kids at heart! Inspired by Mariah Mercurio of Mariah's Pleasing Plates and her delicious Samoa Ice Cream Cake, we love the idea of no-bake to make things as easy as pie (or cake) —  and everyone can enjoy because you know exactly what's in it and what's not. 
Most of us aren't professional pastry chefs, so the idea of baking your own ice cream cake might seem daunting. However, this no-bake recipe is perfect for beginners in the kitchen and kiddos can pitch in to help. No stove or oven necessary, just a nice cold freezer to seal the deal. To simplify things even further, we leveled up our cake's base using Partake Cookies, and boy does it do the trick in terms of flavor and texture. Family and friends alike will revel in your newfound baking skills, and you'll appreciate knowing that everyone can share, enjoy, and feel good about it.
Ingredients:
Partake Chocolate Chip Cookie crust:

1 1/2 cups crushed Partake cookies 

8 tablespoons organic butter (or butter substitute) melted 

1/4 tablespoon of salt

2 tablespoons of organic brown sugar
For the Cacao topping:
4 tablespoons organic maple syrup (or more for taste!!)

1 tablespoon organic vanilla extract

1 cup organic cacao powder

1/2 cup organic coconut oil

pinch of sea salt
Vanilla Ice Cream
For the ice cream, use your favorite organic vanilla ice cream (vegan, dairy, whatever floats your boat!).
Caramel topping, if wanted/needed (it's OK, we need it too).
Instructions: 
In a mixing bowl, combine the Partake cookies, salt, and brown sugar. Stir it up! Pour in melted butter (or butter substitute) and then mix it up. The mixture will be crumbly and smell like HEAVEN. Take a little spoonful cause you deserve it!
Press the cookie mixture into a 9-inch buttered pan. Make sure to press the cookie mixture down so that the crust is as compact as possible. Freeze for an hour or until set.
Spread softened organic vanilla ice cream of your choice (regular, vegan, whatever floats your boat!) over the prepared frozen crust. Keeping the crust cool is important in order to help the ice cream not melt.
Top with toasted coconut or more Partake crumbly cookies of your choice. Place the pan back in the freezer while you prepare the cacao.
In a microwave-safe bowl, mix coconut oil, cacao powder, maple syrup, vanilla extract, and sea salt. Then, give the mixture a good stir. (If too thick, pop it in the microwave to warm until the coconut oil has melted.) Drizzle over the ice cream cake and let your mouth water.
Next, if you are so inclined and for an extra sweet girl scout cookie-inspired treat, melt some caramel of your choosing and drizzle along with the cacao.
Put the cake back in the freezer to set for a bit, then take out when you are ready and eat the entire thing. Or just have one slice if you have self-control. 
If you've been looking for the perfect dessert to wow your friends and family, then this is the one! The recipe can easily be adapted to accommodate all dietary lifestyles while also tasting simply delicious. Kids and adults alike will fall in love with the cookie-based, ice cream-filled cake combination. :)