Skip to content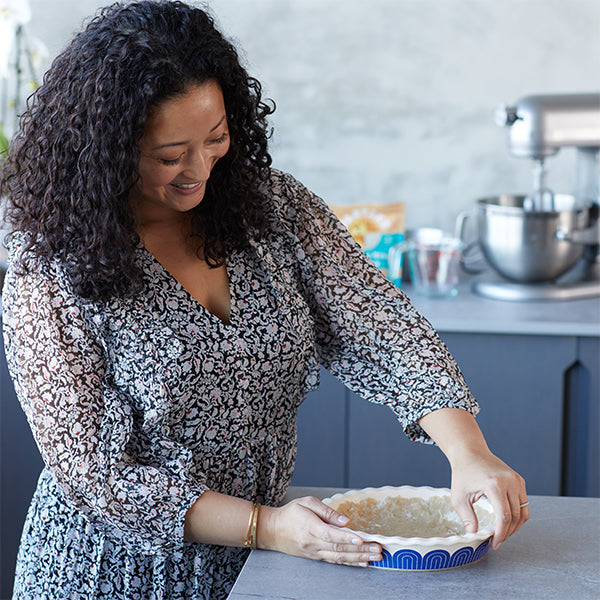 For those who live with food allergies or prefer a plant-based diet, even something that seems as simple as a pie may not be able to be eaten.
Which is why we created our Partake 5-in-1 Baking Mix. It gives you all the convenience of a multi-purpose mix while being free from gluten, dairy and the top 8 allergens. We keep it in the pantry to whip up delicious pancakes, muffins, cakes, and even pie crust. 
But this isn't your typical pie crust. It's made with Partake Classic Pancake & Waffle Mix, rice flour, and vegan butter so everyone can enjoy it. Make the crust, add a seasonal fruit filling, top with streusel, and it will be a hit! 
Read on for an exclusive recipe from our Partake at Home: with Friends Digital Magazine, Pie Crust & Streusel. And don't forget to tag us on Instagram if you make it with your family!
Download your Partake at Home: with Friends Spring 2021 Digital Magazine HERE. 
Pie Crust & Streusel
Yields: One Pie 
Single Pie Crust Ingredients
1 1/4 cups

Partake Classic Pancake & Waffle Mix





3/4 cup finely milled white rice flour





1/4 tsp sea salt





1/2 cup vegan butter (1 stick), chopped into thin, small pieces and chilled or frozen





1 tbsp apple cider vinegar





1/4 cup ice water or more if needed




Single Pie Crust Instructions 
In a food processor, combine dry ingredients and butter. Pulse until the butter is finely distributed and mix resembles corn flour.

Add in water and cider vinegar together. Add all at once to dough and blend until it comes together.

If the dough is still dry and not coming together, add an additional tablespoon of water and pulse. Continue to do so until a soft dough forms.

Once a soft dough forms, remove from the food processor and press into a disk about 12" on top of parchment or silicone sheet.

Dust with Partake Mix if dough comes off on the rolling pin. Allow it to sit covered for at least 15 minutes.

Note: This dough is not elastic and will not easily tolerate handling. It may tear in places but that's okay, simply wet the spot and press more dough into the crack.

Place the dough on the parchment directly in the pie pan/tart shell and press in to fit the pan. Alternately, place the pan upside down on dough and then flip over, so dough goes into the pan.

Crimp edges as desired. Use water if dough cracks. Dock dough with a fork, making small holes for steam to escape, about 10 taps of the fork. Don't damage the bottom. Chill for 15 minutes or until dough firms up.

Place parchment inside the shell and weigh down with pie weights, dry beans, or dry rice.

Bake in a 350°F oven for 10-15 minutes or until set.

If making a fully cooked pie shell or tart shell, remove rice and parchment and continue baking until the shell is golden, about 10-15 more minutes.
Pie Streusel Ingredients
Pie Streusel Instructions
Combine above until streusel forms.

Use to top single crust pies.