Skip to content
Pumpkin Spice Caramel Blondies Recipe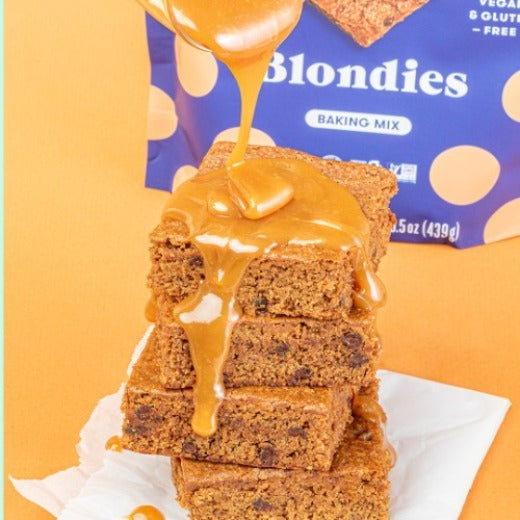 To celebrate the return of our best-selling seasonal cookies, Soft Baked Pumpkin Spice, we are starting our ode to Fall early by marrying them with our very own Blondie Mix!
This easy-to-make recipe highlights the best of Fall flavors—the right mix of sweet and spice— while remaining vegan, gluten-free, non-GMO, and of course, allergy-friendly.
Read on for the easy recipe. And don't forget to tag us on Instagram if you make it! 
Pumpkin Spice Caramel Blondies
Yields: 19 servings
Ingredients:
1 package

 

Partake Blondie Mix
1/2 cup water 
1/2 cup neutral tasting oil
Caramel sauce (optional)

2 tablespoons of Pumpkin Spice seasoning (cinnamon, nutmeg, ginger)
Instructions:
Preheat oven to 350°F.
Grease an 8-inch square pan.
Whisk together the oil and water before adding the blondie mix.
Stir in pumpkin spice seasoning until well combined.
Spread batter evenly in greased pan. 
Bake until set, 25-30 minutes in a metal plan and 35 minutes in a glass pan. A toothpick inserted into the center should come out clean.
Let blondies cool slightly (8-10 minutes) before adding caramel sauce on top. (For added flavor, crumble our favorite Soft Baked Pumpkin Spice Cookies on top.)
Enjoy!