Skip to content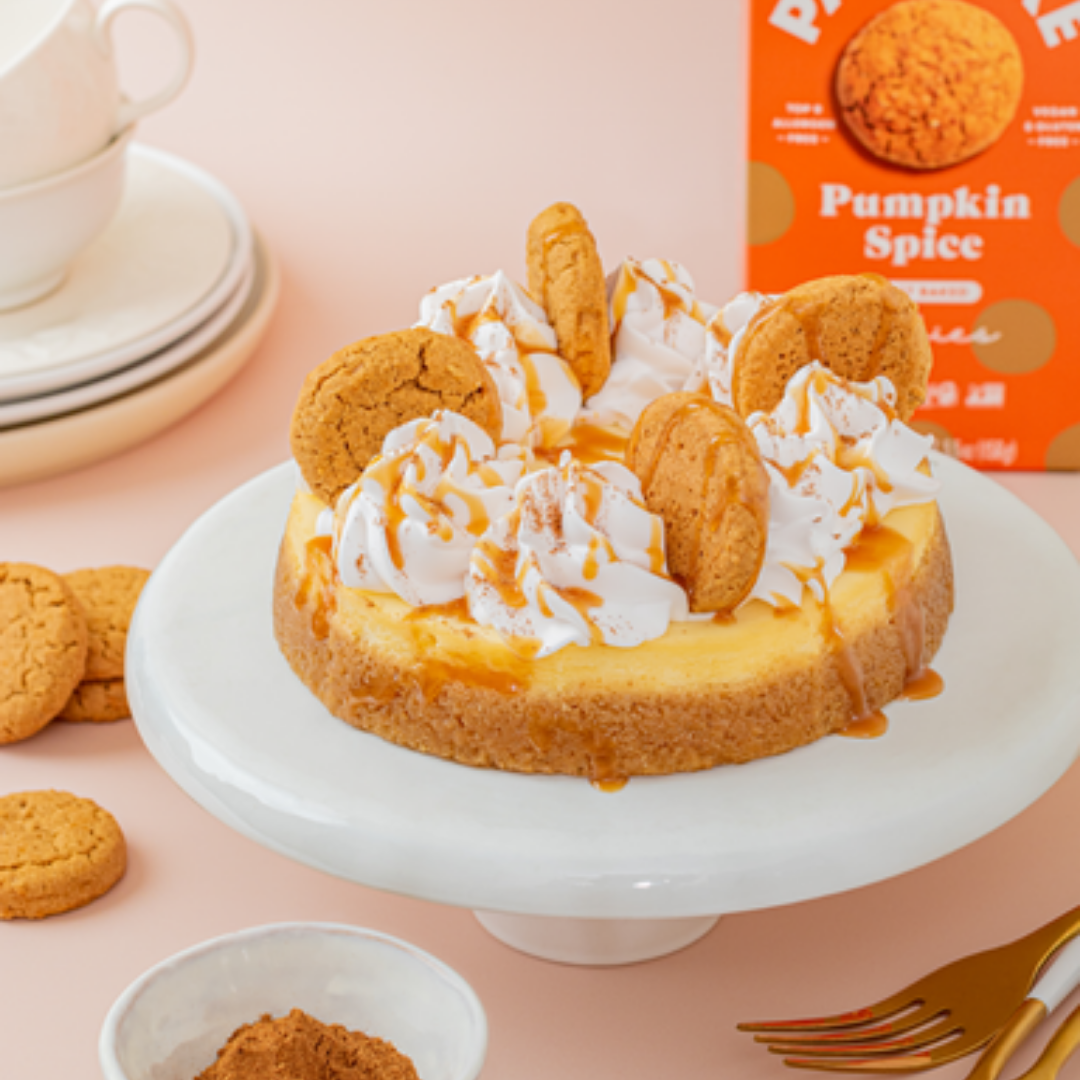 This creamy and decadent Pumpkin Spice Cheesecake is one of our favorite desserts to enjoy on a fall day. The crust, made with our Soft Baked Pumpkin Spice cookies, adds a delicious fall flair to a classic dessert. Don't expect any leftovers!

P.S If you love our Limited Edition Pumpkin Spice cookies, we promise you will fall head over heels for this recipe. 
Pumpkin Spice Cheesecake
Ingredients for the Pumpkin Spice filling:

4 8-ounce packages of cream cheese*

1 cup granulated sugar

1/4 cup packed light brown sugar

3 large eggs*

1 can (15 oz.) pure pumpkin puree

1/3 cup heavy cream*

2 teaspoons pure vanilla extract

1 tablespoon pumpkin pie spice

Ingredients for the crust:

2 cups graham cracker crumbs

6 Partake Soft Baked Pumpkin Spice Cookies

6 tablespoons unsalted butter, melted*

1/4 cup granulated sugar

1 teaspoon pumpkin pie spice
Ingredients for toppings (optional):

Whipped cream*

A box of Soft Baked Pumpkin Spice cookies [Link to pumpkin spice page]

*Non-dairy versions of these ingredients are a great substitute to make this recipe dairy-free or vegan.
Instructions:

Preheat oven to 350°F.

Cover the bottom of a 9-inch pan with foil and spray lightly with non-stick cooking spray.

For the crust, crumble and combine graham cracker crumbs & cookies in a bowl. Then add the butter, granulated sugar, and pumpkin pie spice. Press mixture into the bottom of the pan at least 1 inch in height.

Bake for 7 to 8 minutes. Be sure to cool the crust for at least 10 minutes.

While the crust is resting, combine cream cheese, granulated sugar, and brown sugar until fluffy (approx. 3 minutes). Add in eggs, pumpkin puree, heavy cream, vanilla, and pumpkin pie spice and mix until well combined. (We suggest using an electric mixer.)

Pour batter into the prepared cooled-down crust.

Proceed to bake at 350°F for 60 minutes.

Remove the cheesecake from the oven and let rest for 20 - 25 minutes. Once the cake is completely cooled, place it into the refrigerator for at least 5-6 hours.

Once the cheesecake is completely cool and cold to the touch, add peaks of whipped cream and our Soft Baked Pumpkin Spice cookies for decoration.

Enjoy!