Skip to content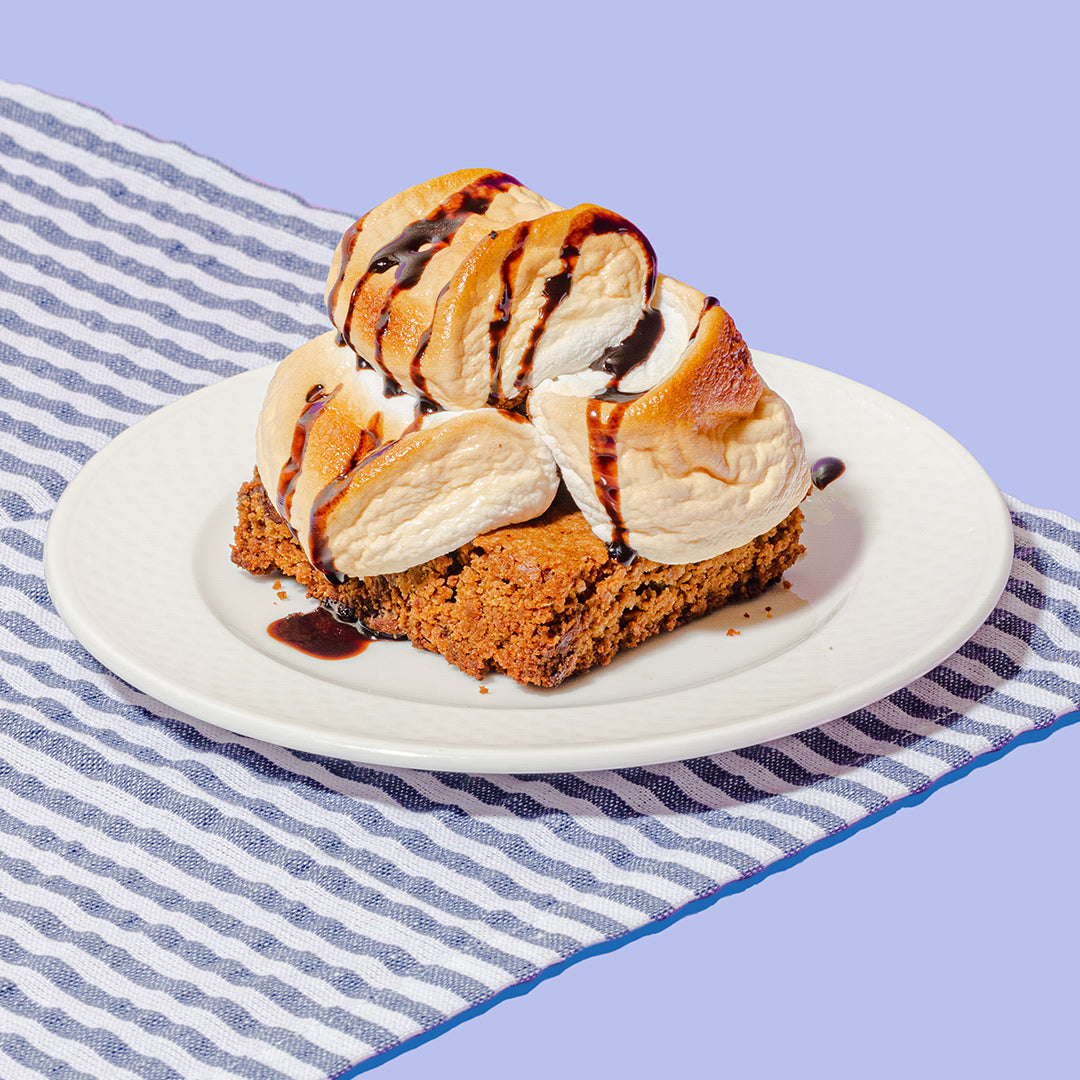 When you think of S'mores, can you smell the campfire? Want that cozy, warm feeling from the comforts of the indoors? With a graham cracker crust, an ooey gooey blondie layer, melted chocolate, and roasted marshmallows on top, these S'mores blondies can bring a flavor party to your taste buds right from your kitchen. Try these S'mores Blondies the next time you're craving s'mores—they're the next best thing! (Or maybe even better?) Try them and let us know, on Instagram, what you think! 

As always, feel free to swap ingredients with alternatives that better fit your dietary restrictions. However, there's no need to worry about our Blondie Baking Mix—like all of our products, it is certified vegan, gluten-free, and allergy-friendly.
S'mores Blondies
Ingredients:
1 ½ cups graham cracker crumbs

2 tbsp light brown sugar

5 tbsp buttery stick (melted and cooled)

1 package of

Partake Blondie Baking Mix

½ cup neutral tasting oil

½ cup water

5 chocolate bars of your choice (quantity depends on your size of chocolate bar)

20 large marshmallows (we love

Dandies Vegan Marshmallows

)
Directions:
Preheat your oven to 350 degrees. Line a 9x9 pan with parchment paper.

Stir graham cracker crumbs, melted butter and brown sugar together until all crumbs are moistened. Press into the prepared pan and set aside.

Prepare blondie batter as instructed on the package.

Pour on top of graham cracker crust in the prepared pan.

Bake for 25-30 mins. 

Blondies are cooked when a toothpick, inserted to the center of the pan, comes out clean. 

Remove from the oven and immediately place chocolate bars on top in a single layer. Break them apart and arrange as needed. Top with marshmallow halves. 

Turn your oven to broil (low) and place the pan back inside the oven to toast marshmallows and melt chocolate. This shouldn't last more than 1-2 minutes. (Be sure to watch them carefully because once the marshmallows start browning, the process goes extremely fast and they will burn very quickly.) 

Remove from your oven and allow the bars to cool on a wire rack in the pan for at least 30 minutes. 

Cut, serve and enjoy!
S'mores Blondies will stay fresh for up to 2 days stored in an airtight container at room temperature.