Skip to content
3 Step Gluten-free, Vegan & Allergy-friendly S'mores Parfait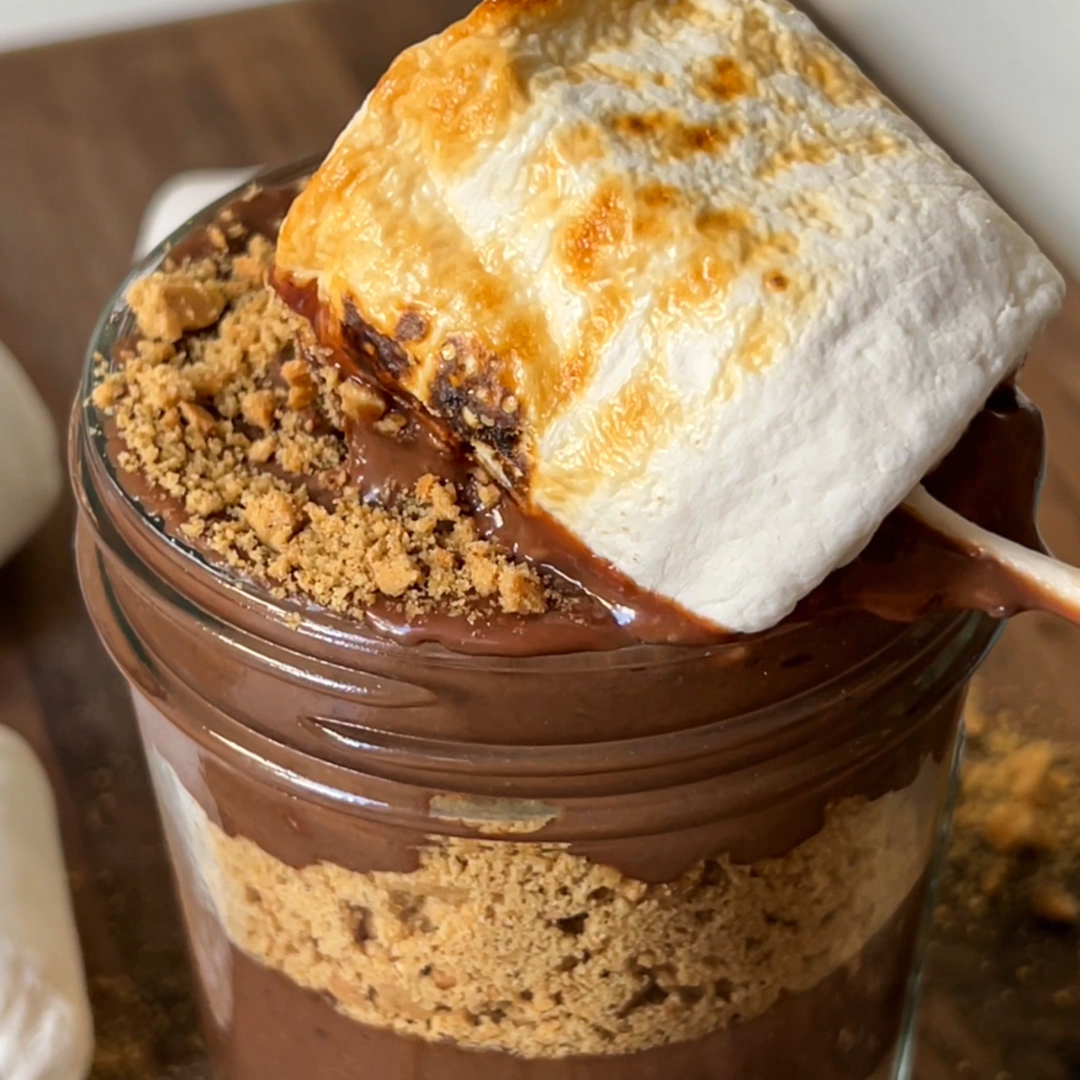 Summer Snack Must-Have: Layered S'mores Parfait
Love s'mores but not a fan of sticky fingers? You're in luck! This s'mores parfait recipe from our friend Winnie Kison (@winniesbalance) layers Partake Classic Grahams with a rich and creamy chocolate ganache and toasted marshmallow topping. Best of all, everything comes together in a jar for an easy, yet impressively decadent treat you can enjoy with a spoon.
What is a parfait?
A parfait is a layered dessert that is typically served in glass. The word "parfait" comes from the French word "parfaire," which means "to perfect" (kind of like how we perfected our allergy-friendly graham crackers 😉).
Originally, a French parfait was a frozen custard made with cream, eggs, and sugar. However, today, it's usually used to refer to any type of layered dessert made with ingredients such as custard, ice cream, yogurt, pudding, or mousse layered with fruit, granola, or other toppings.
Making S'mores Parfait to Share
While this recipe makes one large mason-jar-sized serving, you can easily make it into several smaller servings. Rather than using one large jar to make your parfait, assemble it in mini jars, clear cups, or even ramekins. We recommend using a clear container to show off those drool-worthy layers, but any jar or dish with a wide mouth will work!
S'mores Parfait Recipe
Ingredients:
2 cups vegan heavy cream
1 dark chocolate bar
1 box Partake Classic Grahams
Vegan marshmallows, for roasting

Directions:
Heat heavy cream in a small saucepan over medium-high heat. When bubbling, break the chocolate bar into small pieces and add to the heated cream. Turn heat to low and whisk constantly until you have a thick, even-textured ganache. Set aside to cool slightly. It will continue to thicken as it cools.

Place Classic Grahams in a zip-top bag & use a rolling pin to crush.

Layer a jar with graham cracker crumbles, followed by chocolate ganache. Repeat until your jar is full. Top with extra graham cracker crumbles and toasted marshmallow.
Tip: To toast your marshmallows without a campfire, place a marshmallow on a skewer and carefully toast it over a gas stove flame or food torch. You can also place marshmallows on a baking sheet and place it under an oven broiler until golden brown.
Want a demo of this recipe in action? Check out the video on Instagram. And be sure to pick up a box of our new, gluten-free Classic Grahams to upgrade all your summer snack plans at a Target near you.