Skip to content
Strawberries & Cream Cake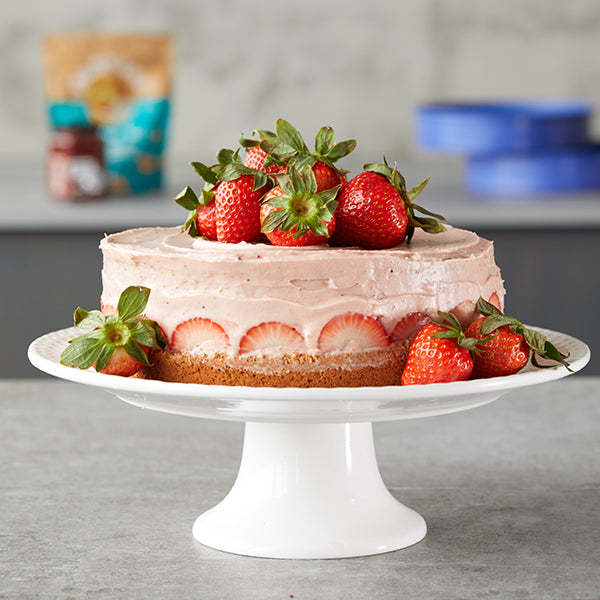 This Strawberries & Cream Cake is perfect for ripe spring strawberries. And it's easy to make, too! We used Partake Classic Pancake & Waffle Mix to whip up a quick cake and topped it with strawberry jam and fresh strawberries. When making our frosting, we chose Strawberry, Chipotle, and Fig Jam from Trade Street Jam Co., who creates fruit forward and clean tasting vegan jams that are low in sugar and high in flavor. 
Ashley Rouse is the founder of Trade Street Jam Co., and has a background in food service, food marketing, and social media management. Her passion for culinary creativity led her down another road. She created her minority and woman-certified small batch jam company in 2008 while living in North Carolina.
10+ years later, her well-known jams are best used in craft cocktails, BBQ sauces, glazes for meats or vegetables, baked goods, yogurt, overnight oats, salad dressings and more. Ashley says she started her business to, "introduce the world to a concept bigger than sugar, unhealthy jam on toast."
Don't miss our exclusive recipe from our Partake at Home: with Friends Digital Magazine, Strawberries & Cream Cake.
And if you make this recipe, make sure to tag us on Instagram!
Download your Partake at Home: with Friends Spring 2021 Digital Magazine HERE. 
Strawberries & Cream Cake
Yields: 1 Cake
Cake Ingredients
Cake Instructions:
Preheat oven to 350°F.

Combine wet ingredients and sugar until blended.

Add Baking Mix and whisk until smooth.

Pour into prepared 8" pan—either all parchment lined or non-stick spray.

Bake for 25-30 minutes or until toothpick inserted into middle of cake comes out clean.

Allow to cool completely before assembling.
Strawberries & Cream Ingredients
Strawberries & cream Instructions:
Combine butter and jam until well mixed.

Stir in confectioners sugar until smooth.

Slice strawberries in half and remove stems.
Assembly Instructions:
Layer strawberries on top of one cooled cake layer.

Pipe frosting on top of straw- berries in an even layer.

Lay 2nd layer on top of first. Pipe frosting on top layer.

Layer strawberries on top to finish.