Skip to content
Sweet Potato and Chocolate Chip Muffins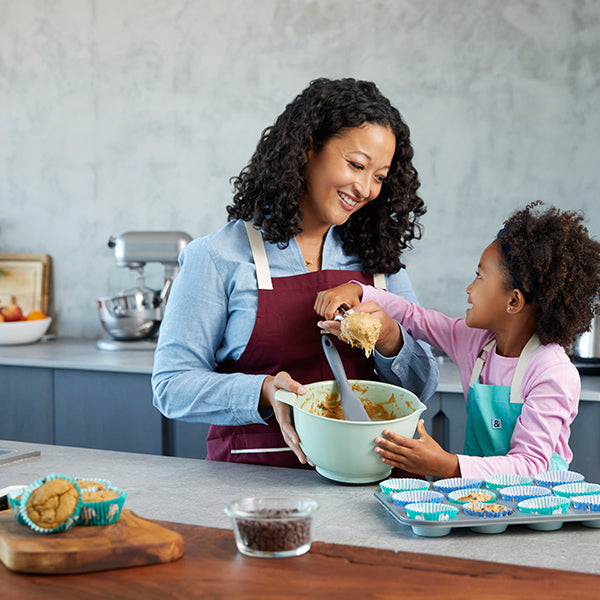 Partake's founder and CEO, Denise Woodard, loves cooking and baking things for her family but needs quick, simple and safe options as she juggles her busy schedule. Sound familiar? 
⁠⁠
So, Denise set out to create a healthy, delicious baking mix she could transform into a variety of things that her daughter Vivienne could enjoy, despite her multiple food allergies. ⁠⁠
⁠⁠
With our 5-in-1 Baking Mix, now you and your loved ones can get creative, mixing up a variety of inclusive sweet treats and breakfast options. Here, we use the mix to make Sweet Potato and Chocolate Chip Muffins. 
Download your Partake at Home: with Friends Spring 2021 Digital Magazine HERE. 

And don't forget to tag us on Instagram if you make it with your family!
Sweet Potato and Chocolate Chip Muffins
Yields: 12 muffins
Ingredients
1 1/2 cups sweet potato, canned or roasted and mashed
1/3 cup cane sugar
3 tbsp maple syrup
1/3 cup oil
1 tbsp vanilla
1/3 cup water
1 tsp cinnamon
1/2 cup chocolate chips
Instructions
Preheat the oven to 350°F.

Line 

muffin tin with liners and spray 

with non-stick oil.

Combine all wet ingredients together in a mixing bowl. Mix until uniform.
Add in Partake Mix, sugar and cinnamon. Mix together until uniform.
Fold in the chocolate chips.
Scoop into lined muffin tin.
Bake for 25-35 minutes or until the toothpick comes out clean when inserted into the middle of

 

a muffin.