Skip to content
The "Cool" Mom's Guide to Back to School: How to Beat the Lunchbox Letdown!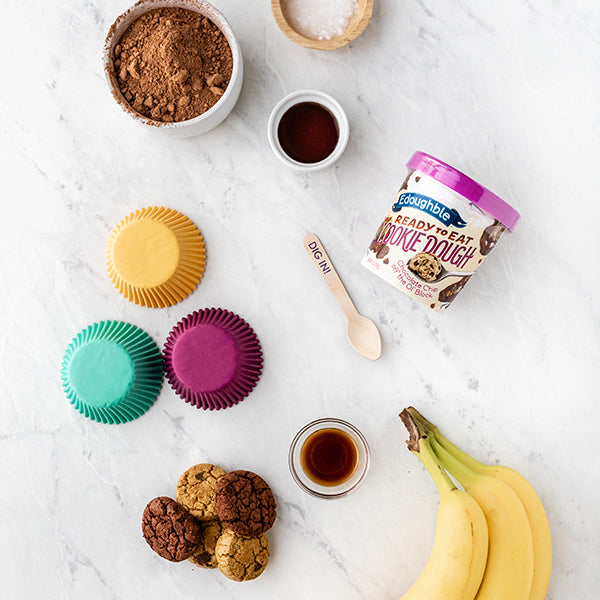 How can you be a cooler parent in the eyes of your kid? Well, you can own a cookie or cookie dough company, of course! Our incredible founder Denise Woodard and Rana Lustyan of Edoughble have come together for back to school season to give you their best tips to beat the #lunchboxletdown! These two lovely ladies are dolling out their lunchtime tricks AND their treats for an awesome giveaway![*CLOSED*] Scroll down for details below! Now, it's time to make your kids' lunches wholesome, delicious, and of course, trade-worthy.
 While parents everywhere are secretly (or maybe not so secretly) doing a happy dance, kiddos are getting ready to switch gears from pool parties and playdates to the regular school day grind. While they may not be ready to say goodbye to sweet summertime freedom, there is one aspect of going back to school that gets them fired up: lunchtime!


There is always something so exciting about the lunchtime buildup. All morning, you'd wonder what goodies are tucked inside your special lunchbox. 
Would you be negotiating a sandwich swap? 
Perhaps a treat trade? 
Or, would it be another type of edible exchange with one of your classmates?
By the time the lunch bell rang, you were prepared to wheel and deal your way to the perfect packed lunch.

So what does it take for these hungry hustlers to become lunchtime legends? Some serious snack swag packed up by super cool parents of course! These rockstar peeps are the only thing standing between a delicious lunchtime deal and a lunchbox letdown, so packing up some bargain-worthy bites for the cafeteria is a must!

If you're a parent looking for a bit of lunchbox inspiration, you're in luck! We're sharing the top tasty tips from two awesome moms who happen to run two amazing cookie-centric companies. Today, Denise Woodard, founder of Partake Foods, and Rana Lustyan of Edoughble are sharing how they've perfected the packed lunch to beat the #lunchboxletdown! And, since we know back to school can be a bit of a bummer for the kiddos, we're including a special recipe for a lunchtime treat AND a crazy awesome giveaway (more deets below!) to make the back to school sendoff that much sweeter.[*CLOSED*]
Get ready for the ultimate cool mom's guide to level up lunchtime!

Tasty Tips from Denise Woodard, founder of Partake Foods
As a super cool mom, what do you pack to beat the lunchbox let down?
Thankfully, Vivi's school provides lunch daily, but for long summer days on the go, she takes our favorite lunchbox - the OmieBox! With her dietary restrictions, some traditional options are off the table, but we still make it fun (& healthy!). We do lots of quinoa salads or pasta salads, made with our fave chickpea pasta, Banza. A favorite lunchbox recipe of ours is Cookie and Kate's quinoa salad. It's chock full of veggies and chickpeas, so it's healthy and allergy-friendly, and most importantly, tastes great! We typically add a fruit (Vivi gets to choose which fruit!), a Babybel cheese, and a Partake cookie for dessert!
A Scrumptious Sneak Peek Inside the Lunch Box Prep of Rana Lustyan of Edoughble
What enviable eats are inside the lunchboxes you prep?
I pack lunch for my 5-year-old daughter Riley and my 4-year-old daughter, Emma. Emma enjoys making her lunch with me.  She chooses from 2 sandwich options and the shape she'd like the sandwich to be cut out into each day. I have two sandwich cutters-a heart and a star. The girls LOVE their sammies cut into shapes! It's a great way to make the sammie exciting. Then, we choose a veggie - cucumbers, colored peppers, carrots (they love crunchy veggies), a fruit (apples, blueberries, peaches, strawberries) and one snack item - string cheese, apple sauce pouch, cracker, etc.  Getting them involved in making their lunch keeps them excited and helps them feel a sense of ownership at lunchtime when they are excited to eat the lunch they made! Oh, and can't forget Friday treat day! We add an Edoughble truffle - chocolate-covered Edoughble cookie dough ball - in their lunch Fridays for a fun treat!

Back to School Banana Bites
Speaking of fun treats, we've got an easy, peasy, kiddo-pleasing sweet to pack up for your little one to enjoy!  This is one lunchbox goodie they certainly won't be swapping at the lunch tables!
Back to School Banana Bites
Ingredients
- 1 organic banana
- 4 tablespoons organic maple syrup (or more for taste!!)
- 1 tablespoon organic vanilla extract
- 1 cup organic cacao powder
- 1/2 cup organic coconut oil
- pinch of sea salt
- Partake Cookies (flavor of choice!)
- Edoughble chocolate chip cookie dough
- muffin tins
Instructions
Grab your muffin tin and place one Partake cookie in each nook.

Next, spread a generous scoop of Edoughble cookie dough onto each cookie. Slice up your banana into coins and place one slice on to each cookie-dough bite. Then, place the tin in the refrigerator to chill and harden.

In a microwave-safe bowl, mix coconut oil, cacao powder, maple syrup, vanilla extract, and sea salt. Then, give the mix a good stir. (If too thick, pop it in the microwave to warm until the coconut oil has melted.)

Next, grab your bites out of the fridge after they've chilled.

Remove each treat for a moment to pour the cacao mixture into the bottom of each tin. Then, replace the treats on top of the cacao mixture and pour the rest of the melty mix over each bite.

Now for some fun! Add whatever topping your little may love! We went with sprinkles and Partake cookie crumbles!

After you've topped your bites, place them back in the fridge (or freezer) to firm up.

Once the cacao coating has firmed, take them out of the fridge and right into your kiddo's lunchbox! Send the little one off to school, and make sure to treat yourself to a bite! The perfect sweet to celebrate back to school season!
And now for a crazy cool cookie giveaway!
Partake has teamed up with our friends over at Edoughble for a cookie collab giveaway! Head on over to our Instagram (@PartakeFoods) to enter for a chance to win one of Edoughble's special Back to School Boxes AND 10 boxes of Partake Cookies (2 of each flavor)! What better way to beat the lunchbox letdown than with a whole lot of cookie goodness![*CLOSED as of 8/16/19-Thank you for entering!*]