Skip to content
Toast to 2022 with 10 Cocktail & Mocktail Recipes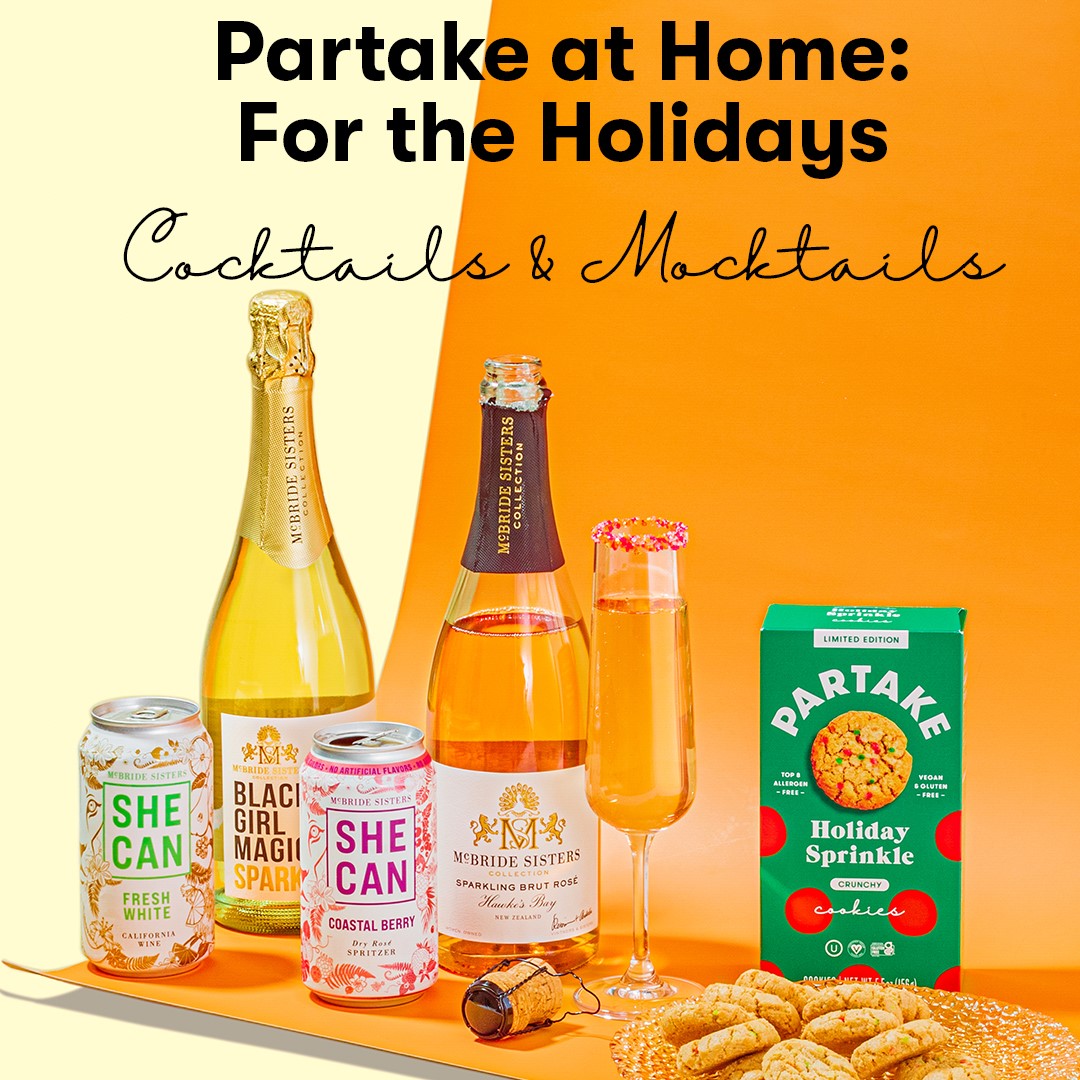 Like the song says:
For auld lang syne, my dear
For auld lang syne
We'll take a cup o' kindness yet
For auld lang syne

If you're looking for a cup of kindness, we have 10 sure to please winter cocktails for our 21+ fam and mocktails for nearly everyone else! Add a plate of Partake cookies, or bake up something special with Partake Baking Mixes, and you're ready to celebrate. We wish you a happy and safe holiday. If you're looking for more recipes, check out our previous weeks of Partake at Home: For the Holidays.
Cheers Partake fam, see you in 2022!

Mocktails & Cocktails

Holiday Sprinkle Sparkler


You can't go wrong celebrating with something "sparkling," but make it festive with our Holiday Sprinkle cookies. Coat the rim of your champagne glasses with holiday colored sprinkles and you've got a seriously fun celebration on your hands!
Ingredients:
Partake Holiday Sprinkle cookies

Your choice of sparkling beverage (prosecco, champagne, apple juice)

Sugar sprinkles (your choice of color)
Instructions:
Pour sprinkles in a small shallow dish.

Wet the rim of your champagne glass with water.

Place the rim of your glass into the sprinkles to coat the rim.

Pour your preferred sparkling beverage into glass.

Cut a notch out of a Holiday Sprinkle cookie and place onto the champagne glass.

Enjoy!
Pumpkin Spice Apple Cider
We haven't let go of pumpkin spice just yet. Pumpkin Spice Apple Cider will leave your home smelling cozy and warm and will set you up for a night at home.
Ingredients:
10-12 medium apples assorted such as Granny Smith, Honeycrisp, Gala

2 oranges peeled and sectioned

1 tablespoon whole cloves

4 cinnamon sticks

1 tsp allspice

1 whole nutmeg 

1 tsp pumpkin spice

Water (about 16-20 cups)

½ to 1 cup brown sugar (to your liking)
Instructions:
Clean and cut apples and oranges. Add to a large stockpot with all spices

Cover with water. Heat over high heat until simmering.

Continue to simmer about 2 hours or until apples are very soft.

Mash Apples and oranges with a potato masher or large wooden spoon against the side of the pot.

Cover and simmer for about 1 more hour.

Carefully strain solids from cider using a cheesecloth or fine mesh strainer, pressing solids against strainer to release the juices. Discard the solids.

Add brown sugar to taste.

Serve warm, room temperature, or chilled with apple slices and cinnamon sticks, if desired. 
Mudslide Milkshake
Where are our chocolate lovers? Do yourselves a favor and make this Chocolate Mudslide Milkshake. It's the perfect way to end a night.
Ingredients:*
2 cups packed vanilla ice cream

4 ounces Espresso

2 tbsp chocolate syrup, optional

Whipped cream for garnish, optional

Chocolate sprinkles for garnish, optional
*Substitute ingredients for plant-based and vegan alternatives to fit your dietary restrictions.
Instructions:
Place the ice cream and espresso in a blender. Blend until smooth.

Drizzle the inside of 2 large glasses with chocolate syrup, if using.
Pour the blended drink inside each glass.
Top with whipped cream, more chocolate syrup, and chocolate sprinkles, if desired.
Enjoy!
Apple Ginger Lemonade
Mix up this Apple Ginger Lemonade when you're craving a refreshing mocktail!
Ingredients:
2 cans Nixie ginger sparkling water

Juice of 1 lemon

1" cube of fresh ginger, sliced

1-½ tbsp sugar

Apple, sliced

Lemon slices

1 cup ice cubes
Directions:
Combine all ingredients except ice in a pitcher. Stir well.

Let the mixture sit for 30 minutes to an hour to allow flavors to combine.

Add ice and serve!
Rosemary & Orange Spritz 
Bring your Aperol Spritz into the holiday season by adding sprigs of rosemary and a slice of orange to your cocktail glass! 
Ingredients:
1 oz Aranciata Pellegrino

1 oz Lillet

1 tablespoon Aperol

1 oz Prosecco

2 sprigs rosemary

1 tablespoon organic cane sugar

1 slice orange




Instructions:
Strip leaves from one rosemary sprig. Chop leaves very finely and toss well with sugar in a small flat dish.

Rub a bit of orange on the rim of a small cocktail glass and dip in the rosemary sugar mixture until the rim is dotted with sugar and rosemary. Add Pellegrino, Lillet, Aperol and ice to the glass. Top with Prosecco.
Garnish with remaining sprig of rosemary and, if you'd like, a slice of orange.
Enjoy!
Hot Apple Toddy
Winter = Hot Apple Toddies. They taste great and are so easy to make, what's not to love?
Ingredients:
1 1/2 oz Spiced Rum

4 oz Hot Apple Cider

1 Tbsp sugar + 1 Tbsp cinnamon combined

lemon juice

Cinnamon sticks (optional)
Instructions:
Pour a small amount of lemon juice into a shallow container and dip the rim of the glass. Shake off excess and dip the rim into the cinnamon sugar mixture.

Pour spiced rum and hot apple cider together in the glass and stir.
Garnish with cinnamon sticks, if you'd like.
Enjoy!
White Chocolate Peppermint Martini
A holiday twist on a classic cocktail, this White Chocolate Peppermint Martini makes for a scrumptious dessert drink. Get those martini glasses ready!
Ingredients:*
1 oz Sugar Free Peppermint Syrup

1 oz white chocolate liquor

1.5 oz vanilla vodka

.5 oz creme de cacao

1.5 oz half & half

Crushed peppermint (optional)
*Substitute ingredients for plant-based and vegan alternatives to fit your dietary restrictions.
Instructions:
Pour 2 tbsp of Peppermint Syrup onto a plate
Make a layer of crushed peppermint on another plate
Dip the rim of the martini glass into the syrup, then dip it into the crushed peppermint.
Pour 1/2 cup ice into a shaker.
Add syrup, white chocolate liquor, vanilla vodka, creme de cacao and half and half into the shaker and shake well.
Pour into your martini glass and drizzle with crushed peppermint candies.
Enjoy!
Cranberry Moscow Mule
This Cranberry Moscow Mule is an easy drink to mix up for any night. Don't forget to use your copper mugs!
Ingredients:
1 ½ ounces vodka

1 ounce cranberry juice

4 ounces ginger beer

Lime wedge (to garnish)

Fresh cranberries (to garnish)
Instructions:
Fill a mule glass with ice.
Add the vodka and cranberry juice.
Top with ginger beer (enough to fill cup).
Give it a stir.
Garnish with lime and cranberries, if desired.
Serve immediately and enjoy!
Vegan Eggnog
Vegan Eggnog might sound like a contradiction, but this classic holiday favorite can be made without eggs or dairy! If you're feeling very festive, spike it with 1.5 oz of rum, brandy, or bourbon.
Ingredients:
1 cup hemp seeds

3 cups non-dairy milk

1/4 - ½ cup maple syrup 

1 tsp pure vanilla extract

½ tsp ground nutmeg

½ tsp cinnamon

¼ tsp cloves

Dairy free whipped cream (for garnish)

Cinnamon (for garnish)
Instructions:
Add hemp seeds to a blender along with the non-dairy milk, sugar (you can start with the 1/4 cup), vanilla, nutmeg, cinnamon and cloves and blend until very smooth. Taste, add more sweetener or spices if needed. 

Let it chill in the refrigerator for at least an hour before serving, it will thicken up and give the flavors time to mingle.

Top with dairy free whipped cream and a sprinkle of cinnamon.

Enjoy!
Roasted Marshmallow Spiked Hot Chocolate
Add a splash of something extra to your hot cocoa this winter ;). This Roasted Marshmallow Spiked Cocoa is sure to keep you extra warm this season!
Ingredients:*
4 oz warmed milk

2 tablespoon hot chocolate powder

1 oz vodka (for an extra kick try flavors like chocolate, peppermint and vanilla)

1 oz whipped cream vodka

Large marshmallow
*Substitute ingredients for plant-based and vegan alternatives to fit your dietary restrictions.
Instructions:
In a small saucepan, warm milk over medium / low heat. (Do not boil!)

Stir in hot chocolate powder until it is dissolved with no lumps.

Add in vodkas, stirring to mix well.

Roast 1 large marshmallow over a fire or with a hand-held torch.

Top hot chocolate with roasted marshmallows and enjoy!