Skip to content
Vegan Apple Streusel Muffins Recipe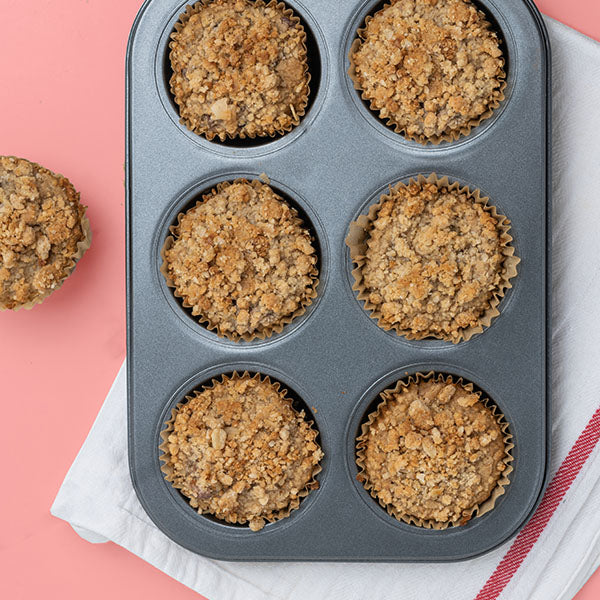 Now that the news is out about our NEW 5-in-1 Baking Mix, we can't wait to share all of our favorite Baking Mix recipes with our Partake fam! And the best part is, not only is our 5-in-1 Baking mix free of the top 8 allergens, it's also non-GMO, vegan and Kosher. 
We've been perfecting recipes for months and are so excited to share one of our favorites, Vegan Apple Streusel Muffins. This recipe is perfect for weekend mornings when you want something that tastes like it came from a bakery but need it to fit your family's dietary restrictions. 
Read on for a mouthwatering recipe, and don't forget to tag us on Instagram if you make them!   
Vegan Apple Streusel Muffins
Ingredients:
Muffins
2 1/2 Cups Partake 5-in-1 Baking Mix
1 1/2 Cup applesauce
3 Tbsp maple syrup
1/3 Cup oil
1 Tbsp vanilla
1.5 tsp cinnamon
1/3 Cup sugar
Streusel Topping
1/2 Cup Partake 5-in-1 Baking Mix
3 Tbsp light brown sugar or a blend of both
3/4 tsp cinnamon 
1/4 tsp salt
2 Tbsp vegan butter, melted 
Instructions:
Preheat oven to 350. Line muffin tin with liners.
Combine all wet ingredients together in a mixing bowl. Mix until uniform.
Add in Partake Baking Mix and cinnamon.
Mix together until uniform and no lumps are present.
Lightly mix all streusel ingredients until formed. 
Scoop into 12 lined muffin tins. Top with streusel mix. 
Bake 25-35 minutes or until toothpick comes out clean when inserted into the middle of a muffin.
Enjoy!