Skip to content
Vegan Cinnamon Waffles + Caramelized Pears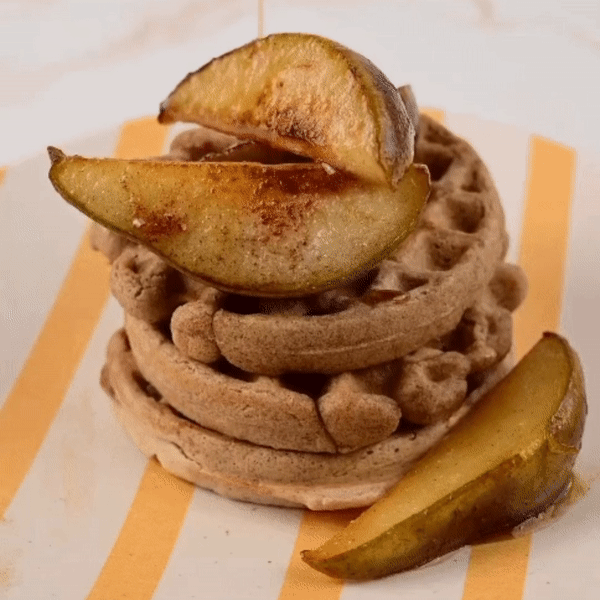 It's a crisp fall Saturday morning. You're wearing your fuzziest slippers, your favorite fall candle is lit, and sunshine is filtering through the colorful leaves outside. Before you hit the apple orchard, you want to make a yummy breakfast that you can confidently enjoy that will also keep your tastebuds satisfied – and these Vegan Cinnamon Waffles with Caramelized Pears are just the ticket.
Whether it's actually fall or you just need to channel the cozy autumn vibes, you can't go wrong with a batch of waffles packed with all the seasonal flavors. Partake's oh-so-versatile Classic Pancake & Waffle Mix is gluten-free, plant-based, and allergy-friendly for all kinds of worry-free, ready-in-minutes breakfasts. (Pro tip: the mix is also great for cakes, muffins, and more!) Topped with caramelized pears and just enough cinnamon, these Vegan Cinnamon Waffles are special enough for a fun weekend breakfast, yet easy enough to enjoy any day of the week. Plus, the warmth of the cinnamon in the waffles pairs nicely with the sweetness of the caramelized pears, creating a delightful balance that you'll keep coming back to again and again.
This recipe is also a great template to customize based on dietary needs, preferences, or just what you have on hand! You can easily swap out the pears for another sliced fruit, such as peaches, apples, or even bananas; just adjust the cooking time as needed. No waffle maker? Use the instructions on the package to make pancakes, then follow the rest of the recipe as listed! However you enjoy them, you're sure to love the perfect harmony of flavors with every bite.
Gluten-Free & Vegan Cinnamon Waffles + Caramelized Pears
Ingredients
Waffles
⅔ cup water

2 tbsp neutral tasting oil or melted butter

1 tablespoon cinnamon
Caramelized pears
1 large ripe pear

1 tsp vegan butter

2 tsp maple syrup

1/8 tsp ground cinnamon

2 tsp lemon juice
Instructions
Preheat waffle maker.

Combine water and Partake mix.

Once fully combined, add oil or melted butter and cinnamon. Mix until combined.

Cook according to waffle iron instructions.

For caramelized pears, slice pears into quarters and discard the cores and stems. Cut each quarter in half to create wedges.

Heat a skillet over medium heat. Add vegan butter and swirl to coat the skillet.

Add pears to the skillet and cook for about 2 minutes, or until the pears begin to brown.

Add maple syrup and cinnamon, and use a spatula to flip / gently toss the pears to begin caramelizing. Cook for ~1-2 minutes more.

Add the lemon juice to balance the flavors, stir, and remove from heat.

Add to the top of your waffles and enjoy.