Skip to content
Vegan & Gluten-free Cinnamon Roll Pancakes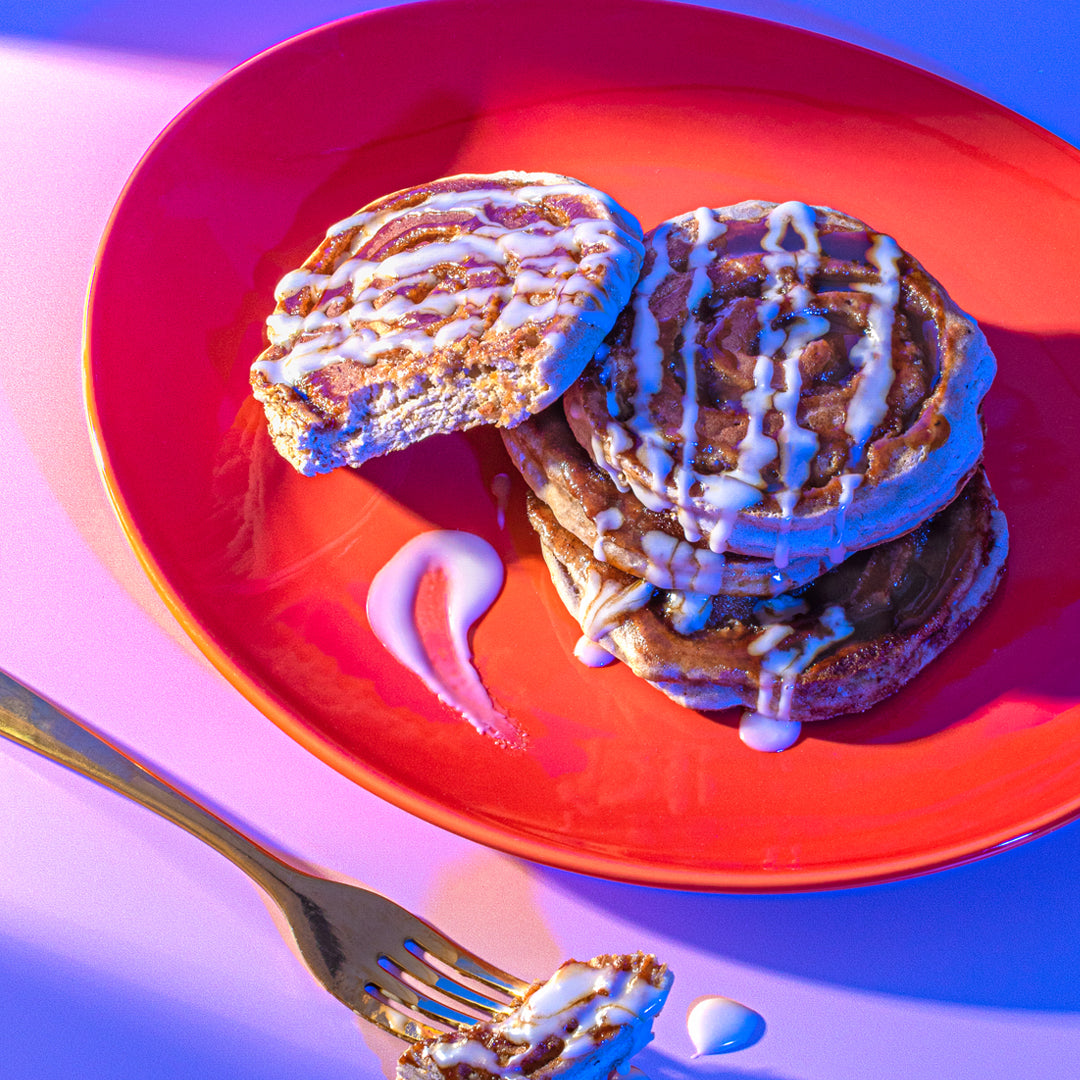 Did anyone else wake up craving cinnamon rolls AND pancakes? Lucky for you, you no longer have to choose! These Cinnamon Roll Pancakes will give you the best of both worlds. We love a surprising breakfast here at Partake, and a stack of these pancakes will definitely satisfy a weekend morning indulgence. But these fluffy, cinnamon roll pancakes are so easy to make, you don't have to save pancakes for the weekends anymore.

We've searched high and low for vegan, gluten-free, and allergy-friendly cinnamon rolls. Not to mention that it can take a few hours to make the cinnamon rolls. But a stack of these pancakes gives you the complex cinnamon flavor you're craving while also abiding to most dietary restrictions. If you have our sold out 5-in-1 Baking Mix, or have gotten your hands on our new Classic Pancake & Waffle Mix, try this recipe out now!
Vegan & Gluten-free Cinnamon Roll Pancakes
Ingredients:
For the cinnamon swirl
2 tbsp softened vegan butter

1 tbsp brown sugar

1 tsp cinnamon
For the icing
¼ cup powdered sugar

½ tsp vanilla

½ tbsp non-dairy milk
Directions:
Make the pancake batter as instructed on the package.

Heat a pancake griddle or pan over medium heat.

While the griddle heats up, mix together the cinnamon swirl ingredients and transfer to a pastry or plastic storage bag. If using a plastic bag, snip the end of the bag to pipe a consistent portion onto pancakes.

Lightly grease the pan with oil.

Pour 3 tbsp of batter onto the griddle and while it cooks, pipe out a swirl with the cinnamon sugar butter mixture. Once the batter starts to bubble, flip and cook until golden brown. Repeat until you have used all the batter.

For the frosting, mix together all ingredients, and then serve with the pancakes.

Enjoy!
Find Pancake & Waffle Mixes at select Target stores, target.com, and partakefoods.com.