Skip to content
Vegan Strawberry Cheesecake with Cookie Crumb Crust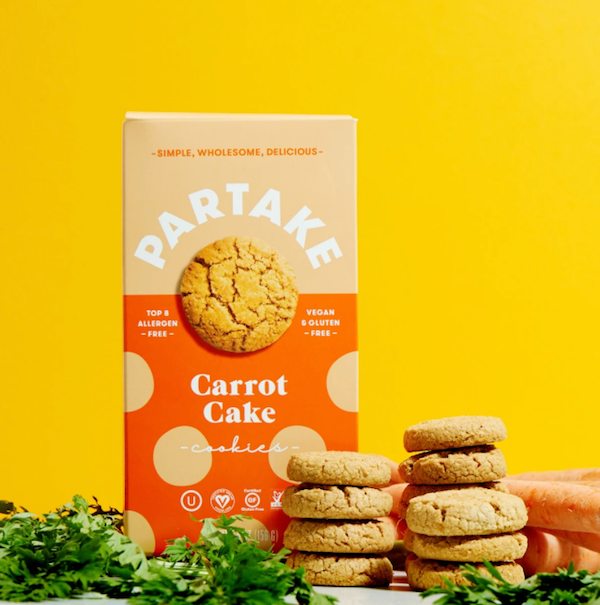 Spring has sprung, and we're ready to whip up some of our favorite fresh and flavorful recipes. Strawberries are the perfect blend of sweet and tart at this time of year, and this recipe features them in one of our favorite forms: on top of a cheesecake!
And because many members of the Partake Fam have dietary restrictions, we're bringing you a vegan cheesecake with a gluten-free crust made using Partake cookies.
This recipe might seem long, but it's really quite simple to make - we promise! 
One of the star ingredients – vegan cream cheese – can be made at home or store-bought. 
When it comes to the crust, the choice is yours. Both our Carrot Cake and Ginger Snap cookies have that cinnamon flavor which will perfectly complement the cheesecake. If you're looking for a little extra bite when it comes to spice, Ginger Snap is the way to go.
Vegan Strawberry Cheesecake Cookie Crumb Crust
Ingredients:
Crust:
2 cups of Carrot Cake or Ginger Snap cookies

½ cup of coconut oil, or dairy-free butter alternative
Filling:
24oz of vegan cream cheese (homemade or store-bought)

2 cups dairy-free yogurt

1.5 teaspoons vanilla extract

¾ cup of sugar or maple syrup

1 tablespoon lemon juice + zest from ½ of lemon

4 teaspoons cornstarch or arrowroot flour
Strawberry Topping:
2 and ¾ cups of sliced strawberries

1 tablespoon cornstarch or arrowroot flour

3 tablespoons water

Juice and zest from ½ of lemon

⅓ cup sugar
Instructions:
Crust:
Preheat your oven to 350

°

F. Set out your vegan cream cheese so that it is room temperature. 

Place the cookies into a food processor and pulse until crumbs are a fine texture. Alternatively, you can put the cookies into a ziploc bag and mash them with a rolling pin until they are the desired consistency. 

Next, place the cookie crumbs into a bowl and add coconut oil (best if it is already melted) or other dairy-free butter alternative. 

Use a fork to mix well before pressing into a pie plate, then bake about 10-15 minutes (until lightly browned). Set aside to cool.

 
Filling:
Add vegan cream cheese, dairy-free yogurt, sugar and cornstarch into a large mixing bowl and mix on a low speed. 

Next, add in the vanilla extract, lemon juice + zest, and mix until ingredients are smooth. If you overmix, it may cause the cake to crack while baking (if it does, no biggie, you're going to cover it with strawberries anyway!) 

You can now add the filling on top of your cooled cookie crumb crust using a spatula.

Place into the oven and bake for 30 minutes, no peeking! When the timer is up, turn off the heat but let it sit for an additional five minutes. 

The cake might be jiggly in the middle, which is OK. Let it cool to room temperature, then place in the refrigerator to cool. It's best if you're able to let it cool overnight, but if not, five or six hours should be OK.
The final sweet step. 
To make the strawberry topping, wash and slice your strawberries before placing into a medium-sized saucepan. 

Take a small cup and add 3 tablespoons of warm water, then place the cornstarch into the cup. Mix well with a fork. 

Add the cornstarch mixture, sugar, lemon juice and lemon zest into the pan with the strawberries and cook over medium heat. 

Continually stir with a wooden spoon, occasionally mashing the strawberries. After five minutes, remove from heat and let cool. 

You can choose to serve slightly warm on the cheesecake right before eating, or you can let cool in the refrigerator for later. The sauce will be very thick after being refrigerated, so you'll need to pop it in the microwave for about 15-20 seconds first. 
Many of these ingredients can be easily swapped out by something that works for your dietary needs. Feel free to experiment! The next time you see local strawberries, grab a couple pints and start baking!