Skip to content
Denise on the Unconditional Love of a Mother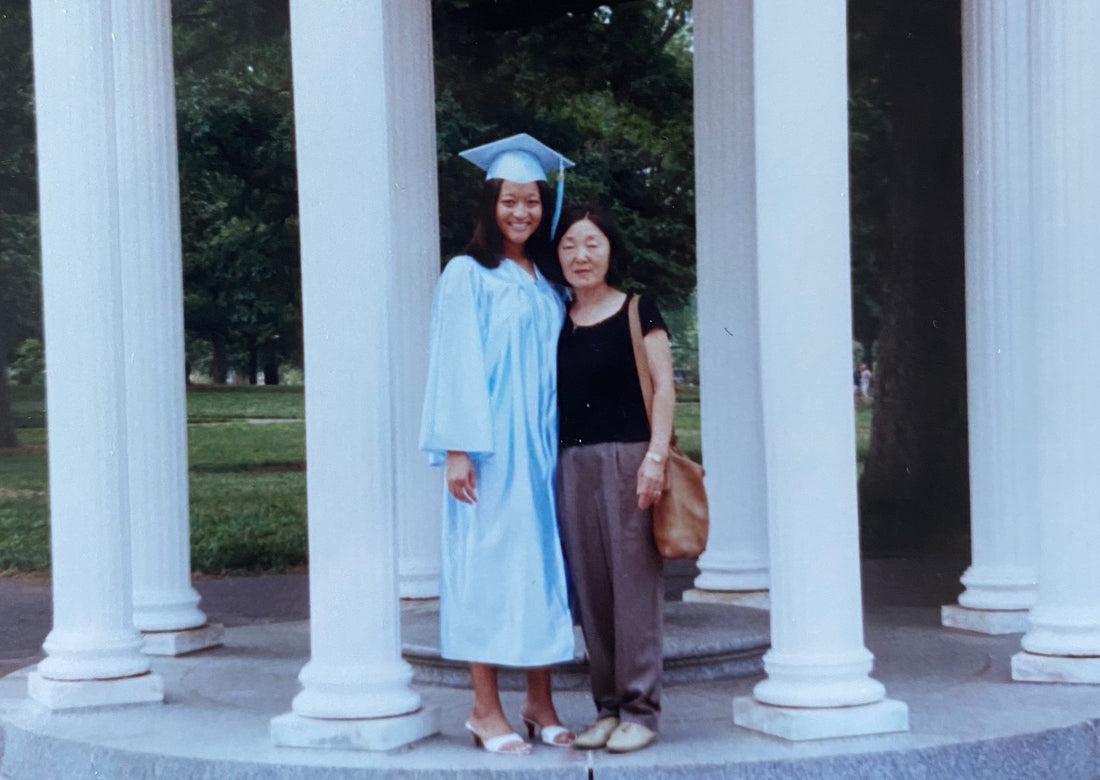 On my very first day of kindergarten, I cried for what felt like hours when it was time for parents to leave. And that crying continued every single day for nearly two weeks. I had never been away from my mom. I'd never had a babysitter, a nanny, or a family member look after me. As a truck driver, my dad was often on the road for weeks at a time so it was usually my mom and me. She was always there. 
I eventually, much to my teacher's relief, stopped crying and grew to love school, but one thing that remained constant throughout my childhood was that my mother was always there. During swimming lessons, my mom would wait on a small bench at the YMCA with a Korean newspaper she'd picked up for free at the local Korean grocery. At piano lessons, where there was no waiting room, she would wait in the car reading her faithful newspaper, even on the hottest, most humid summer days in North Carolina. She spent a ton of time waiting because she enrolled me in every possible activity that I expressed an interest in. I played the piano, cello, flute, and soccer. I swam and did every form of dance you can think of.  
Now that I'm a mom, I have a deeper appreciation for the time she gave me and understand the financial cost associated with the opportunities I was afforded. My parents were not rich by any stretch of the imagination. It now makes sense to me that when I entered high school in 1998, my mom was still driving the same 1988 Oldsmobile she'd gotten when I went to kindergarten.
My mom gave and gave and gave for me. When I turned 16, my parents bought me a new car while my mom still drove that 1988 Oldsmobile. When I got into a car accident in college, my parents decided that I should have a safer SUV and my mom took my hand-me-down Honda from high school.  She never bought new clothes, makeup, or did anything for herself. Even now, as I navigate my own self-care, I have to remind her to treat herself—which she often waves off. What does not waver, even long after I'm married with a family of my own, is the fact that she always shows up for me.
As a mother, I'm now pouring the same currency of love and time and sacrifice into my daughter. As much as I read about not overscheduling and not spoiling your children, I find myself working and stretching to give my daughter what I perceive to be the best of everything —the best schools and all the extracurricular activities. (With moments of personal self-care when I can find them.)
This unwavering devotion to family has even translated to my career. When I found out that my daughter had food allergies, and I did not feel she had access to the best options, I did something about it. I left the comforts of the career I had built for over a decade and worked seven days a week dipping perilously deep into my family's savings to make sure she had the best.  
And when my daughter grows up if she chooses to become a mother, while I'm sure I'm getting a lot of stuff wrong, I hope she pours the same love, dedication, and sacrifice into giving her children the best life she can. 
This kind of generational wealth can't be quantified on a financial statement, but it does amortize year over year. I am so grateful for the investment my mother gave me. It shaped me in so many ways and has made me the mother I am and will be. On this Mother's Day, regardless of whether you have a mother close or are a mother yourself, I wish for you the kind of unconditional love that we now generationally share. There is a contribution I hope my family's story and actions give to the world—and at the heart of it is love. 
Happy Mother's Day