Skip to content
The Perfect Pairings: Cookie Edition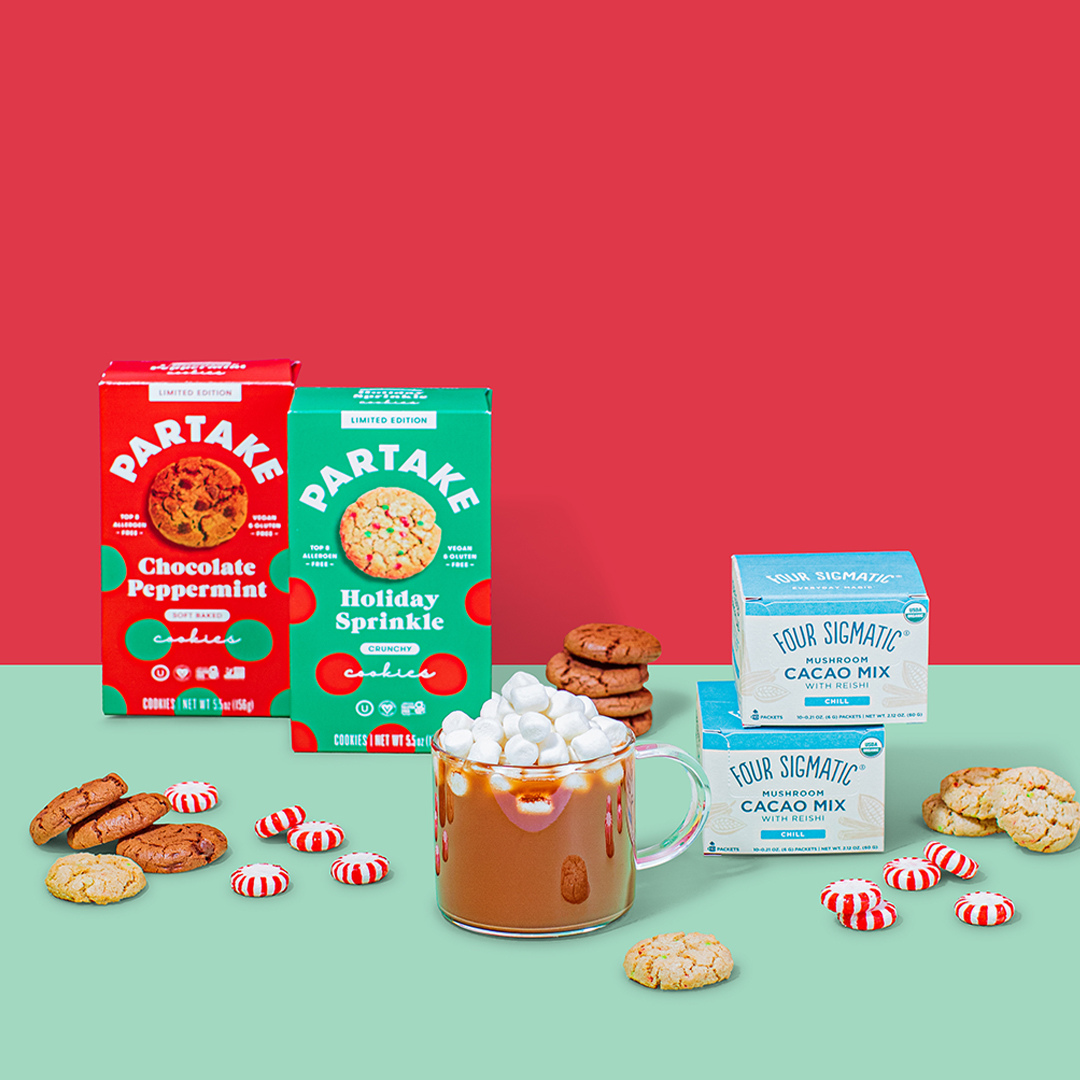 There are many ways to enjoy Partake cookies. With each unique flavor  comes a dynamic duo. Here are a few of our favorite Partake flavor pairings  with help from our friends at Tea Drops, Golde, and Four Sigmatic. 
Pairing 1: Gingerbread + Chocolate
Featured products: Tea Drops Chocolate Gingerbread & Partake Soft Baked Double Chocolate Cookies
If your idea of an ideal night ends with something sweet and a warm drink, this is the pairing for you! Chocolate Gingerbread is one of our favorite Tea Drops flavors, especially during the winter months. Not only is it delicious, but it's also easy to make. Pair it with a few of our Soft Baked Double Chocolate cookies and you have a cozy winter evening in your hands!


Pairing 2: Matcha + Cookie Butter
Featured Products: Golde Pure Matcha & Partake Soft Baked Cookie Butter Cookies
Who else regularly  needs a midday pick me up? Some caffeine and a sweet treat might do the trick. A favorite amongst the Partake team is a matcha latte, made with our favorite matcha powder (Golde, of course) and oatmilk. Add to that a few Soft Baked Cookie Butter cookies, and you've got just the right amount of energy to get you through the rest of the day. Talk about a delicious snack to look forward to.
Pairing 3: Hot Cocoa and Chocolate Peppermint
Featured Products: Four Sigmatic Hot Cocoa & Crunchy Holiday Sprinkle and Soft Baked Chocolate Peppermint Cookies
Who else is in that ho-ho-holiday spirit? Hot chocolate and holiday cookies are a definite must in the holiday season. Our favorite way to enjoy this classic pairing is with our Soft Baked Chocolate Peppermint and Crunchy Holiday Sprinkle cookies and Four Sigmatic's Hot Cacao Mix with Reishi. Delicious and better-for-you, this combo will have you feeling good all season long!
Pairing 4: Vanilla, Chocolate + Oat
Featured Products: Four Sigmatic Sweet Vanilla Plant-Based Protein & Partake Cookies
We're still on the overnight oats train for a good long while. We love packing our overnight oats with some added protein and flavor. Mixing in
Four Sigmatic's Sweet Vanilla Plant-Based Protein
and
Partake cookies
gives an extra boost of protein and flavor variety and is so easy to add in. Our Cookie Butter, Double Chocolate, and Chocolate Chip cookies make for great overnight oat flavor topping.
Love these mashups as much as we do? Head to
this blog post
to learn more about the founders of Golde, Tea Drops, and Partake! Trinity Mouzon, Sashee Chandran, and our very own Denise Woodard share their favorite holiday traditions.