Skip to content
4 Recipes to Make Your Holiday Morning Brunch Merry & Bright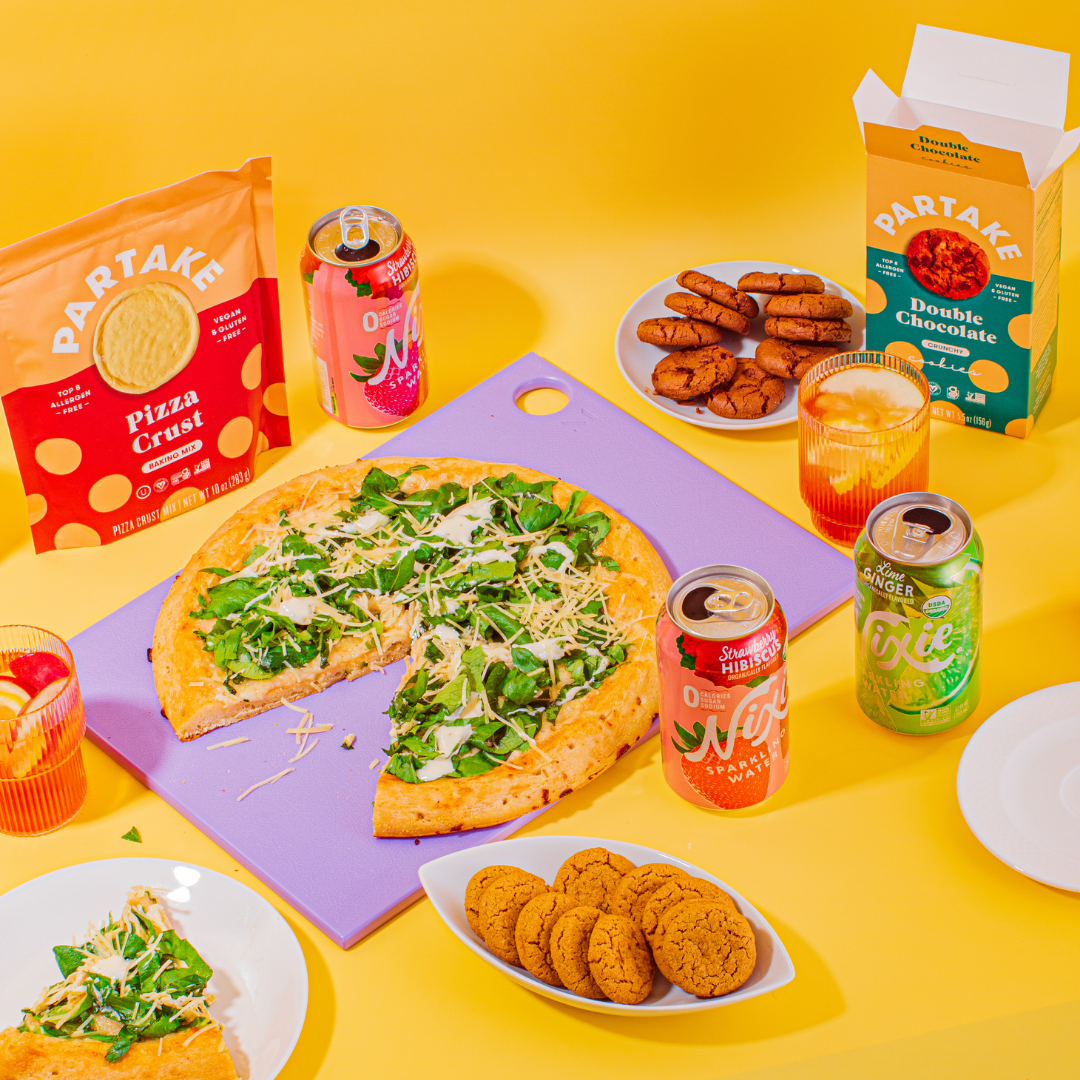 Is there anything better than making brunch on a holiday morning? We'll take any excuse to enjoy great food ;). We have a great selection of recipes that you will enjoy! Get in on the holiday kitchen fun with four of our favorite recipes that are perfect for brunch. 
These and more recipes, tips and ideas can be found in Partake at Home: For the Holidays. Read more here.
Rosemary Garlic Knots
These Rosemary Garlic Knots are a great appetizer for your holiday brunch—or anytime, really!  Serve them with your favorite dipping sauce. We love drizzling hot honey on them for a sweet & spicy kick!
Rosemary Garlic Knots
Ingredients:
1 cup water

2 tbsp olive oil

1 tbsp apple cider vinegar

1-½ tbsp active dry yeast (optional)

2 teaspoons dried rosemary, or more to taste

3 teaspoons granulated garlic

½ teaspoon chili powder

½ teaspoon salt

1 dash dried basil

1 dash dried oregano

1 dash ground black pepper
Directions:
1. Preheat oven to 350 degrees.
2. Prepare pizza dough as instructed.
3. Shape biscuit dough into 12 balls. Roll each ball into a 4- to 6-inch long strips.
4. Combine olive oil, rosemary, garlic, chili powder, salt, basil, oregano, and pepper in a bowl. Dip dough strips one-by-one into the oil mixture and roll until totally covered. Tie each strip into a knot, stretching as needed. Place knots on an ungreased baking sheet.
5. Bake in the preheated oven until golden brown, about 15 minutes.
6. Enjoy!


Caesar Salad Flatbread
A breakfast flatbread is a great and filling option. Try this Caesar Salad Flatbread for a fun way to sneak in some greens! Use plant-based cheeses and vegan salad dressing to easily make this meal dairy and egg-free!
Caesar Salad Flatbread
Ingredients:
1 cup water

2 tbsp olive oil

1 tbsp apple cider vinegar

1-½ tbsp active dry yeast (optional)

Olive oil for brushing

8 oz mozzarella, sliced

1/2 cup parmesan shredded cheese, divided

2 cups romaine, chopped

1/4 cup caesar salad dressing

Salt + pepper
Directions:
Preheat oven to 400 degrees.

Prepare pizza dough as instructed on the package.

Roll out the dough.

Brush with olive oil.

Bake for 12 -15 minutes.

Toss romaine with caesar dressing and set in the fridge till ready to assemble.

Remove pizza crust + set oven to broil.

Top crust with sliced mozzarella cheese and 1/4 cup parmesan cheese.

Return to the oven and broil for about 4 minutes.  Remove once cheese is melted + bubbly.

Top pizza with caesar salad + remaining 1/4 cup parmesan + salt + pepper.

Enjoy!
Peppermint White Mocha
Every brunch needs a drink! Make this festive Peppermint White Mocha for your holiday brunch. It's a delicious way to spice up your cup of coffee. Easy to make as a mocktail or cocktail (with just a splash of vodka ;)).
Peppermint White Mocha
Ingredients
3 tablespoons white chocolate hot cocoa

⅛ - ¼ teaspoon peppermint extract depending on desired amount

10 ounces freshly brewed hot coffee

1-½ ounces of vodka (optional for our 21+ crowd)
Mug Rim Garnish & Topping
Partake Soft Baked Peppermint Cookies

1 cup mini marshmallows

Crushed candy canes or peppermint bits plus additional for topping

Whipped cream, if desired
Instructions
Prepare the glass:
a. Place the crushed candy canes or peppermint bits onto a plate.
b. Place the marshmallows into a wide shallow rim bowl (wind enough to fit the mug rim) or plate and microwave for 15 - 20 seconds until soft and melted.
c. Immediately dip the mug into the marshmallows, taking care to cover all edges of the rim. There may be some dangly marshmallow strands, but those can be cut with a knife or attached to the glass before adding the candy.
d. Immediately dip the mug into the crushed candy cane.
For the drink:
a. Place three tablespoons of the white chocolate hot cocoa mix into your coffee mug.
b. Add the peppermint extract.
c. Pour the 10 ounces of coffee into the mug (and vodka, if using) and mix thoroughly.

Top with whipped cream and a Soft Baked Chocolate Peppermint cookie.

Enjoy!
Did you catch our Matcha Waffles recipe? Read more about it here.