Skip to content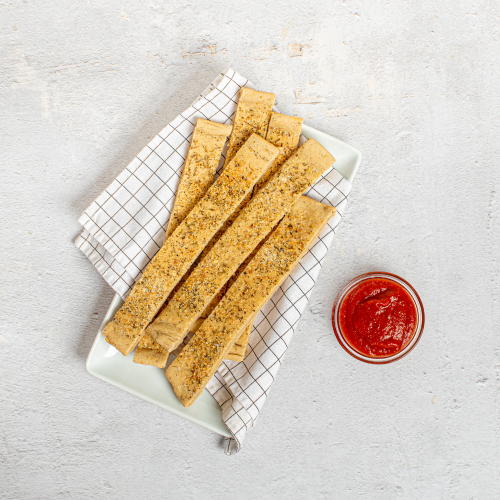 Chewy, fluffy and savory breadsticks are the perfect side dish or starter for your pizza night- might we also suggest Vegan Margherita Pizza. This quick and easy recipe will become a staple at your dinner table.
Breadsticks
Ingredients
1 package Partake Pizza Crust Mix

1 cup water 

2 tbsp of olive oil 

1 tbsp of apple cider vinegar 

1 ½ tbsp of active dry yeast 

½ tbsp onion powder 

½ tbsp garlic powder 

½ tbsp of rosemary 

Salt to taste
Instructions:
In a bowl, dissolve yeast in warm water. Let the yeast stand until foamy (approx. 5 mins).

Stir in Pizza Crust Baking Mix, olive oil, apple cider vinegar, garlic powder, and onion powder; form the mixture into a tight ball.

After allowing the dough to sit for 10 minutes, roll into a square shape with lightly oiled hands and allow to sit for an additional 10 minutes.

Cut dough into strips.

Brush the dough with olive oil and add salt, rosemary, garlic powder, and onion powder.

Bake your breadsticks for 10-12 minutes, depending on the dough thickness.

Let cool for 1-5 minutes and enjoy!