Skip to content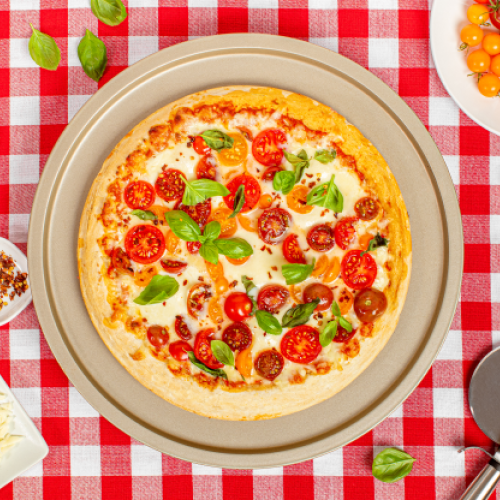 There's nothing like a classic margherita pizza! The crispy, crusty edges, the rich flavor of fresh tomato and the creamy texture of melted cheese—talk about perfection. 
Bring the love for your local pizza shop home with our newest product—Pizza Crust Baking Mix. Want more ways to use this versatile mix? Check out our breadsticks and cinnasticks recipes.
Vegan Margherita Pizza
Ingredients:
1 package Pizza Crust Baking Mix
1 cup water 
2 tbsp olive oil 
1 tbsp apple cider vinegar

1 ½ tbsp active dry yeast (optional)

½ tbsp onion powder (optional)

½ tbsp garlic powder (optional)
For the toppings:
Fresh basil (to taste)
Red pepper flakes (to taste)
1 large ripe tomato
1 container of baby tomatoes

16 oz of your favorite vegan or non-vegan cheese

1-16 oz jar of your favorite tomato/pizza sauce
Instructions:
To make the pizza crust:
In a bowl, dissolve yeast in warm water. Let the yeast stand until foamy (approx. 5 mins). 

Stir in pizza crust mix, olive oil, apple cider vinegar, garlic powder, and onion powder; form the mixture into a tight ball 

After allowing the dough to sit for 10 minutes, roll the dough out with lightly oiled hands and allow the dough to sit for an additional 10 minutes.

Bake the dough for 12 minutes. 
To assemble the pizza:
After the crust has been baked for 12 minutes, spread tomato sauce on pizza crust, top with your cheese of choice, sliced red tomato, and orange baby tomatoes. 

Add basil all over the pizza, and then drizzle the entire pizza with extra virgin olive oil and red pepper flakes.

Bake for 12-15 minutes, or till the pizza base is fully cooked and cheese is thoroughly melted. 

Let pizza cool for 1-3 minutes & then enjoy!