Skip to content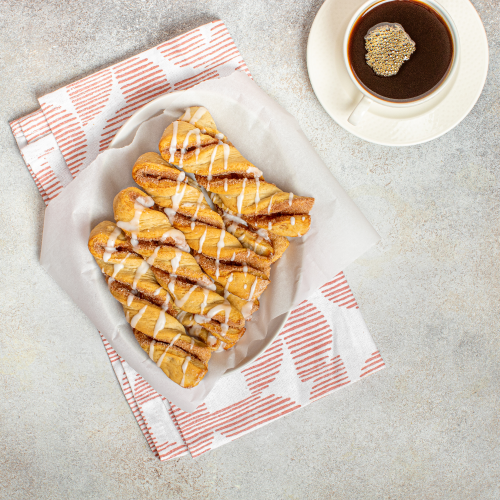 Do you like savory or sweet treats? 
Preferences aside, these warm doughy sticks topped with cinnamon sugar, and a light drizzle of sweet icing will surely have confidence in your decision to make this classic dessert. 
Cinnasticks
Ingredients:
1 package Partake Pizza Crust Mix

1 cup water 

1 stick of butter (or vegan butter)

1 tbsp of apple cider vinegar 

1 tbsp of olive oil 

1 ½ tbsp of active dry yeast 

½ tbsp of cinnamon 

½ tbsp of nutmeg
For the icing:
2 cups of powdered sugar 

2-4 tbsp of whipping cream 

1 tbsp of butter 

½ tsp vanilla
Instructions:
To make the icing: 
Combine powdered sugar, melted butter, vanilla, and whipping cream until the consistency of icing is smooth. 
To make the Cinnasticks: 
In a bowl, dissolve yeast in warm water and let stand until foamy (approx. 5 mins). 

Stir in Pizza Crust mix, olive oil, apple cider vinegar, cinnamon, and nutmeg; form the mixture into a tight ball.

After allowing the dough to sit for 10 minutes, roll into a square shape with lightly oiled hands and allow the dough to sit for an additional 10 minutes.

Cut dough into strips and then twist two strips together until it forms a rope-like shape. 

Pour melted butter over the dough and top with sugar and cinnamon.

Bake on a lighted greased pan for 10 - 12 minutes.

Let cinnasticks cool for 2-3 minutes before drizzling icing. 

Enjoy!