Skip to content
Brownie Ice Cream Sandwiches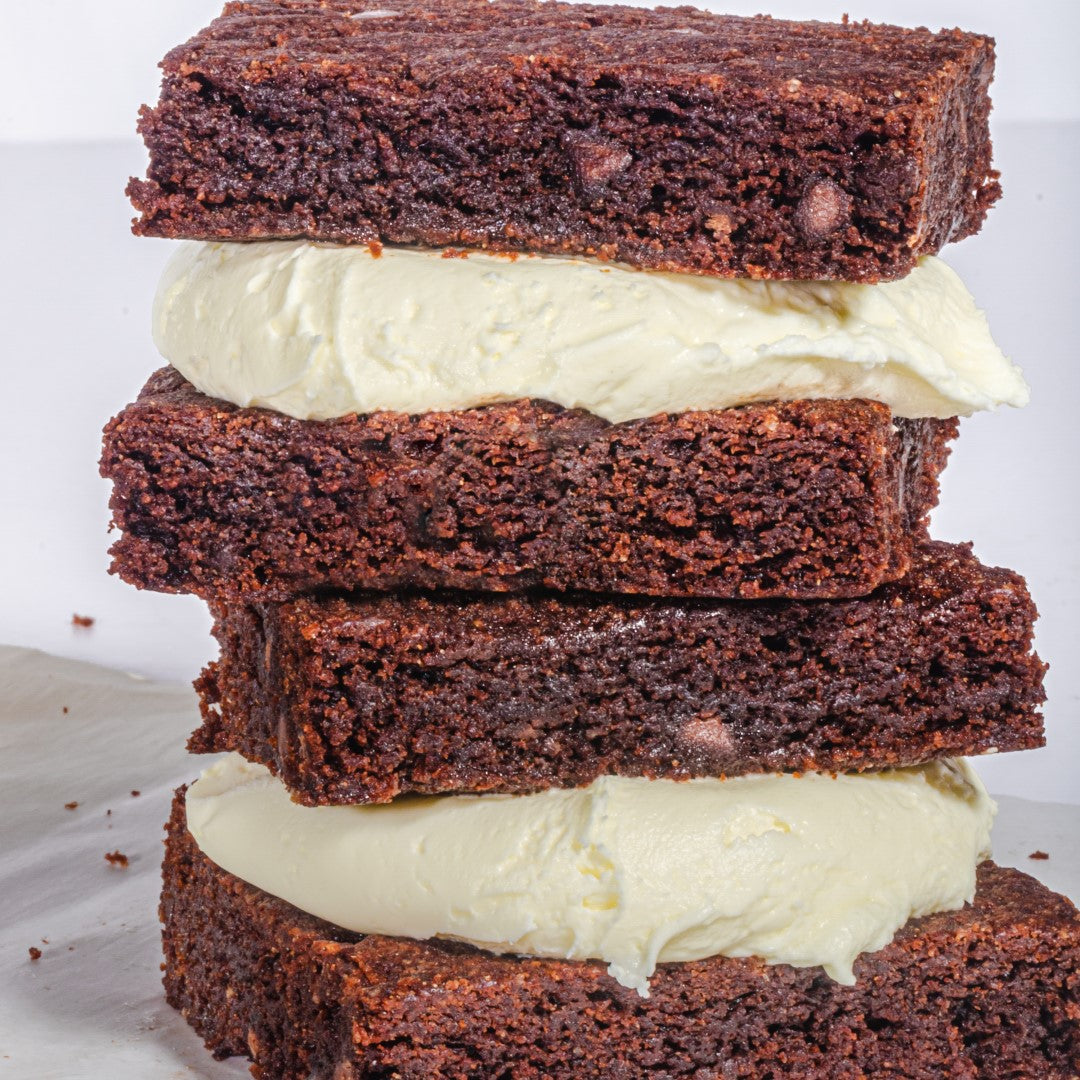 It's officially Summer, and we couldn't be more excited! We've been looking forward to picnics in the park and warm summer nights all year long. You too? Whether you're spending the day at the beach, or turning work-from-home into work-from-outside, you'll definitely want a way to cool down and we've got the perfect frozen treat. 
These brownie ice cream sandwiches are the ideal cool, yet decadent way to end a summer day. Thanks to our Brownie Baking Mix, making these ice cream sandwiches are as easy as 1-2-3. We've chosen to fill them with classic vanilla ice cream, but feel free to choose whatever flavor your heart desires.

You can shop our Brownie Baking Mix on partakefoods.com, Thrive Market, and Hive. Make sure you grab a few boxes so that you can try all of our recipes using our Brownie Baking Mix, including this delicious and fruity Jam-Swirled Cheesecake Brownie.
Brownie Ice Cream Sandwiches
Ingredients:
 For the brownies:
1 box Partake Brownie Baking Mix

1/2 cup neutral tasting oil

1/2 cup water
 For assembly:
1 pint of your favorite ice cream or dairy-free frozen dessert
Directions:
Preheat oven to 350 degrees F.

Grease an 8x8 pan.

Whisk together the oil and water.

Add Partake mix and stir until well combined.

Spread batter evenly in prepared pan.

Bake for 25-30 minutes or until set (35 minutes if using a glass pan).

Let brownies cool completely (at least 3010-15 minutes).

Cut brownies into an even number of squares. Or use a square cookie cutter for even slicing.

To assemble, place a scoop of ice cream onto 1 brownie square and top it with another brownie square. Quick tip: If you have some time, let your ice cream sit on the counter for 10-15 minutes (or until soft and slightly melty). Line your completely cooled brownie pan (or a glass pyrex dish) with parchment paper making sure the parchment sits over the edges, enough to grab, and then spread softened ice cream in the dish. Place the pan in the freezer overnight. The next day, remove the pan from the freezer, grab parchment edges to lift the ice cream out of the dish and cut it into even squares using your knife or square cookie cutter. 

Assemble into brownie sandwiches and Enjoy!