Skip to content
Easy No-bake S'mores Bars Recipe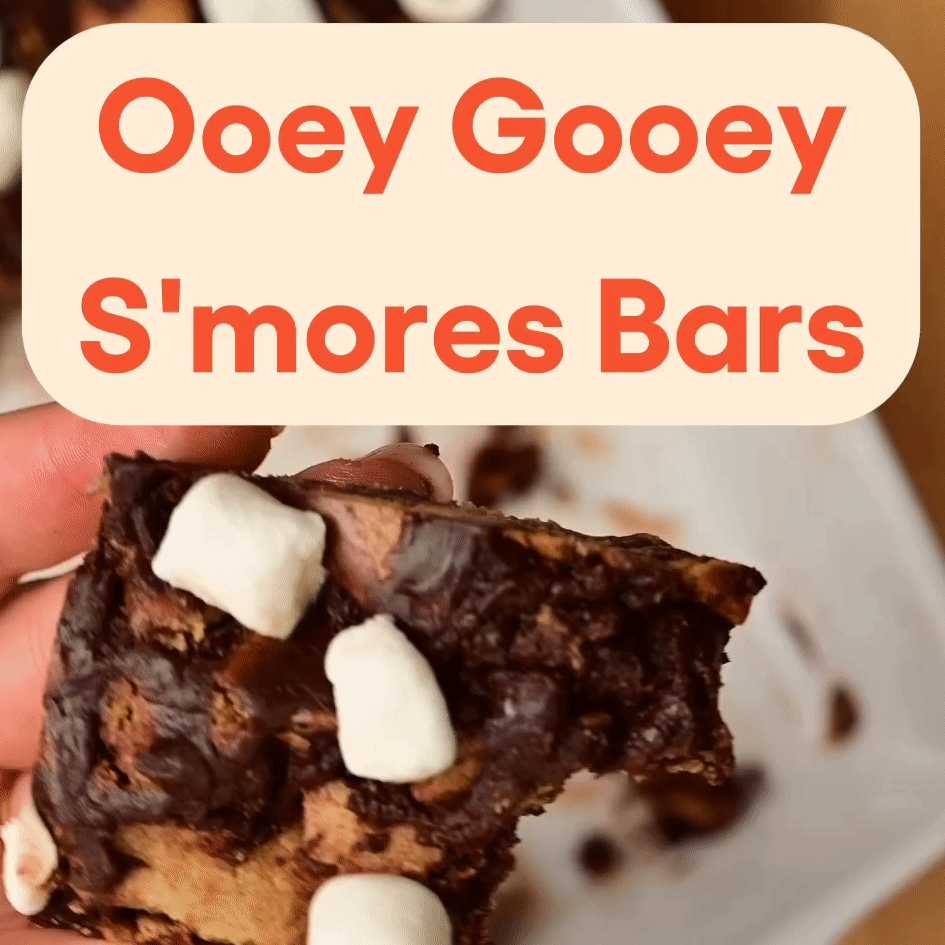 Get ready to indulge in a delightful summer treat with this irresistible and easy No-Bake S'mores Bars recipe. Packed with all the classic flavors of a traditional s'more, these bars are easy to make, require no baking, and are perfect for satisfying your sweet tooth during the warm summer months.
With an indulgent chocolate filling and crunchy graham cracker pieces, these no-bake s'mores bars will transport you to a cozy campfire setting with every bite. Let's dive in and discover the joy of this delicious recipe!
Why Are No-Bake S'Mores Bars So Good?
The s'mores concept is popular for desserts for several reasons, as they combine a few key elements that make them irresistible to many people.
Simplicity:
S'mores follow an incredibly simple recipe to make, requiring just a few basic ingredients—graham crackers, chocolate, and marshmallows. The ease and accessibility of these ingredients make s'mores a popular choice for outdoor activities, parties, and even indoor gatherings. This still applies even after you make them into no-bake s'mores bars!
Combination of Textures and Flavors:
S'mores offer a delightful combination of textures and flavors. The crispiness of the graham cracker, the gooeyness of the melted marshmallow, and the creaminess of the melted chocolate create a perfect balance. The contrasting textures and the sweetness of the ingredients work harmoniously to create a satisfying and indulgent treat.
Versatility:
S'mores are versatile and can be customized to suit individual preferences. You can change the recipe to whatever you like! From using different types of chocolate (non-dairy, milk, dark, or flavored) to experimenting with various graham crackers (like Partake's allergy-friendly, certified gluten-free, and vegan Classic Graham Crackers) and even adding additional toppings like caramel or fruit, there are endless possibilities to personalize and elevate the classic s'more recipe. These no-bake s'mores bars are one variation we're excited to share with you today!!
If you're not actually sitting at a fire where you can enjoy the nostalgia of making s'mores, you can still enjoy the delicious flavors and share with others when you make these no-bake s'mores bars.
No-Bake S'mores Bars Recipe
Ingredients:
Partake Classic Grahams

Miniature marshmallows*

1 ½ cups chocolate chips*

5 tbsp butter*

1 tbsp vanilla extract

*Feel free to swap in your favorite allergy-friendly chocolate chips, buttery spread and marshmallows! Our Classic Grahams, like all things Partake, are vegan, gluten-free and top 9 allergen-free.
Instructions:
Spray a baking pan with cooking spray.

In a medium saucepan, heat marshmallows, chocolate chips, and butter over low heat, stirring occasionally until melted and fluffy. Remove from heat and stir in the vanilla extract.

Add the melted chocolate mixture to a bowl of crushed graham cracker squares and mix until evenly coated. Let the mixture sit for a minute or two to cool a bit and then stir in additional marshmallows.

Press the mixture into the prepared pan. Let sit for at least an hour before cutting into bars and serving.

Enjoy!
Tips:
For a twist on the classic s'mores bar recipe, you can also mix in granola butter with the graham crackers and the chocolate mixture.

If you prefer a toasted marshmallow flavor, you can use a kitchen torch to lightly toast the marshmallows on top of the s'mores bars before serving.

Store s'mores bars in an airtight container in the refrigerator to maintain their freshness. They can be enjoyed for up to 5 days.
This No-Bake S'mores Bars recipe is a delightful and easy-to-make summer treat that captures the essence of a classic s'more. With their gooey chocolate filling and irresistible combination of graham crackers and fluffy marshmallows, these no-bake s'mores bars are sure to satisfy your sweet cravings. Whether you're gathering with friends around a campfire or simply looking for a quick and delicious dessert, these bars will bring a smile to your face. Grab Partake's Classic Graham Crackers from your local Target today  and experience the joy of s'mores in a convenient and delectable form!
Looking for more summer recipes? Try these out:
Graham Cracker Sandwiches: If you are psyched about making no-bake s'mores bars, you've got to try these two recipes! They both create a delectable treat that combines the flavors of graham crackers and sweet cream fillings into a family favorite, perfect-for-afternoon snack.
Vegan Strawberry Lemonade Toaster Pastries: This recipe is a delightful combination of tangy lemonade and sweet strawberry flavors, encased in a flaky, golden pastry crust. With a homemade strawberry lemonade filling and a zesty glaze, these toaster pastries are a vegan twist on a classic favorite, perfect for a delicious breakfast or snack.