Skip to content
Super Delicious Toasted S'mores Cupcakes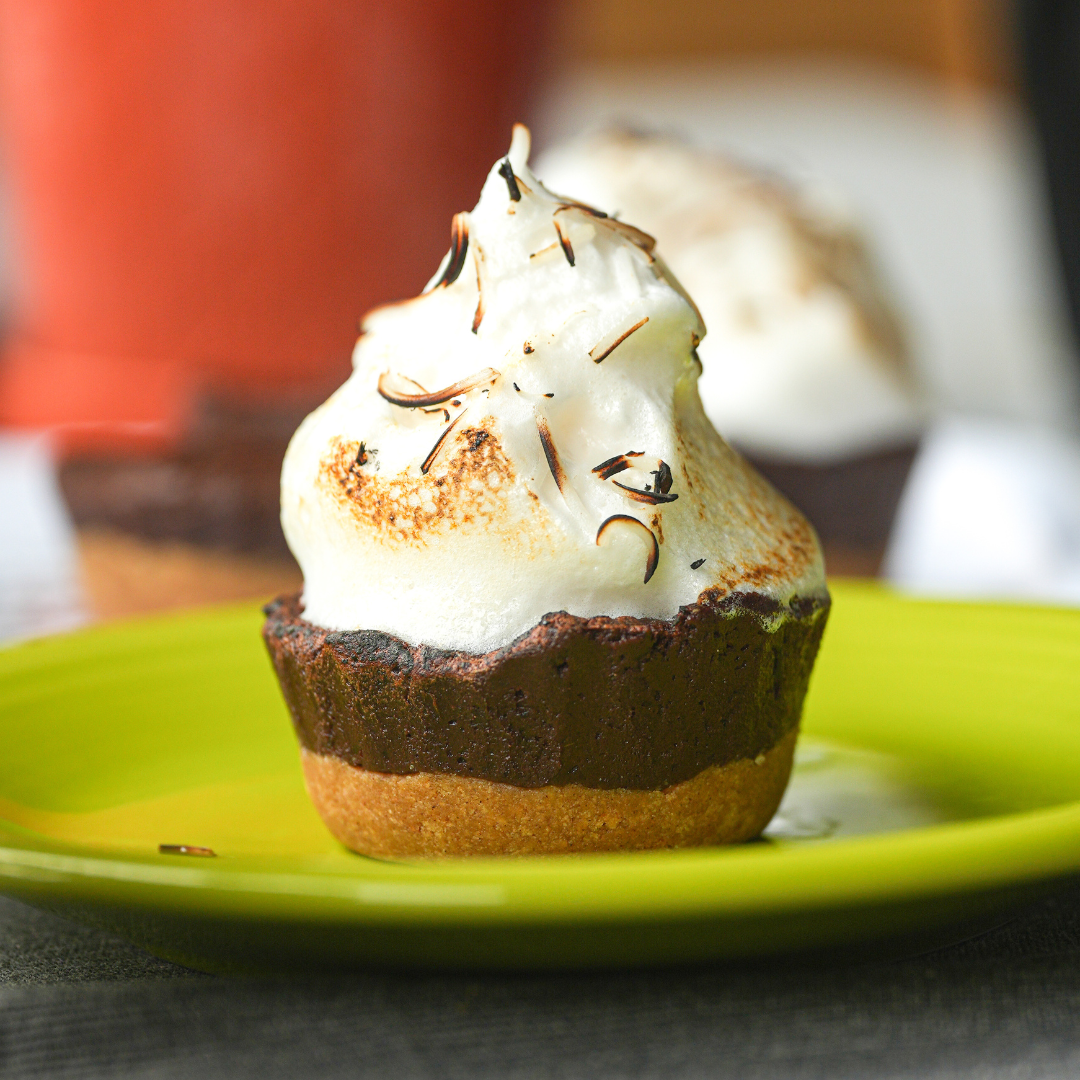 S'mores are the quintessential dessert to top off any summer gathering – the crunchy graham crackers, the melty chocolate, the perfectly gooey, golden-brown toasted marshmallow. But what if you don't have a campfire or just don't want to deal with the mess? Say "Hello!" to your new go-to summer treat: S'mores Cupcakes.
Just like traditional s'mores, this twist on a nostalgic favorite starts with an easy graham cracker crust using our delicious, gluten-free Classic Grahams that are also free of the top 9 allergens. Next comes a generous layer of rich chocolate filling. The whole thing is finished off with fluffy toasted meringue for a dessert that will definitely get you an invite to every cookout.
There's nothing worse than skipping dessert due to food sensitivities or dietary restrictions, so these vegan, gluten-free S'mores Cupcakes are made with allergy-friendly ingredients that almost everyone can enjoy. They're also so tasty that you might want to go ahead and make a double batch.
S'mores Cupcake Tips
How to Toast Your S'mores Cupcake Topping
You don't need a bonfire to toast these s'mores cupcakes! A kitchen torch is the easiest way to evenly roast your meringue topping and customize it to your preferred toastiness. If you don't have a torch, no worries! An oven broiler also works great. Just be sure to keep an eye on your cupcakes to ensure the end result is more "perfectly golden-brown" and less "accidentally set it on fire."
How to Make S'mores Cupcakes Ahead
If you're prepping for an event and want to get a head start, s'mores cupcakes can be made up to two days ahead. Because they are no-bake, you can crumble and blend graham crackers and make your chocolate filling prior to assembling the layers. Store separately in an airtight container or wrap tightly with plastic wrap in the fridge and assemble the layers once you're ready. Add the topping and toast just before serving.
Transporting Cupcakes
If you're planning to share your cupcakes, transporting them safely can be a challenge. Use a food storage container or roasting pan deep enough that your cupcakes won't touch the cover. Arrange cupcakes so they're just barely touching each other. Cover with a lid, or tightly wrap with foil, plastic wrap, or reusable beeswax wrap. Don't have a deep enough container? Lay a silicone mat on a baking sheet, place cupcakes on the sheet, and then place the whole thing in a large box for transport.
Our friend Todd (@turnipvegan) created this super delicious recipe and here are the dEats!
S'mores Cupcakes Recipe
Ingredients:
Graham Cracker Layer
9 Partake Classic Graham Crackers
2 Tbsp vegan butter

Chocolate Dates Layer
10 - 11 pitted dates
3 Tbsp of cocoa powder

Toasted Meringue
1 cup aquafaba (chickpea water)
1/4 cup of agave syrup
1 Tbsp arrowroot
1/4 tsp of vanilla
1 tsp cream of tartar
Shredded coconut (Optional)

Instructions:
Add Partake Classic Graham Crackers and vegan butter to a food processor and blend until you have a fine mix.

Press graham crackers into a cupcake mold.

Add dates and cocoa powder to the food processor and blend until the dates form a small ball.

Press dates paste on top of the graham cracker layer. Add to the refrigerator for 1 - 2 hours.

Add aquafaba to a bowl and blend with a hand mixer until you have a whipped cream texture. Add arrowroot and cream of tartar and continue to whip for 2 -3 minutes. Add agave and vanilla and whip for 1 - 2 minutes. Allow the meringue to sit for 10 minutes before adding it to the cupcakes.

Add meringue to the cupcake with shredded coconut or any other topping you desire. Toast the top with a blow torch and enjoy!
Love S'mores and want even more recipes? Try our No-Bake S'mores Bars for a quick and easy treat on those days it's just too hot to turn on the oven! And be sure to grab a box of Partake Classic Grahams at a Target near you, or on Amazon.com.