Skip to content
Friendsgiving Gifts from Partake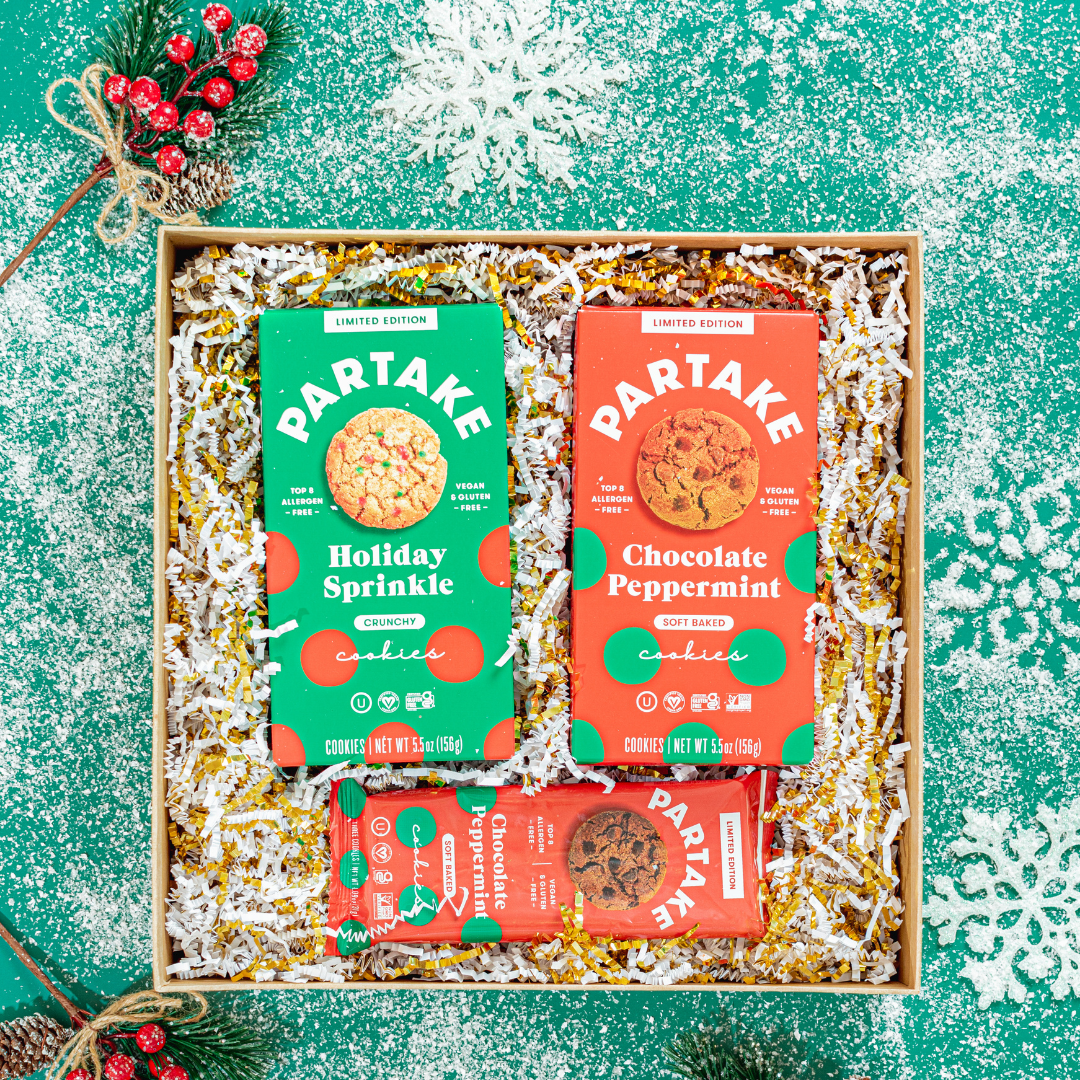 If your friend has graciously decided to host Friendsgiving this year, don't go empty handed! Although this isn't necessary, a host always appreciates a gift as thanks for opening up their home and kitchen to friends and family. What better gift to give than some holiday cookies? We love gifting our Partake products because they're not only delicious, but almost anyone can enjoy them! 
If you are attending a friendsgiving, here are our Top 4 Partake products that will have your friends asking for more:
For the baker in your life
Gift the baker in your life our Brownie Baking Mix. Our brownie mix is extra chocolatey and easy to whip up in under an hour and just requires oil and water. Who can say no to a brownie?
Go the extra step and print out our Salted Caramel Brownie recipe to make this a bonding moment between two friends to create a recipe you both will never forget. This sweet, decadent and simple brownie will be the life of the party, while giving the baker in your life a bit of relief using our easy to use brownie baking mix. 
For the friend that's always busy
We all have those friends who are always on the go. Put together a basket of our snack packs so they can enjoy a treat when they're rushing to their next event or meeting! During the holiday season, time can quickly escape us all as we are preparing for the many holidays and traditions to come. Having a bite-sized snack while you shop for gifts, make a meal with family and friends or even after building a snowman could turn into the best moment of the day.  
For the holiday flavor-obsessed friend
There are people who like the holiday flavors, and then there are people who LOVE the holiday flavors. Spoil your holiday obsessed friend with Crunchy Holiday Sprinkle and Soft Baked Chocolate Peppermint cookies! These two flavors will bring back everlasting memories of hot chocolate, peppermint and the sprinkles you see in holiday decorations. 
Heads up, you might want to add a few extra boxes to your cart for yourself—these limited edition flavors won't be here much longer. 
For the savory friend
Some people have a sweet tooth, and some people have a savory tooth (we have both). For your friend with the savory tooth, give our Pizza Crust Baking Mix. Who knows, maybe they'll invite you to a pizza night!  
Our Fig & Goat Cheese Pizza recipe is a hit amongst Friendsgiving tables everywhere. The ideal gathering with the people you love includes sharing a pizza! What makes our pizza crust different? With just a few extra ingredients, you can make a chewy yet crispy pizza that just so happens to be vegan, gluten-free, non-GMO and allergy-friendly. 
We're always thinking about our friends and family with dietary or allergy restrictions. That's why all Partake products are certified vegan, gluten-free, and free from the Top 9 allergens. Feel free to share our products with confidence, not just during the holidays but every day of the year with Partake. 
Happy Holidays from your friends at Partake and don't hesitate to share your Friendsgiving gifts with us on Instagram!