Skip to content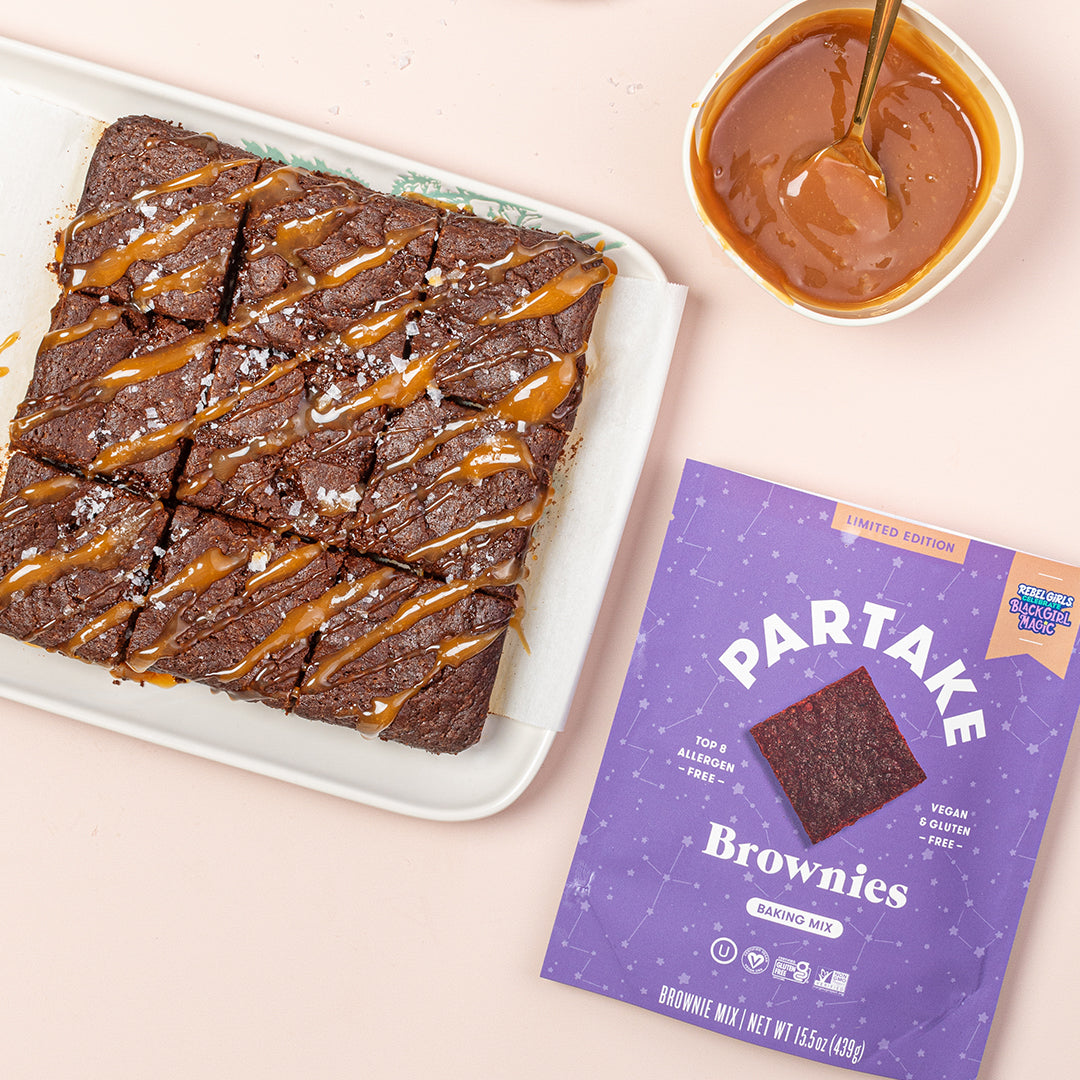 If you love sweet and salty treats, you'll love these Salted Caramel Brownies! The salty caramel flavor perfectly complements our rich, chocolatey brownies. You'll definitely want to save this recipe.
This recipe features our Limited Edition Rebel Girls x Partake Brownies in celebration of #BlackGirlMagic. Read more about our partnership here.
Find the full recipe below. Make sure to tag us on Instagram when you make these beauties!
If you're looking for more delicious brownie recipes, try these Pumpkin Spice Brownies or these Raspberry Chocolate Brownies.
Salted Caramel Brownies
Ingredients:
1 package of Partake Brownie Mix
1/2 cup water
1/2 cup neutral-tasting oil
For the Salted Caramel:
1 cup granulated sugar

6 tbsp unsalted butter, room temp, cut into tablespoons

1/2 cup heavy cream, room temp

1 to 1 1/2 tsp sea salt
Instructions:
Salted Caramel: 
In a metal saucepan, heat the sugar on medium to high for 3- 5 minutes. Make sure to use a spatula to occasionally stir the sugar, getting to the bottom of the pan. 
Once it becomes a dark amber hue, remove it from heat immediately and stir in butter.
Pour in the heavy cream and sea salt and stir until everything is combined. 
Place back on the stove, stirring the whole time then remove from heat after 30 seconds and allow salted caramel to cool for 15 minutes.
Brownies: 
Preheat oven to 350 degrees.
Grease an 8-inch square pan.
Whisk together the oil and water before adding the brownie mix.
Spread batter evenly in greased pan.
Bake until set, 25-30 minutes in a metal pan and 35 minutes in a glass pan. A toothpick inserted into the center should come out clean.
Let Brownies cool slightly (8-10 minutes) before drizzling the salted caramel over the top and finishing off with some sea salt.
Enjoy!