Skip to content
Gluten-free & Vegan Blueberry Cheesecake Bites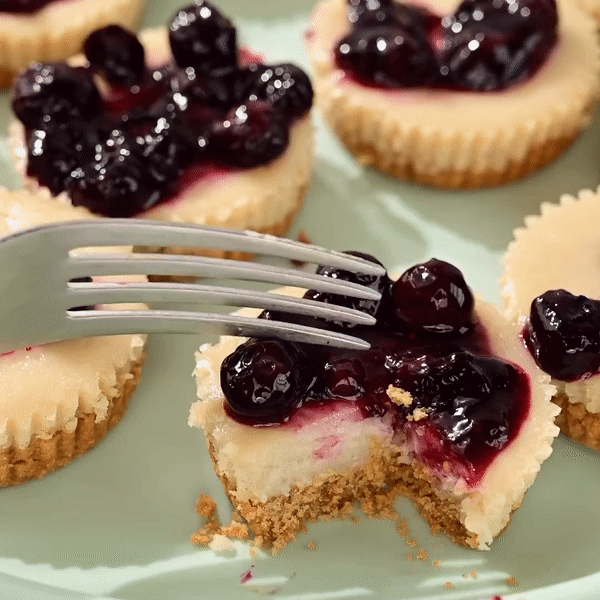 The idea of a homemade cheesecake might sound intimidating, but this recipe for our Blueberry Cheesecake Bites couldn't be more beginner-friendly! These bite-sized morsels are a perfect fusion of creamy cheesecake and juicy blueberries for a burst of sweet and tangy flavor in every bite.
Cheesecake tends to be tricky when you or someone you're sharing with has food allergies; gluten in the crust, dairy in the cake. Luckily, this recipe for Blueberry Cheesecake Bites calls for vegan, gluten-free ingredients so you and your loved ones can share and enjoy. With a buttery graham cracker crust made with Partake's vegan, gluten-free, and top 9 allergen-free Classic Grahams, velvety vegan vanilla cream cheese filling, and a fresh homemade blueberry sauce all layered in a cupcake pan, these summery treats are ideal for sharing or keeping in the fridge for whenever the craving hits.
Blueberry Cheesecake Bite Tips & Tricks
Use cupcake liners to easily remove your cheesecakes after baking – and make cleanup a snap!

Cheesecake bites can be made ahead of time and stored in the fridge. Just add your blueberry topping immediately before serving.

Bring your cream cheese to room temperature before mixing to avoid lumpy, unmixed filling.

A food processor is the best option to get a uniform graham cracker crust, but in a pinch, you can use a blender or put your graham crackers in a zip-top bag and use a heavy item such as a rolling pin to crush.

We recommend fresh blueberries, but to use frozen blueberries, omit the tablespoon of water from the topping and increase the cornstarch if needed to thicken the sauce.
Read on for an easy recipe so you can make our vegan, gluten-free (and super delicious) Blueberry Cheesecake Bites!
Gluten-free & Vegan Blueberry Cheesecake Bites 
Ingredients
Graham Cracker Crust:
4 tbsp unsalted vegan butter, melted

Cheesecake Filling:
12 ounces vegan cream cheese
1/3 cup sugar
1/4 cup vegan vanilla yogurt
1/2 tsp vanilla extract

Blueberry Topping:
3/4 cup blueberries
1 1/2 tbsp sugar
1 tbsp water
2 tsp water plus 1 tsp cornstarch, mixed together

Instructions
Preheat the oven to 325 degrees and line a muffin pan with cupcake liners. Set aside.

Place graham crackers into a blender and pulse until fine crumbs. Pour the crumbs into a medium-sized mixing bowl and add the melted butter. Mix together.

Add the graham cracker crumbs into the cupcake liners, pressing down firmly. Bake for 5 minutes and set aside.

Combine the blueberries, sugar, and 1 tbsp of water in a small saucepan and cook over medium heat for 5 minutes. Once boiling, add the water + cornstarch mixture to the pan. Stir and cook for another minute. Remove from heat and set aside.

In a separate bowl, mix together cream cheese and sugar until smooth. Add in the yogurt and vanilla extract until well combined.

Evenly distribute the cheesecake filling into the cupcake liners, covering the graham cracker crust. Bake for 15-17 minutes, or until the tops of the cheesecakes are firm.

Allow the cheesecakes to cool and place in the refrigerator to chill for 3 hours.

Top the chilled cheesecakes with the blueberry topping and enjoy!
Crisp, sweet, and flavorful—there's truly no shortage of ways to enjoy these delicious squares. If you need additional snackspiration, you can also try Super Delicious Toasted S'mores Cupcakes or S'mores Bomb Pie Recipe. What's your favorite way to enjoy Classic Grahams? Leave a comment and let us know!
Shop Partake Classic Grahams online at Target or Amazon, or find a Target location store near you.