Skip to content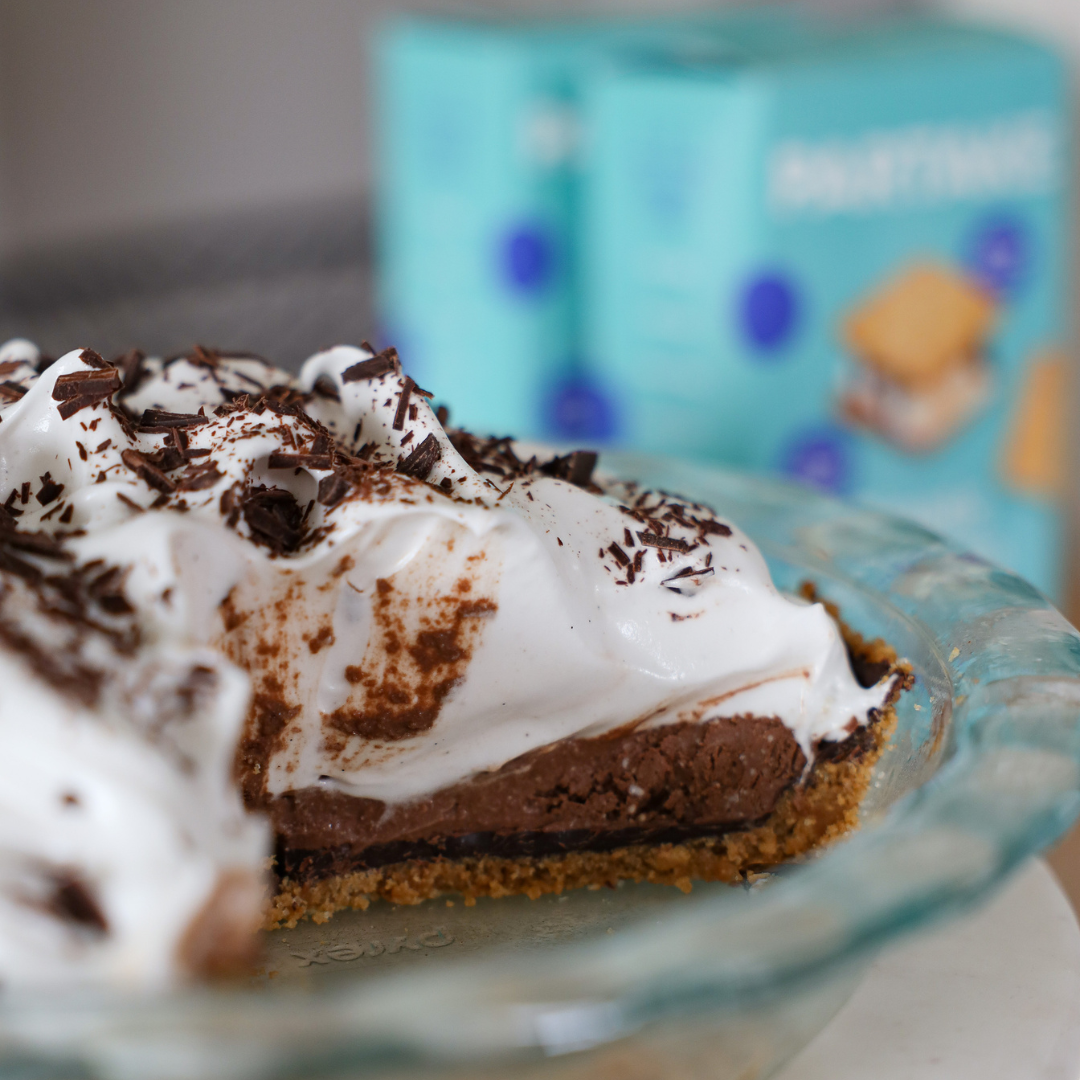 Decadent, gooey layers, bursting with campfire flavor, and made with our new, super versatile Classic Grahams as the crust?! Yep, this S'mores Bomb Pie has it all.
Summer is all about savoring time with your friends and fam, and this easy-to-make recipe will have you out of the kitchen and back to making memories in no time. This S'mores Bomb Pie skips the fussy pie crust in favor of an effortless gluten-free graham cracker crust made with Partake Classic Grahams. Layered with rich, melted dark chocolate and sweet marshmallow fluff, it's a shareable dessert that's as easy as, well, pie!
What is a Bomb Pie?
"Bomb pie" was popularized by Baltimore bakery Dangerously Delicious Pies when their Baltimore Bomb Pie was featured on the Food Network's "Best Thing I Ever Ate" by Duff Goldman. Their version features local Maryland Berger cookies with a chess pie base, which is a traditional southern pie consisting of butter, sugar, eggs, flour, and an acid such as vinegar. The result is a rich, fudgey, soft, and sticky pie that's surprisingly simple.
For this rendition, our good friend Charlotte over at @cleanfoodiecravings still used pantry staples to create that signature ooey gooey texture, but she also punched up the flavor with our crunchy, cinnamon-forward graham crackers and other allergy-friendly ingredients. So whether you or your loved ones have food allergies or other dietary restrictions, you can enjoy this dessert for many summer days to come!
S'mores Bomb Pie Recipe
When you're craving something sweet, this S'mores Bomb Pie is the perfect thing to whip up with the fam or bring to summer gatherings. No campfire required – but you can definitely enjoy it sitting around the fire after dinner!
Ingredients:
Crust:
1 ½ boxes of Partake Classic Graham Crackers
2-4 tbsp of cane sugar
6 tbsp of vegan butter, melted

Middle Layer:
6 ounces of vegan dark chocolate

Dark Chocolate Mousse Filling:
2 chilled cans of coconut milk (or any plant-based milk you prefer
6 tbsp of powdered sugar, sifted
6 tbsp of cocoa powder, sifted
Pinch of salt

Marshmallow Fluff:
3 ounces Aquafaba (juice from a can of chickpeas)
2 tsp of vanilla bean paste (use extract if you don't have the paste)
½ tsp of cream of tartar
3 tbsp of powdered sugar
¾ cup of cane sugar

Instructions:
To begin, place the graham crackers into a food processor and pulse until crumbled. Transfer the cracker crumbs to a bowl, add the sugar and butter, and stir until well combined. The mixture should look like wet sand. Pour the mixture into a 9.5-inch pie pan and use a spoon or your hands to press it down into an even layer.

Now, melt the chocolate over a double boiler or in the microwave. Pour the melted chocolate over the graham cracker crust and spread out evenly. Transfer to the fridge to harden.

Now, make the chocolate mousse. Add the plant-based milk to a bowl and use a mixer to whisk until light and fluffy.

Add the powdered sugar and mix until combined.

Add the cocoa powder and salt and mix until combined and smooth.

Remove the pan from the fridge and spread the chocolate mousse evenly across the middle layer. Return the pan to the fridge for at least an hour or overnight (you can do the last step when you're ready to serve)

Lastly, make the marshmallow fluff. Add the aquafaba, vanilla bean paste, and cream of tartar to a bowl. Beat the mixture with a mixer until stiff peaks form. This step will take about 10 minutes. Patience is key. Add the sugars and beat again until dissolved.

Once the mousse layer is firm, you can top the pie with marshmallow fluff. Then use a food-grade torch to torch the peaks of the marshmallow fluff or if you're like me and are terrified of those things, finish with chocolate shavings and serve. (To make cutting the pie a bit easier, cut into wedges first then add the marshmallow fluff on top of each piece.)
Can't get enough s'mores? Keep the good times rolling with more simple, crave-worthy treats: