Skip to content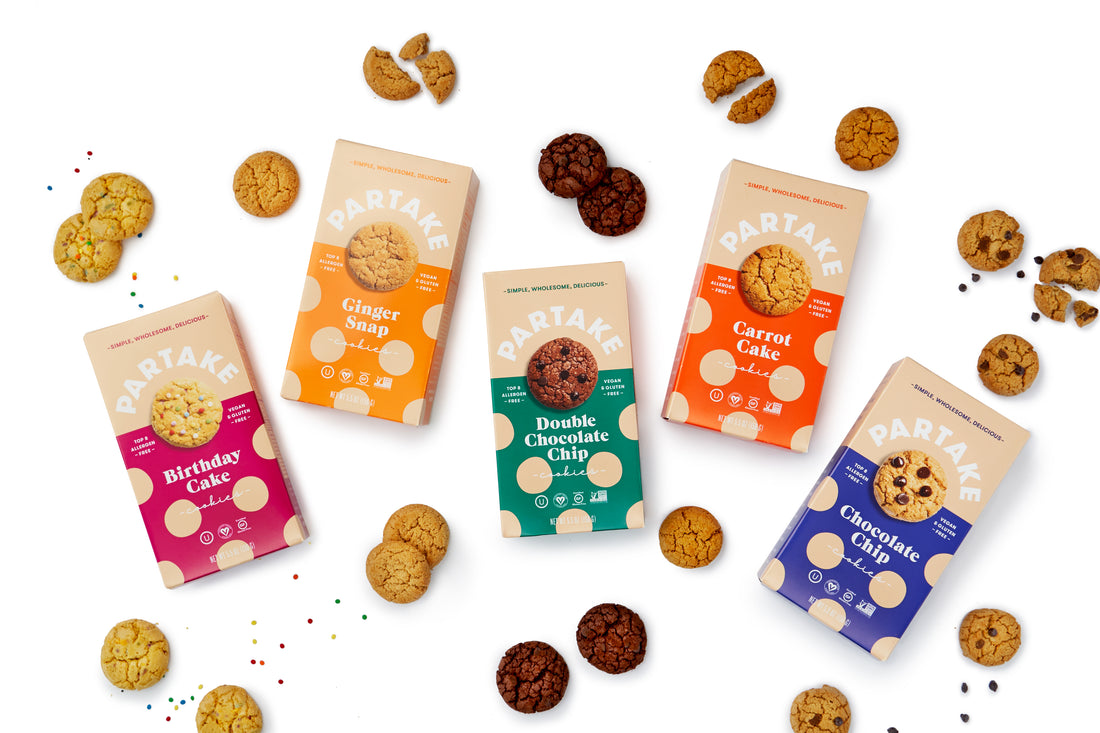 When it comes to snacking, our cookies are made to savor and celebrate everyday moments with delicious and allergy-friendly ingredients that you can share with confidence—for inclusivity and enjoyment for all. From the sprinkles in our Birthday Cake Cookies to the Indonesian Cassia cinnamon in our Carrot Cake Cookies, you will never find an ingredient on our label that we wouldn't proudly feed our own families. As our founder, Denise shared in a recent blog post, you will continue to find organic ancient grain flours, fruits and vegetables, and minimal sugar in our cookies, you will no longer find non-GMO canola oil in our ingredient list. In its place, you'll see non-GMO sunflower oil. 
We will continue to bake our cookies in a facility free of the top 8 allergens (as well as sesame and mustard!), and meticulously test every product to ensure you and your family are safe to enjoy Partake cookies, worry-free. This is and will always be a non-negotiable. 
Cheers to that! 
In honor of our formulation upgrade, we've got a new look to celebrate! 
The bright and colorful new packaging is inspired by our delicious cookies that are full of flavor and perfect for any celebration. There's always a reason to celebrate - worry free! 
This cookie is ready to party! It's a birthday sweet you can feel great about. Free of everything but flavor, these vegan, allergy-friendly & non-GMO cookies are the gift that keeps on giving. Colorful pops of dreamy vanilla and rainbow sprinkles are what this cookie is all about!
Make it with: Ice Cream & Birthday Cake Cookie Sandwiches
Try this if: Funfetti is your soulmate.
Chocolate chip is a classic for a reason! A flavor powerhouse, one taste of these vegan, allergy-friendly & non-GMO cookies will make it clear that it's cookie time, all the time. It's a cookie & (alternative) milk match made in heaven. 
Make it with: No-Bake Ice Cream Cookie Cake
Try this if: The idea of chocolate chip cookies and milk speaks to your inner child.
Like the cake, but in cookie form! Packed with flavor from natural, whole ingredients like cinnamon, oats, vanilla and rosemary—these vegan, allergy-friendly & non-GMO cookies will have you reaching for the cookie over the cake every time. 
Make it with: Partake Parfait
Try this if: You're made of sugar, spice and everything nice. (This is Vivi's favorite!)
Double the chocolate, double the fun! Decadent cocoa cookies team up with fudgy chips and honest ingredients to make this cookie an indulgent, worry-free treat you can feel good about! Although picking a favorite flavor is like picking a favorite child, these dreamy morsels are at the top of our Founder, Denise's list!
Make it with: Coco-nilla Cookies & Cream Popsicles
Try this if: There's never enough chocolate.
A cookie deserving of a few poetic snaps, this playful take on the classic is a little bit sweet and a little bit spicy. Perfectly balanced with cinnamon, vanilla, ginger extract, a touch of sea salt, and more. Delicious on their own or crumbled over a heaping scoop of vanilla ice cream, Ginger Snap is the ultimate drool-worthy cookie.
Make it with: Vanilla Bean Ice Cream Cookie Sandwiches
Try this if: You are the first to buy a pumpkin spiced latte when it's still warm outside.
Who's ready to get snacking with us?! Can't decide on just one? Indulge with the whole squad - our variety pack! 
The party doesn't stop here! Exciting updates are in the works. Word on the block is we're making it easier to take our cookies on the go. Be the first to hear all about it and get a sweet deal by signing up for our newsletter below for 20% off your next order.
Choosing a selection results in a full page refresh.