Skip to content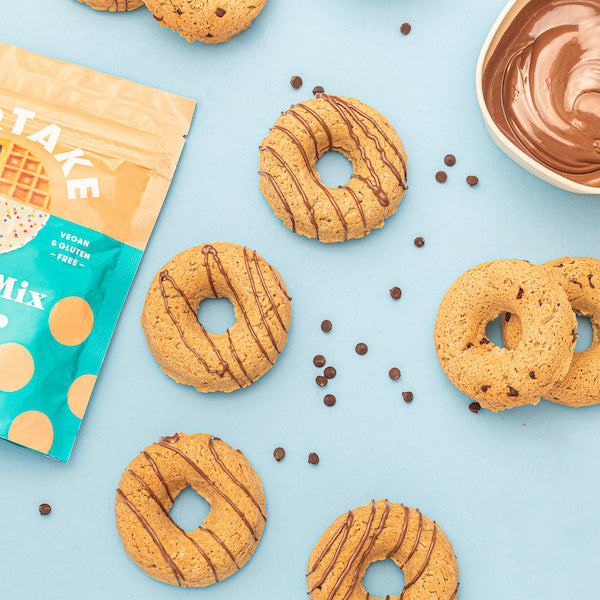 Our 5-in-1 Baking Mix is a pantry hero—if we do say so ourselves. From biscuits to waffles and cake, our baking mix is versatile and best of all, free of the top 8 allergens, non-GMO, vegan, gluten-free and Kosher. 
We've excited to share a new 5-in-1 Baking Mix recipe for you and your family to create on a weekend morning, Vegan Air Fryer Donuts. This yummy recipe has everything you love about donuts–chocolate, fluffiness, and a fun shape–in a recipe that fits your family's dietary needs. 
Read on for our easy-to-make recipe, and don't forget to tag us on Instagram if you make them!  
Vegan Air Fryer Donuts
Ingredients:
1 1/3 cups Partake 5-in-1 Baking Mix
1 cup gluten-free crispy rice cereal
2 tbsp sugar
1 tbsp baking powder
1/2 tsp salt
1/4 cup vegetable shortening
1/2 cup non-dairy milk
1 cup vegan chocolate chips (optional)
Instructions:
In a bowl, mix Partake 5-in-1 Baking Mix, cereal, sugar, baking powder and salt.
Fold in shortening. Stir until the mixture is crumbly. Add milk and stir again.
If adding chocolate chips, stir those in now.
Roll mixture into 2-inch round donuts using your hands.
Place donuts into the air fryer at 375 degrees for 6 minutes. At the 3 minute mark, open the air fryer basket and flip donuts.
When donuts are done, carefully remove them from the air fryer.
If you want chocolate drizzled on your donuts, add to a microwave safe bowl, stir and check at 15-second increments until melted.
Carefully drizzle the air fryer donuts with melted chocolate.