Skip to content
Allergy Friendly Pumpkin Muffin Recipe (Quick & Easy)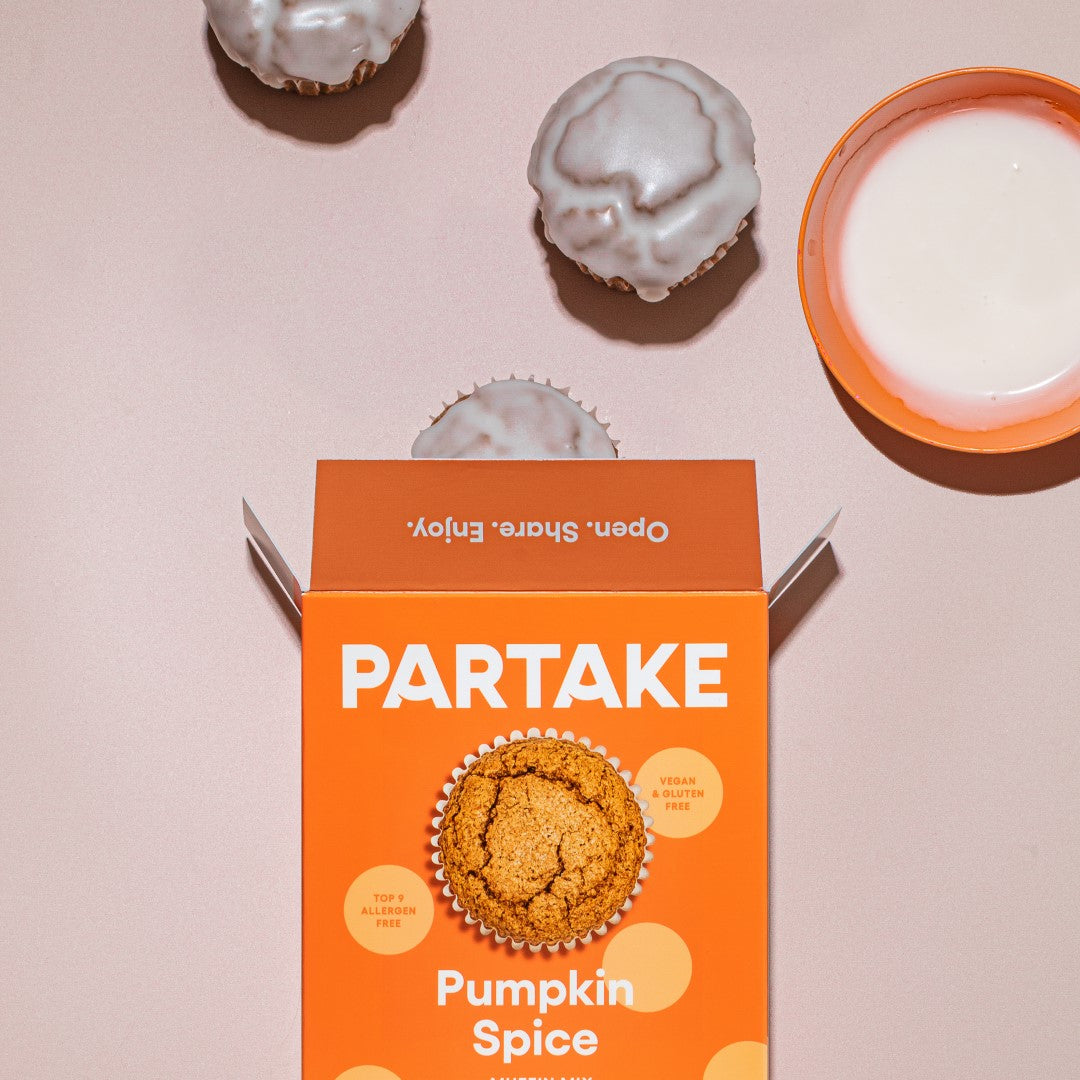 We love summer, but we have to admit: the cool, crisp weather and the fall-colored leaves may have crossed our minds once or twice. The thought of big, cozy sweaters and pumpkin-spiced desserts are making us want to speed ahead to autumn. Can you blame us? Lucky for us (and you), our Limited Edition Pumpkin Spice Muffin Baking Mix is here to make our day. This brand new baking mix is allergy friendly (free of the top 9 allergens) and the perfect way to get into the fall state of mind while we wait for the temperatures to drop. You only need a few household ingredients, water and oil, to make pumpkin muffins with our baking mix. This allergy friendly pumpkin muffin recipe is quick and easy to make with our Pumpkin Spice Muffin Mix any day of the week. We know we'll be using this on repeat now until the end of fall
Our allergy friendly pumpkin muffins are great as an on-the-go breakfast, as a midday pick me up, or as an end of the day treat. You can prepare our pumpkin muffin recipe in under 10 minutes. Based on your dietary restrictions or preferences, you can even modify our recipe by swapping the oil for buttery spread or apple sauce.
Fill your kitchen with the smell of fall while you make these easy and delicious pumpkin muffins. Packed with pumpkin spice flavor, these muffins are great on their own. But if you're feeling like you need a bit more sweetness in your day, we've also included a simple vanilla glaze recipe that you can dip your muffins in! Like all Partake products, this muffin mix makes this recipe vegan, gluten-free, and allergy friendly pumpkin spice muffins so that you can share them with confidence. Scroll down for our full allergy friendly pumpkin muffin recipe.
If you're looking for more allergy friendly recipes, click here. We pride ourselves on creating inclusive products and recipes that most can enjoy, and we're sharing all of our recipes with those living with food allergies and dietary restrictions. We're here to spread vegan, gluten free, and allergy friendly love. Whether you have dietary restrictions or not, you can enjoy our products and recipes. A few of our favorites recipes are our Apple Cinnamon Rolls, Lemon Bars, and Plant-based Egg & "Chorizo" Pizza.
What are you waiting for, fam? Get baking with our allergy friendly pumpkin mix recipe that's free of gluten, soy, and nuts. Head to partakefoods.com to try our Pumpkin Spice Muffin Mix and start whipping up these perfectly spiced, moist and fresh-baked allergy friendly pumpkin muffins. Don't forget to follow us on Instagram and TikTok for more recipes and to let us know what you think of our brand new mix!
Pumpkin Spice Muffins
Ingredients:
Muffins
1 box Partake Pumpkin Spice Muffin Mix

½ cup water

½ cup neutral tasting oil, buttery spread, or apple sauce
Glaze
1 ½ cups powdered sugar

2 ½ tsp non-dairy milk

⅛ tsp salt

¼ tsp vanilla extract

1 tsp melted buttery spread
Directions:
Preheat oven to 400 degrees F.

Combine mix, water, and your choice of oil, buttery spread, or apple sauce.

Mix thoroughly until smooth.

Scoop ¼ cup batter into 12 paper-lined muffin cups.

Bake 15-18 minutes or until toothpick inserted comes out clean.

Let muffins cool completely.

While muffins cool, whisk together powdered sugar, non-dairy milk, salt, vanilla extract, and melted buttery spread in a small bowl and mix until thoroughly combined.

Dip each muffin top into the glaze and allow excess to drip off. Allow glaze to harden.

Enjoy!