Skip to content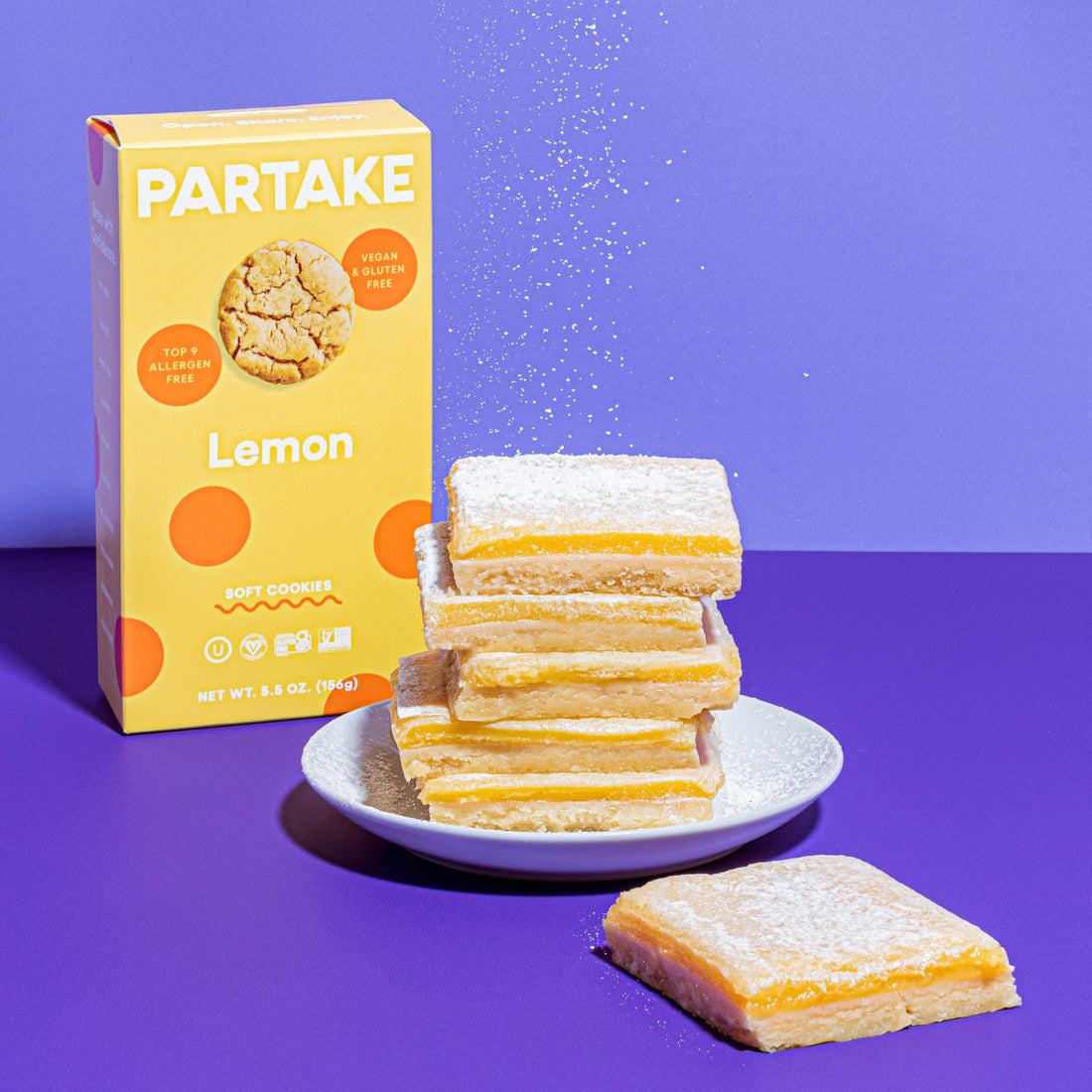 Our Soft Baked Lemon cookies sparked an obsession with all things lemon for our team. From waffle to cheesecake recipes and our favorite lemon products, we just can't seem to get enough! If you've hopped on our lemon train, this recipe is sure to be a hit. We loved Nora Cook's Vegan Lemon Bar recipe, and we wanted to remix it with our Soft Baked Lemon cookies. Our take on this lemon bar recipe kicks the lemon factor up a notch by making our Soft Baked Lemon cookies into a delicious crust. Perfect for an outdoor picnic, or for a weekday dessert, these lemon bars are sure to brighten up your day.
Our Soft Baked Lemon cookies might be leaving Target on April 18th, but don't worry, you can continue to stock your pantry by purchasing them right here.
Lemon Bars
Ingredients:
For the Crust
1 box Partake Soft Baked Lemon Cookies

4 tbsp melted vegan butter




For the Lemon Filling
3/4 cup lemon juice, from about 4 large lemons

2 teaspoons lemon zest

1 1/2 cups

granulated sugar

1 1/4 cups full fat coconut milk, using mostly the white part

6 tablespoons

cornstarch
For the Topping
Powdered sugar, for dusting (optional)
Directions:
For the Crust
Preheat the oven to 350 degrees F and line an 8x8 pan with parchment paper.

Crush your Soft Baked Lemon cookies into fine crumbs (or pulse in the food processor). Mix in melted vegan butter until fully combined.

Press crust mixture into prepared pan in an even layer. Bake for 5-10 minutes or until edges are golden brown. Remove from oven.
For the Filling
In a medium saucepan, add all lemon filling ingredients. Whisk consistently over medium heat, until the sugar dissolves, ingredients are well blended, and the mixture thickens.

Pour the mixture over the crust and spread into an even layer. Bake for 15 minutes, then remove from the oven and let cool at room temperature for 30 minutes. Transfer to the refrigerator for an additional 1-2 hours, or overnight, until set.

Dust bars with powdered sugar (optional) and cut into squares.
This recipe was adapted from noracooks.com.