Skip to content
Mini Blueberry Muffins with Lemon Glaze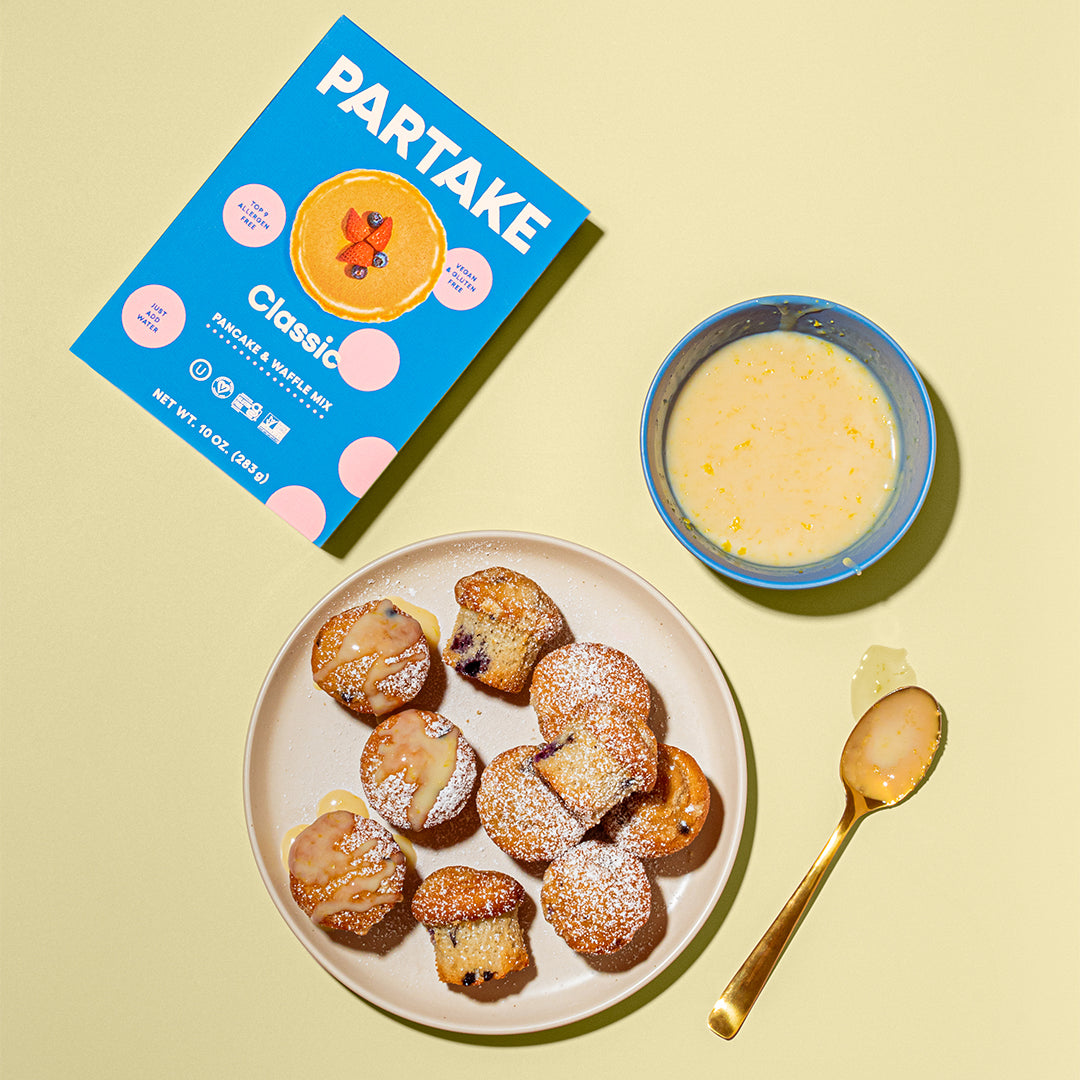 Bring on the blueberries! Though blueberry pancakes are a great way to pair this small but mighty fruit with our Classic Pancake & Waffle Mix, did you know you can whip up fresh-from-the-oven blueberry muffins with our mix, too?! We've mentioned before that our Soft Baked Lemon cookies sparked an obsession with all things lemon. So, we just couldn't help ourselves and had to add a drizzle of bright, lemony glaze on top of our Mini Blueberry Muffins.

We've boarded the lemon train, and to be honest fam, we don't think we're ever getting off. If you're like us, and can't get enough lemon recipes, try out our Lemon Ricotta Waffles, Lemon Bars, and Layered Lemon Cheesecake. Our Pancake & Waffle Mix also makes all of these recipes vegan, gluten free, and Top 9 Allergen free. You can find our Classic Pancake & Waffle Mix at select Target stores, target.com, and partakefoods.com. If you test any of these recipes out, don't forget to to tag us and share the lemon love with us on Instagram and TikTok!
Mini Blueberry Muffins with Lemon Glaze
Ingredients:
For the muffins
1 box of Partake Classic Pancake & Waffle Mix

¾ cup water

½ cup vegan butter (softened)

¾ cup cane sugar

1 tbsp vanilla extract

1 cup blueberries

(mini or standard-sized - though we love minis for this recipe)
For the lemon glaze
1 cup powdered sugar

(Plus, more for dusting - optional)

1 tablespoon lemon juice, freshly squeezed

2 teaspoons lemon zest, freshly grated

1 tablespoon non-dairy milk

1 small drop yellow food coloring, optional
Directions:
Preheat oven to 350 degrees F. Grease or line mini muffin pan with muffin liners.

Whip butter and sugar together until well combined. 

Add water and vanilla extract. Mix until combined.

Add Partake mix. Mix until just combined.

Fold in 1 cup blueberries. 

Spoon batter into muffin pan.

Bake 20 minutes or until toothpick inserted in center comes out clean.

While muffins are in the oven, mix together all lemon glaze ingredients until fully combined.

Remove from oven and let cool before adding lemon glaze.

Drizzle lemon glaze on top and then lightly dust muffins with powdered sugar, if desired.

Enjoy!