Skip to content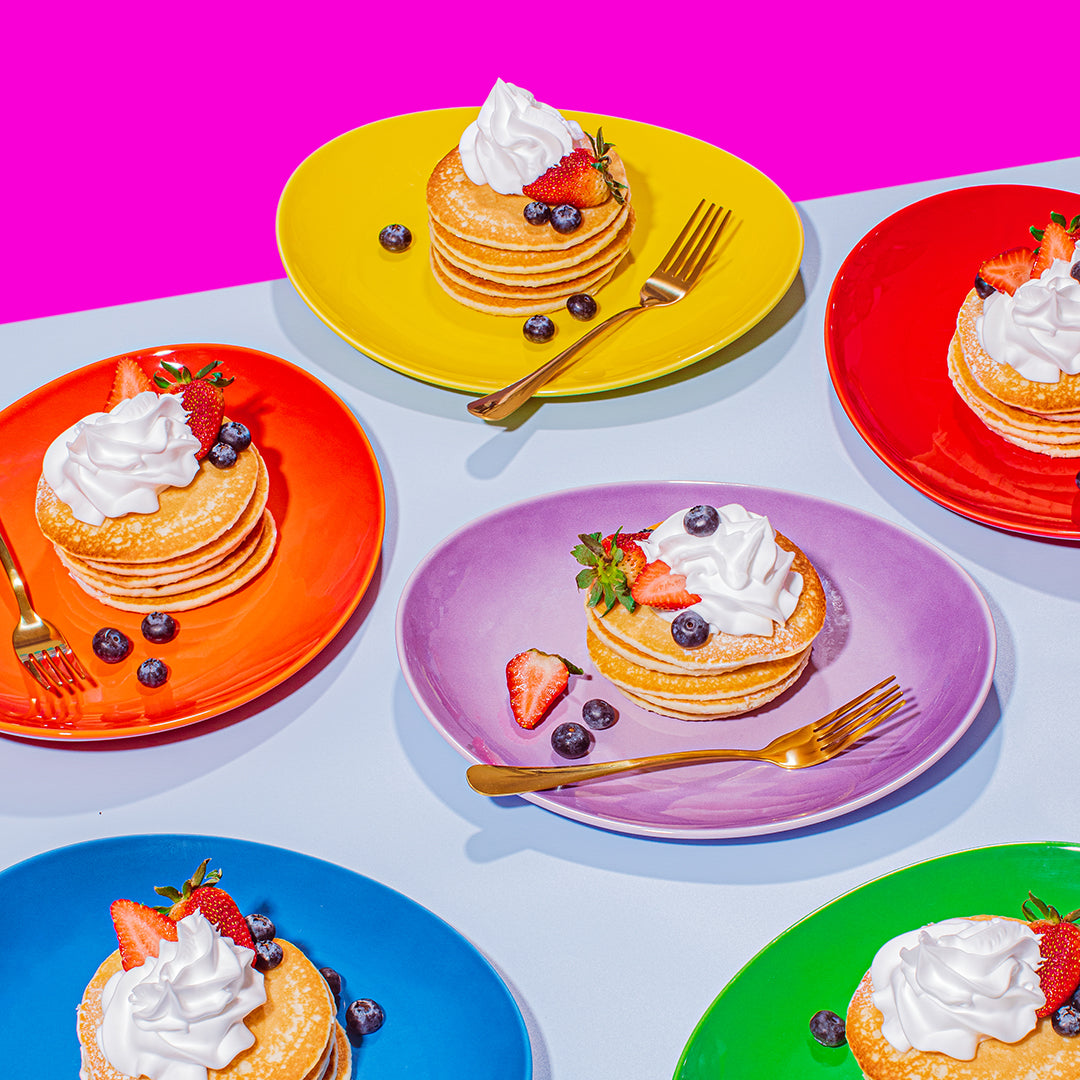 Brunch is, hands down, the best meal of the day. Luckily, you can create so many delicious brunch meals using our Baking and Breakfast Mixes! Whether you're in the mood for something sweet or savory, Partake has a delicious brunch recipe for you. And don't forget, you can find our brand new Classic and Confetti Pancake & Waffle Mixes at select Target stores, on target.com, and on partakefoods.com.
Keep reading for a round-up of some of our favorite Partake brunch recipes:
Ingredients:
For the crust—
1 cup water

2 tbsp olive oil

1 tbsp apple cider vinegar

1-½ tbsp active dry yeast (optional)

½ tsp onion powder (optional)

½ tsp garlic powder (optional)
For the filling—
8 oz super or extra firm tofu

3 tbsp olive oil, divided

1 small yellow onion, diced

1 celery rib, diced

1 carrot, diced

2 cloves garlic, crushed

1 Russet potato, diced

1/4 cup all-purpose flour

2 tsp nutritional yeast

2 tbsp soy sauce

1 1/4 cups vegetable broth

1/2 cup fresh or frozen peas

1 tsp finely chopped sage

1 tsp thyme leaves

Salt and pepper
 Equipment: 2 (12-ounce) ramekins
Directions:
For the filling—
Preheat oven to 400 degrees.

Cut tofu into 1/3-inch dice and press between clean kitchen towels or paper towels to absorb excess water.

Heat 1 tablespoon of olive oil in a large skillet over medium heat and cook tofu until golden on all, or most, sides. Remove tofu from the skillet and set aside.

Heat remaining 2 tablespoons of olive oil in the same skillet. Add onion, celery, carrot, and garlic and sauté until onion is translucent.

Add potato to the skillet and cook, stirring frequently, until tender but not mushy.

Add flour, nutritional yeast, and soy sauce to the skillet and stir into the vegetables.

Add vegetable broth and stir until combined, scraping all the browned bits from the bottom of the pan.

Add tofu, peas, sage, and thyme and stir until combined.

Remove from heat and season to taste with salt and pepper.
For the crust—
Prepare the

Pizza Crust

as instructed on the package.

Quickly shape the dough into a ball and flatten into a disk. Place on a floured surface a roll out to 1/8 inch thick.

Place the ramekins upside-down over the dough and use a knife to cut out circles about 1/2 inch larger on all sides.
To assemble and bake—
Divide the tofu and vegetable mixture between the ramekins.

Place a dough round over each ramekin and tuck the sides under to form a thicker crust around the edge. Press to seal around the edges of the dishes and crimp with a fork. Cut a slit in the middle.

Bake in the oven until golden and bubbly, about 30 minutes.

Let sit for about 5 minutes before serving.

Enjoy!
The Ultimate Breakfast Waffle Sandwich
Ingredients:

For the sandwich (sauce ingredients to follow)—
⅔ cup water 

2 tbsp melted butter or neutral tasting oil

1 egg

1 tomato

 ½ avocado

Small bunch of microgreens (optional)

Red chili flakes (optional)
For the sauce—
2 cups packed fresh basil

1/2 cup diced green onion

2 cloves of garlic, peeled

1/4 cup spicy mayo (or mayo mixed with your choice of hot sauce to taste) 

1/4 cup fresh lemon juice

1/4 cup olive oil

1/2 ripe avocado (optional – for extra creaminess or if you prefer a thicker dressing)

1 tbsp maple syrup or stevia (optional)

Kosher salt and black pepper to taste
Directions:
Prepare waffles as instructed on the box. Set waffles aside on a plate or on a cooling rack.

While waffles are cooking, add all dressing ingredients to a food processor and pulse on high until fully combined and creamy.

Fry an egg sunny side up.

Spread the dressing onto a waffle.

Layer avocado, tomato, microgreens and egg. Sprinkle with red pepper flakes and then top with remaining dressing and waffle.

Enjoy!
Yield: 4 waffles 
Ingredients: 
Instructions: 
Preheat waffle iron.

Combine water and oil in a bowl. 

Proceed to add your sifted Matcha powder and Partake Mix to the bowl. 

Stir to combine all the ingredients thoroughly.

Spray preheated waffle iron with non-stick cooking spray.

Pour mixture into waffle iron and cook until done. (Approximately 6-8 minutes depending on your waffle iron.)

Once the waffles are finished, place them on a plate and drizzle honey on top for a bit of sweetness.

Enjoy! 
Ingredients:
For the cinnamon swirl—
2 tbsp softened vegan butter

1 tbsp brown sugar

1 tsp cinnamon
For the icing—
¼ cup powdered sugar

½ tsp vanilla

½ tbsp non-dairy milk
Directions:
Make the pancake batter as instructed on the package.

Heat a pancake griddle or pan over medium heat.

While the griddle heats up, mix together the cinnamon swirl ingredients and transfer to a pastry or ziploc bag. If using a ziploc bag, snip the end of the bag to pipe a consistent portion onto pancakes.

Lightly grease the pan with oil.

Pour 3 tbsp of batter onto the griddle and while it cooks, pipe out a swirl with the cinnamon sugar butter mixture. Once the batter starts to bubble, flip and cook until golden brown. Repeat until you have used all the batter.

For the frosting, mix together all ingredients, and then serve with the pancakes.

Enjoy!