Skip to content
Gluten-free Caramel Chocolate Cookie Recipe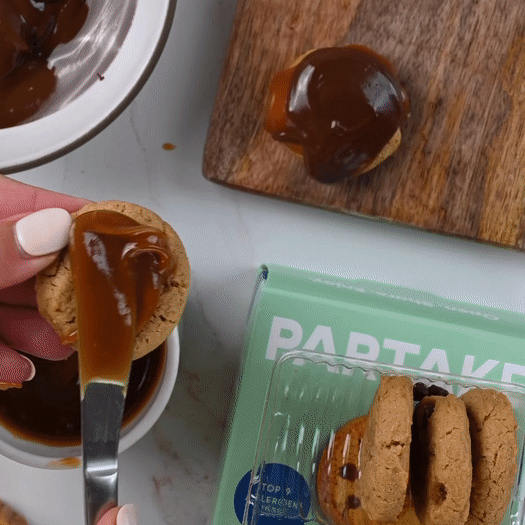 What happens when you combine a cookie with a candy bar? When you use Partake cookies, you get delicious, gluten-free caramel cookies that resemble one of the highest-selling candy bars of all time. (Hint hint: It rhymes with "fix.")
If you or your loved one has food allergies, you know that caramel-cookie candy bars are, unfortunately, not usually a safe snack to eat. If you're vegan, you're typically out of luck as well. However, no worries! We have a safer, inclusive option for y'all to enjoy with this vegan, gluten-free caramel chocolate cookie recipe.
This recipe is a concoction of a cookie + candy bar. It comes in cookie form – but is still covered in creamy chocolate and caramel like a candy bar! 
This is a very simple and easy-to-make vegan recipe that you can create with your kiddos. Trust us, there's nothing about this sweet snack that your kids (or you) won't love.
Make this for the kids to enjoy after school, for dessert after dinner, or in their lunchboxes. You can even bring it to your next gathering as a fun and safe-to-eat treat.
Does chocolate + caramel + cookies that are all vegan, gluten-free, dairy-free, and allergy-friendly sound like a winning combination for you? Read on.
Here's all you need to make gluten-free caramel chocolate cookies:
Ingredients:
Allergy-friendly, vegan chocolate chips

Allergy-friendly, vegan caramels OR caramel sauce

1 box of Partake Soft Baked Chocolate Chip cookies (vegan & allergy-friendly)
Instructions: 
Melt chocolate in the microwave or over the stove in a double boiler over low-medium heat.

Melt caramels by adding 10-12 caramels in a small pot with 2 tablespoons of water. Cook the caramels on low heat for 10-15 minutes or until all melted. (If using caramel sauce, skip this step!)

Spread a layer of caramel on top of the Partake cookie, then a layer of chocolate. Repeat as desired. 

Wait 20-25 minutes to allow the chocolate to cool and harden over the caramel. 
That's all it takes to make crave-worthy, mini-bites of delectable sweetness for the whole family. Here are a couple of tips to make this vegan recipe even easier for you:
We've included Partake's Soft Baked Chocolate Chip cookies in the recipe; however, you can pick any of your favorite flavors to use for the recipe, and they would still be delicious! All of Partake's cookies are vegan, gluten-free and top 9 allergen-free.

Melted caramel is very sticky and can be difficult to manage. It helps to grease the spoon you are using before you start scooping the vegan caramel to apply to the cookies.

If the caramel starts to get too thick before you've applied it to the cookies, just briefly heat again to thin it out.

If you want to make your own vegan caramel sauce, you just need to heat 1 cup vegan whipping cream, ¾ cup brown sugar, and 1 tablespoon of cornstarch/arrowroot powder, stirring frequently for 5 minutes. (You can also add a pinch of salt.)

Enjoy these treats for up to four days when storing in an airtight container.
Did You Know?
The combination of chocolate and caramel is so popular, there's actually a National Chocolate Caramel Day –  March 19. So if you're looking for a reason to enjoy this delectable flavor combination, this recipe is the perfect way to celebrate! 
The idea of combining caramel and chocolate is attributed to Milton Hershey. He started his career in a caramel candy company when in the 1890s, he was introduced to German-built machines used to manufacture chocolate. His career focus pivoted to chocolate, and he would later combine the two candies into several successful products.
More Sweet Vegan Recipes
If you're gluten-free or vegan with a sweet tooth, you've come to the right place. We have a library of gluten-free, vegan recipes that are safe for the whole family to enjoy.
If you love this gluten-free caramel chocolate cookie recipe, you may also enjoy some of these as well:
Turnip Vegan's Holiday Cookie Candy Bars - A delicious option for the holidays, these chewy cookie candy bars are a decadent vegan treat combining chocolate and peppermint flavors.
Vegan Strawberry Lemonade Toaster Pastries - Need a vegan, allergy-friendly, and on-the-go pastry alternative ? Try these vegan strawberry lemonade toaster pastries.
Brownie Ice Cream Sandwiches - These are great any time of year but especially in the summer! Vegan brownies meet vegan ice cream for a cool, sweet treat.
S'mores Cookies - Do you love marshmallows and chocolate together as much as we do? These vegan s'mores cookies are a must try!
Lemon Bars - For a sweet and tart dessert option, these vegan lemon bars are the perfect dessert to bring to your next barbeque.