Skip to content
Gluten-Free Snickerdoodle Cookie Recipes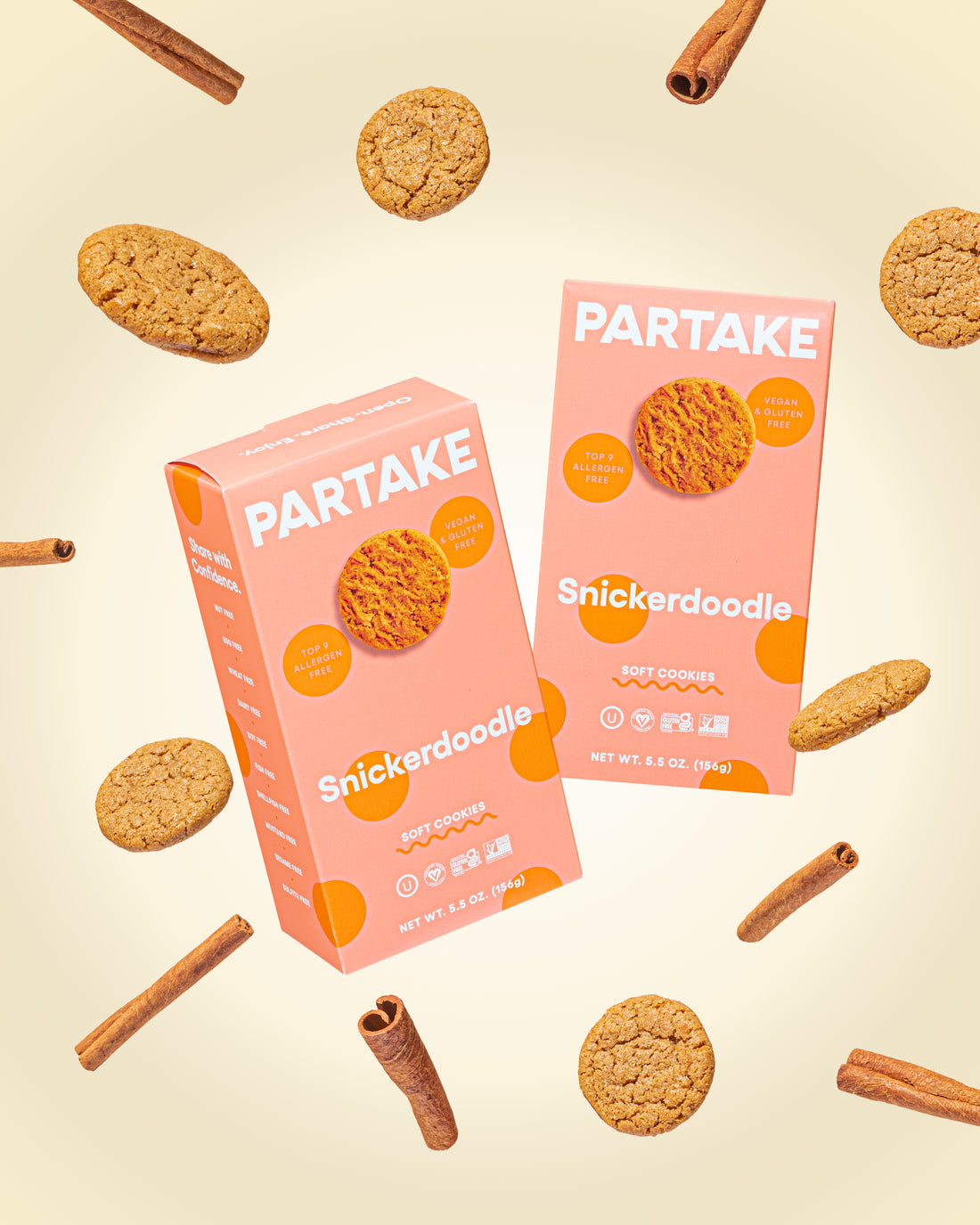 Partake's Soft Baked Snickerdoodle cookies are not just your ordinary cookies. With their soft, chewy texture and deliciously spiced flavor, they're the perfect treat to satisfy your sweet tooth. And the best part? They're versatile enough to be used as a base for a variety of desserts. In this post, we'll explore a few desserts you can make using Partake's vegan, gluten-free, and allergy-friendly Soft Baked Snickerdoodle cookies.
Why Snickerdoodle Cookies Are So Beloved
While they may have originated in Germany or the Netherlands in the 17th century, snickerdoodle cookies started getting popular in the United States during the 19th century. It's now considered a classic American cookie that has been enjoyed by many generations, making them a nostalgic and comforting treat for many. With a soft, chewy texture, snickerdoodle cookies have a unique, cinnamon-sugar flavor that is both comforting and satisfying. They are relatively easy to make and require simple ingredients that are typically found in most kitchens. A lot of folks enjoy this versatile treat as a snack, dessert, or even as a breakfast treat.
Where do snickerdoodle cookies get their name? No one knows for sure, but "snickerdoodle" may have originated from the German word "schneckennudeln" – the name of a cinnamon pastry. Other sources suggest the name was derived from a New England tradition of whimsically naming cookies.
When using snickerdoodle cookies as an ingredient, you don't even need to search for a gluten-free snickerdoodle cookies recipe. An easy go-to is to grab a box of Partake's Soft Baked Snickerdoodle cookies that are perfect for a quick snack, an afternoon treat, or as a dessert. They come in a convenient package and snackable size, making them great for on-the-go or sharing with friends and family.
All Partake cookies are made with high-quality ingredients such as gluten-free flour, organic cane sugar, and sunflower oil, making them a better option compared to alternative packaged snickerdoodle cookies. Additionally, they are free from the top 9 allergens, including peanuts, tree nuts, dairy, soy, and wheat, making them a safe choice for those with food allergies or intolerances.
Are you ready to start baking?
Snickerdoodle Waffles
Ingredients:
1 cup Partake Classic Pancake & Waffle Mix

2/3 cup water

2 tbsp oil or buttery spread

Soft Baked Snickerdoodle cookie crumbles as desired
Instructions:
Preheat waffle maker.

Combine water and waffle mix.

Add in oil and cookie crumbles, mixing until thoroughly combined.

Cook according to waffle iron instructions.
Enjoy.
Snickerdoodle Ice Cream Bowls
Ingredients:
Gluten free, Soft Baked Snickerdoodle cookies from Partake

Buttery spread

Non-dairy vanilla ice cream
Instructions:
In a blender or food processor, mix cookies and buttery spread until well combined.

Refrigerate until chilled, about 45 minutes.

Scoop 1/4 cup of the mixture into each well of a muffin pan.

Press into the bottom and up the sides a little.

Bake until lightly browned for about 10 minutes.

Add scoops of ice cream and drizzle with caramel if desired.
Enjoy.
Snickerdoodle Apple Dump Cake
Ingredients:
6 cups of apples (sliced)

Gluten free Soft Baked Snickerdoodle cookie crumbles

3/4 cup of sugar

1 tbsp of lemon juice
Instructions:
Preheat oven to 350°.

Toss apples with sugar and lemon juices; s

pread into a greased baking dish.

Crumble cookies and sprinkle over the apple mixture.

Bake until golden brown and apples are tender.

Serve warm and, if desired, top with whipped cream.
Snickerdoodle Milkshake
If you're looking for a fun and easy dessert, look no further than a snickerdoodle milkshake.
Instructions:
Blend together your favorite vegan vanilla ice cream, preferred non-dairy milk, and crumbles of Partake's gluten-free Soft Baked Snickerdoodle cookies for a sweet and creamy treat that's perfect for a warm day.
Snickerdoodle Trifle
A snickerdoodle trifle is a beautiful and delicious dessert that's perfect for entertaining.
Instructions:
Layer crumbles of Partake Soft Baked Snickerdoodle cookies with whipped cream, sliced strawberries, and vanilla pudding in equal amounts for a stunning dessert that will impress your guests.
And don't forget, Partake's Soft Baked Snickerdoodle cookies are so delicious they can be enjoyed all by themselves. So whether you're in the mood for a simple snack or a more elaborate dessert, Partake's Soft Baked Snickerdoodle cookies have got you covered. Whether you follow a gluten-free or vegan lifestyle, or simply want a delicious and better-for-you snickerdoodle cookie option, Partake Foods' Soft Baked Snickerdoodle cookies are a must-try. We hope you enjoy your delicious and gluten-free snickerdoodle cookie-inspired treats! These cookies are perfect for any occasion and will surely become some of your family's favorites.
More Sweet & Spicy Recipes
Looking for other sweet and spicy treats like this gluten-free snickerdoodle cookies recipe? Check out a few more recipes from the Partake blog:
Vegan Vanilla Chai Pancakes: This recipe is a delicious and cozy breakfast option, made with chai tea, vanilla extract, and gluten-free flour, perfect for a chilly morning.
Sweet & Tangy Gingerbread Waffles: A tasty and festive twist on classic waffles, made with gluten-free flour, molasses, ginger, and cinnamon, perfect for a cozy breakfast or brunch during the holiday season.
Vegan Pumpkin Cold Brew: A refreshing and flavorful drink made with pumpkin puree, oat milk, and cold brew coffee, perfect for fall mornings or as an afternoon pick-me-up.
Carrot Apple Muffins: A delicious and hearty dessert option, packed with better-for-you ingredients such as carrots, apples, and gluten-free flour.