Skip to content
Allergy Friendly Veggie Pizza Recipe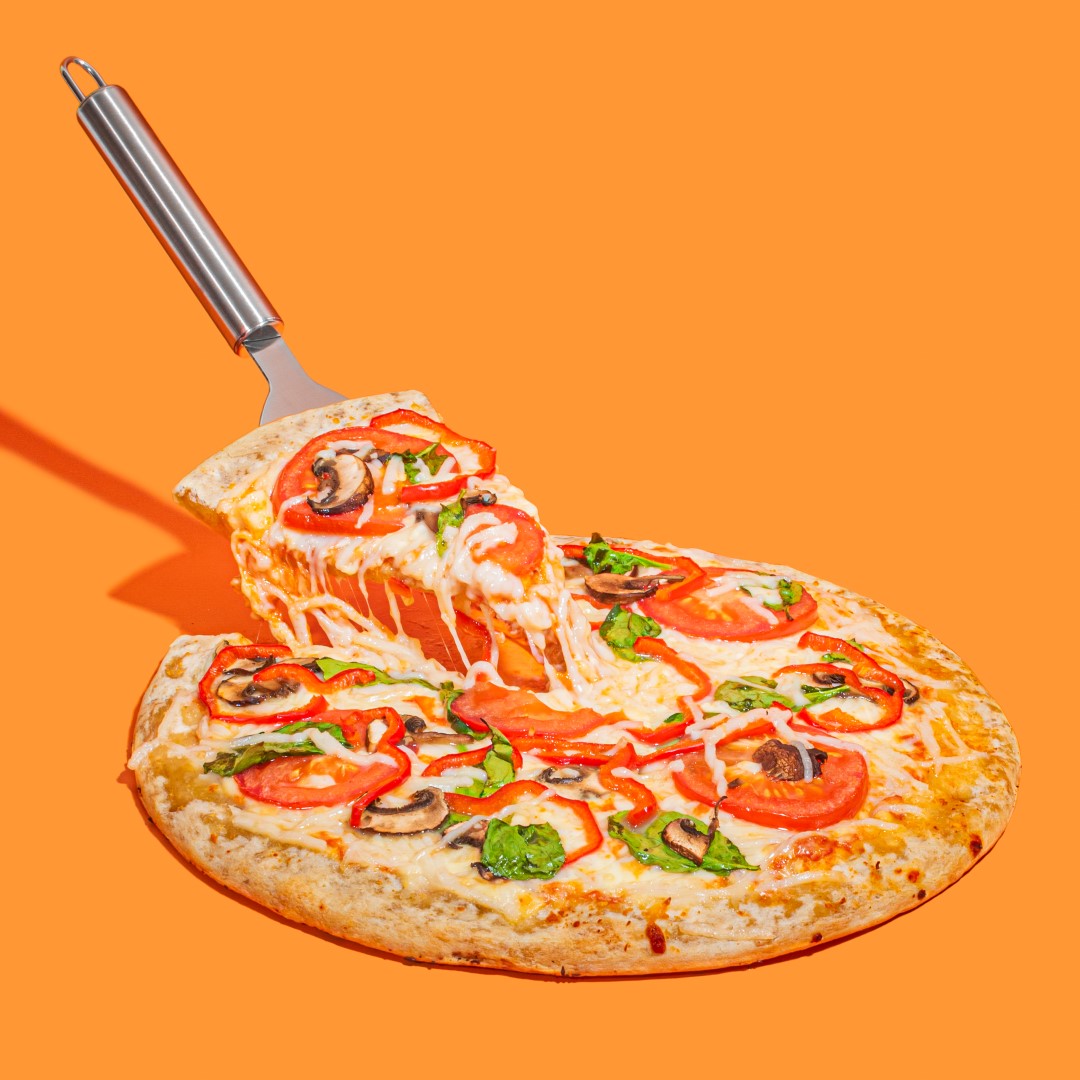 Our founder, Denise Woodard, designates pizza night once a week at her house!. Thankfully, we have our Pizza Crust Baking Mix to make weekly pizza nights easy and allergy friendly. The Partake team loves switching up our pizza toppings, and this week we're in a veggie mood. Summer is the best season to enjoy a colorful veggie pizza when so much is in season! If you were looking for an excuse or sign to head to your local farmers' market to pick up fresh veggies, this is it. Whether you pick up your veggies from the farmers' market or from the grocery store, this recipe will be perfect for a delicious lunch or dinner.
We love making our veggie pizza recipe when we are craving something full of color, flavor and better-for-you ingredients. You can level up by making this allergy friendly veggie pizza recipe for a #MeatlessMonday pizza night. Using our Pizza Crust Baking Mix with this recipe makes a delicious vegan, gluten-free, and allergy friendly pie, so almost anyone can enjoy a pizza night. Those with and without dietary restrictions can enjoy pizza together when our Pizza Crust Baking Mix comes into play.
We may be biased, but we think our Pizza Crust Baking Mix is the best allergy friendly pizza crust mix on the market. We use quality ingredients that you can feel good about including in your pantry. Unlike other gluten-free options on the market, our pizza crust mix makes delicious and chewy pizza crust. It's the perfect foundation for all your favorite toppings. 
This allergy friendly pizza recipe is so versatile you can customize this veggie pizza recipe with your favorite vegetables. We chose spinach, mushrooms, tomatoes, and bell peppers, but feel free to replace or add other in-season veggies. 
Looking for more pizza night recipes? Look no further, check out our Southwestern Santa Fe Pizza and Fig & Goat Cheese Pizza recipes. If you're looking for more recipes that you can make with our versatile mix, check out our Apple Cinnamon Rolls, Breadsticks, and Veggie Pot Pie recipes. You can stock up on our Pizza Crust Baking Mix at partakefoods.com.
Allergy Friendly Veggie
 Pizza
Ingredients:
For the pizza crust:
1 Box Partake Pizza Crust Baking Mix

1 cup water

2 tbsp olive oil

1 tbsp apple cider vinegar

1 ½ tbsp active dry yeast (optional)

½ tsp onion powder (optional)

½ tsp garlic powder (optional)
For topping:*
1 cup pizza sauce

2 cups shredded mozzarella dairy-free cheese

¼ cup chopped bell peppers 

¼ cup spinach

1 medium sized tomato - sliced

¼  cup mushrooms - sliced
*Make adjustments based on your dietary restrictions and as needed.
Directions:
Preheat oven to 400 degrees Fahrenheit.

In a bowl, dissolve yeast (if using) in warm water. Let stand until foamy, about 5 minutes.

Stir in mix, olive oil, apple cider vinegar, garlic powder (if using), and onion powder (if using) and form into a tight ball. Allow to sit for 10 minutes.

Roll dough out onto a flat surface, pressing out with oiled hands if sticking, and allow it to sit for 10 more minutes. 

Bake crust for 12 minutes.

Spread pizza sauce and add cheese in an even layer, then top with the rest of your toppings.

Bake for another 10-12 minutes. Let baked pizza cool for 5 minutes before serving.
Don't forget to follow us on Instagram and TikTok to keep up with our latest products and recipes!