Skip to content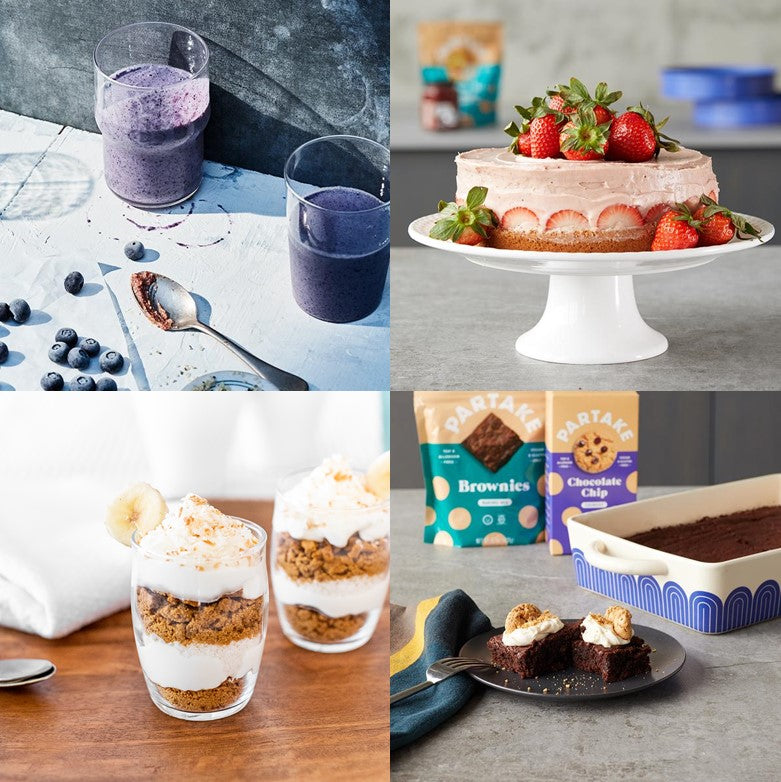 As we celebrate our final days of summer, Back to School, and Labor Day, there are many reasons to celebrate with some of Partake's favorite recipes—sure to make you a hit at any Labor Day celebration. 
Start the day off with a bit of fuel to get you through the day. If you're in a rush, this Blueberry Chia Smoothie will be a big win. With vitamins and protein-packed in, this smoothie will keep you energized throughout the morning. Have a little more time on your hands? Try these buttery biscuits or these Sweet Potato and Chocolate Chip Muffins. You can even make them ahead of time so they're ready to go when you are!
You can't go wrong with a bit of chocolate, and we've got you covered! Our Cookies & Cream Brownies give you the best of both cookie and brownie worlds.. If it's a hot day, these Coco-nilla Cookies & Cream Popsicles are a great frozen dessert option. But if you are craving a classic chocolate chip cookie, this Chocolate Chip Cookie Milkshake is sure to satisfy.
Now if you really want to impress your friends and family, we have some award-worthy recipes to make your dessert the star of the show. Our Strawberries & Cream Cake is the perfect way to end the summer. If bananas are more your thing, try this Banana Pudding. You can even serve them in individual jars and decorate them! For those who are already dreaming of fall, we haven't forgotten about you. Our Pumpkin Pie with Partake Cookie Crust is the perfect sweet treat.
Now, if cooking is just not your thing or time isn't on your side this Labor Day, don't show up empty-handed! Instead, head over to our Labor Day sale to snag a few Partake items that will make you the hero of any cookout or celebration. 
As always if you happen to recreate any of these recipes, don't forget to tag us on social media @Partakefoods. We can't wait to see!